One of the pleasures of growing your own fruits, herbs and vegetables is the joy of eating everything fresh. The bane? When there is a plethora of something that no one wants and you are done begging people to come and take excess produce, the resulting feeling of frustration that one feels could get a little over-whelming. While in Washington DC earlier this year, I met a gentleman that has purchased several acres of land and is growing TONS of fruits and vegetables on that tract of land. He doesn't believe in selling them in the local Farmer's Market, so the net result is that almost 80% of his produce is wasted. I was truly horrified when I saw piles of fruits and vegetables rotting all around, and even today, I can't wrap my head around his philosophy: he said – what comes from Mother Earth, goes back to her. But….what about all the water he's wasting? And his time and immensely back-breaking work? And all the homeless shelters and soup kitchens that could benefit from his amazing efforts? Me? I am very saddened when produce goes waste. I guess all of us think differently.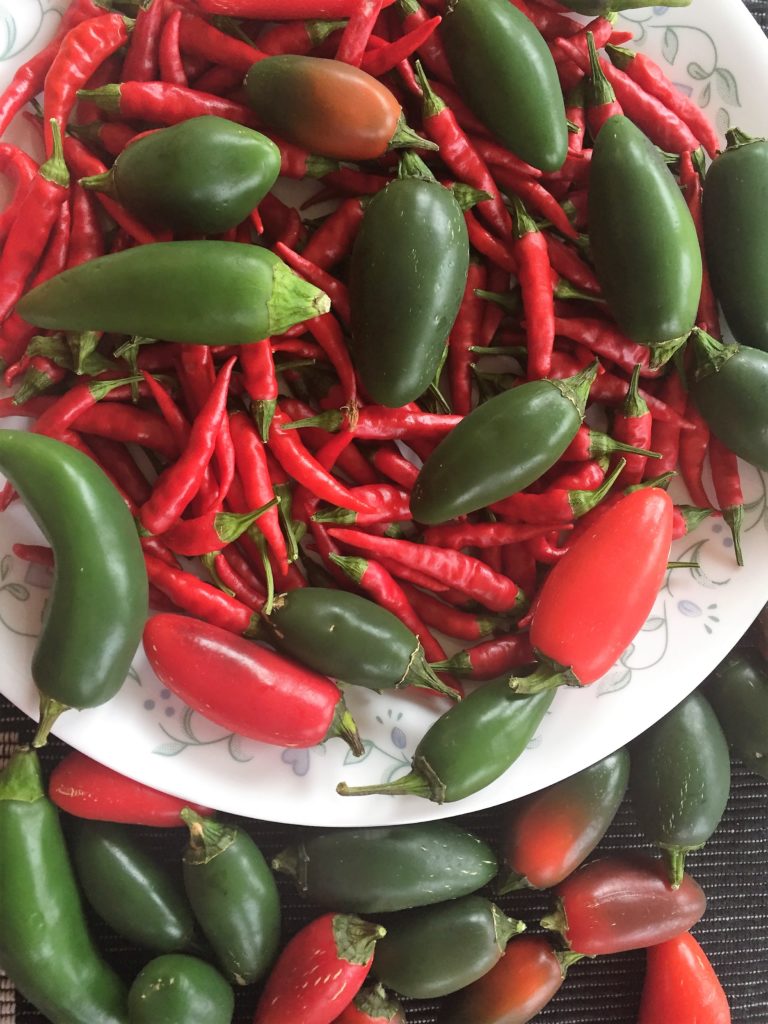 This year, we ended up with tons of jalepeno and Thai chili peppers. We planted just two of each variety, and they produced and produced and produced. Maybe it was the soil that had been tilled and amended with compost just before planting? Perhaps it was the perfect weather for chili peppers this summer? Earlier this year, when our friend Rebecca, an amazing gardener herself, dropped by, I was complaining about the amount of chilies that were growing. She simply said – why don't you pickle or can them?
Pickling and canning – the idea seemed quite daunting at the beginning. But one fine day, after a memorable visit to a local pickling market in a small alley in Kyoto, Japan, where everything is pickled and fermented, my husband and I decided we were going to 'Just Do It'! We picked the peppers, careful not to touch our faces the whole time, washed and wiped them dry, and proceed to can them. After the first attempt, and after the first bite into the BEST PICKLED CHILI PEPPER I'VE EVER HAD, we were hooked. Since then, we have canned and pickled multiple jars – we use them on tacos, sandwiches, salads and more. They've been great for gifting too.
So far, we've polished off 2 bottles of pickled chili peppers! We have 4 more bottles in reserve and I hope we can stretch them through to next summer. Fat chance of that happening…
p.s. Once pickled and canned for a few weeks, the chili peppers lose their 'kick'. They become soft and almost mild to medium hot. So don't let this recipe scare you off, if you are not into eating spicy foods.
Note: I have not provided Nutritional Information for this recipe, since the numbers would be very insignificant.
Why is this Healthy?
Chili peppers contain antioxidants that decrease the risk of disease and fight the effects of aging. In addition to vitamins A and C, jalapenos contain phenols, flavonoids and capsaicinoids that help the body fight free radicals and inflammation.
Did you make this recipe? We'd LOVE to see your creations so click a photo and tag us on Instagram with the hashtag #healthyindian3 and please give a star (★) rating below. Follow us on Facebook, Twitter, Pinterest and Instagram for healthy, easy and delicious recipes.
Pickled Chili Peppers
Skip the store and make your own pickled peppers at home. These easy-peasy pickled Jalapeño & Thai Peppers are delicious!
Ingredients
1

Quart Size

Glass Bottle with Canning Lid

Mason Jars are available in Wal-Mart or Target

4

Cups

Chili Peppers

Diced. Jalapeño, Thai or other variety of your choice

1

Cups

Distilled White Vinegar

1

Cup

Apple Cider Vinegar

ACV

2

Cups

Filtered water

To Mix with Vinegar and ACV
To add to the Mason Jar:
1/2

Teaspoon

Himalayan Pink Salt

or Sea Salt

1/2

Teaspoon

Black Pepper

Whole

1/2

Teaspoon

Cumin Seeds

Whole

1/2

Teaspoon

Coriander Seeds

Whole

2

Whole

Bay Leaves

3

Whole

Garlic

Cloves, Peeled
Instructions
Wash chili peppers and dry them. Thinly slice chilis into 1/8 inch rounds. Discard stem ends or compost them. Please wear gloves!

Wash one quart sized mason jar and lid in hot soapy water. Rinse well and set aside. In a thick-bottomed dish, gently place the mason jar and the lid and add enough water to cover the bottle. Bring the water (with the bottle and lid) to a boil. This will sterilize the bottle and lid.

At the same time, in a large pan, combine 1 cup distilled white vinegar, 1 cup apple cider vinegar and 2 cups filtered water. Heat to a simmer but do not allow to come to a boil.

Pull the sterilized bottle and the lid using tongs (canning tongs preferred) out. While the bottle is still hot, add salt, pepper corns, cumin seeds, coriander seeds, bay leaf, and garlic to the jar. Add chili slices to the jar, pressing down and compactly packing them. Fill chili peppers leaving 1 inch space on top.

Pour hot vinegar mix into the jar, leaving about 1/2 inch space on top. Insert a chopstick down the sides of the jar and press in towards the center to release any bubbles. Clean the rims of the jar with a damp cloth or paper towel. Screw on the jar lid tightly. In about 15-20 minutes, you will hear a 'pop'; this means the bottle is now sealed.

Let the bottle cool and store it in a cool dry place. So long as the bottle remains sealed, the chili peppers will not go rancid. Once the bottle is open, store in the refrigerator with the vinegar, and use within 2-3 months.
Notes
Versatile in uses, try it in salads, or in tacos or fajitas.
*Use organic ingredients wherever possible