As I was working on the Eggplant Potato Spicy Medley post I said to myself, we have so many eggplant recipes on our Healthy Indian website, that we could probably start a dedicated eggplant recipe blog! Funny thing is I still have a bunch of eggplant recipes that I haven't even started working on! I'm not sure how this happened – certainly not by design. One reason I can most definitely think of, is that eggplant can be cooked in so many different ways (baked, roasted, sautéed, fried) and can be paired with so many other vegetables, and can be cooked with so many ingredients. It's probably the versatility that makes it so popular and of course, it also happens to be my favorite vegetable.
This particular recipe is considered a wedding special in the Andhra region of South India, especially at traditional weddings where only vegetarian food is served. This curry is served as part of a wedding meal that includes a wide variety of other vegetable dishes, dals, chutneys, rice, bread, papadums, soups, deserts etc. As a rule, most traditional weddings serve only vegetarian food (on the actual wedding day; weddings in India can sometimes run for up to 4 or 5 days), since the rituals are done by priests who are strictly vegetarian.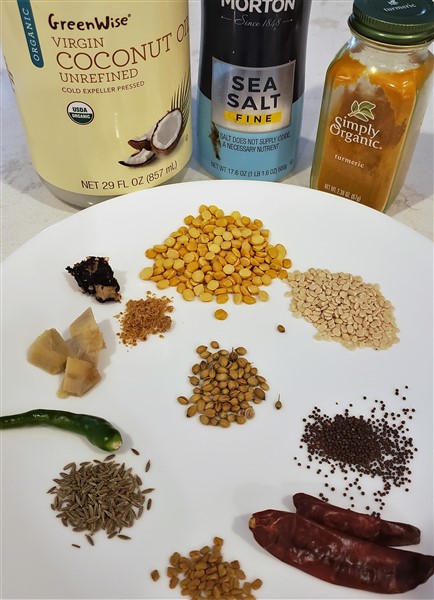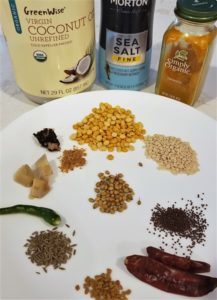 The ingredient list for the spice mix of this recipe is pretty long (don't let this deter you – once you get the mix ready, you can refrigerate it for a few weeks and use it again). It includes chana dal, urad dal, mustard seeds, dry chili pepper, fenugreek seeds, cumin seeds, green chili pepper, coriander seeds, ginger, tamarind, ginger and turmeric powder. Probably the longest ingredient list on this blog! It's amazing how they come together to give an absolutely delightful, spicy flavor and texture.
The recipe instructions are for the Instant Pot (IP) but can be modified for stove top cooking.
Check out our other delicious eggplant recipes:
Why is this Healthy?
From reducing the risk of heart disease to helping with blood sugar control and weight loss, eggplants are a simple and delicious addition to any healthy diet. Because nutrition-rich eggplant is low in calories and high in fiber, it's a great choice in a dip. Additionally, eggplant is rich in an anthocyanin called nasunin, which is found only in deeply colored fruits and veggies.
Did you make this recipe? We'd LOVE to see your creations so click a photo and tag us on Instagram with the hashtag #healthyindian3 and please give a star (★) rating below. Follow us on Facebook, Twitter, Pinterest and Instagram for healthy, easy and delicious recipes.
Watch the video to see how easy it is to make this dish!
Eggplant Potato Spicy Medley
Eggplant Potato Spicy Medley is a delightful blend of several different spices that bring in a great flavor and texture. Considered a special dish at Andhra (region in Southern India) weddings, this goes great with steamed rice and ghee. Absolutely mouthwatering!
Ingredients
1/2

Pound

Eggplant

1/4

Pound

Potato

2

Tablespoon

Chana Dal

1

Tablespoon

Urad Dal

1

Teaspoon

Mustard Seeds

1

Teaspoon

Fenugreek Seeds

1

Teaspoon

Cumin Seeds

1

Tablespoon

Coriander Seeds

2

Peppers

Red Chili Pepper

Dry, whole

1

Pepper

Green Chili Pepper

1/8

Cup

Ginger

Fresh

1/4

Teaspoon

Turmeric Powder

1

Teaspoon

Tamarind

1/2

Teaspoon

Jaggery

1/2

Teaspoon

Sea Salt

(or to taste)

1

Tablespoon

Coconut Oil

Cold pressed, organic
Instructions
Set Instant Pot (IP) to 'saute' add a quarter tsp of oil and wait for the 'hot' sign (if you're cooking in a pan on a stove top make sure the oil is hot); add chana dal, urad dal, cumin, mustard, fenugreek, coriander seeds and dry chili pepper and roast for a couple of minutes (look for chana dal and urad dal to turn slightly brown). Transfer to a plate and cool for about 5 minutes

Transfer to a blender, add tamarind, ginger, turmeric, salt, green chili pepper and jaggery and blend to a coarse powder

Wipe out the pan (IP or regular pan) add oil and wait for it to turn hot. Add eggplant and potato. Sauté for about 3 to for minutes

Add the spice blend, mix well and sauté for a couple of minutes. Now sprinkle some water (about 1/4th cup), close the IP lid and steam cook for 5 minutes (if you're cooking in a regular pan, sprinkle 1/8th cup water and cover with a lid- keep cooking till the eggplant and potato soften)

Once cooked, mix well and transfer to serving bowl
Notes
Goes well with steamed rice and organic ghee.
*Use organic ingredients wherever possible
Nutrition
Calories:
117
kcal
|
Carbohydrates:
17
g
|
Protein:
4
g
|
Fat:
4
g
|
Saturated Fat:
3
g
|
Sodium:
299
mg
|
Potassium:
285
mg
|
Fiber:
6
g
|
Sugar:
4
g
|
Vitamin A:
13
IU
|
Vitamin C:
5
mg
|
Calcium:
41
mg
|
Iron:
3
mg