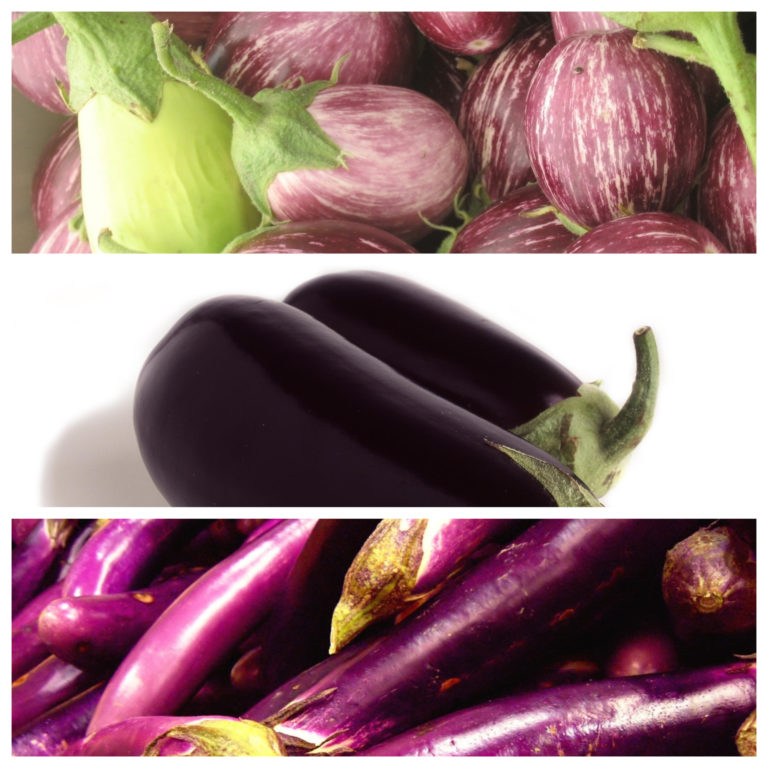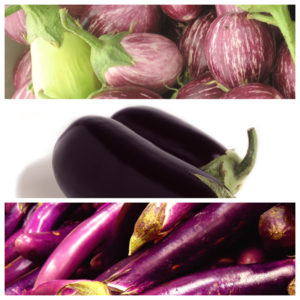 Eggplants come in various shapes, sizes and colors. Although the taste, texture and flavor is similar, you will notice a subtle difference depending on what kind of eggplant you use. You'll also end up using different varieties of eggplants for different recipes, if you regularly cook eggplant recipes. For example, I use the larger ones when I roast or bake. I use the long and narrow lighter colored eggplant (Chinese Eggplant) when I sauté (they soften much faster). I've personally never cooked green eggplant but that tastes great too.
My favorite variety of eggplant is the small, deep indigo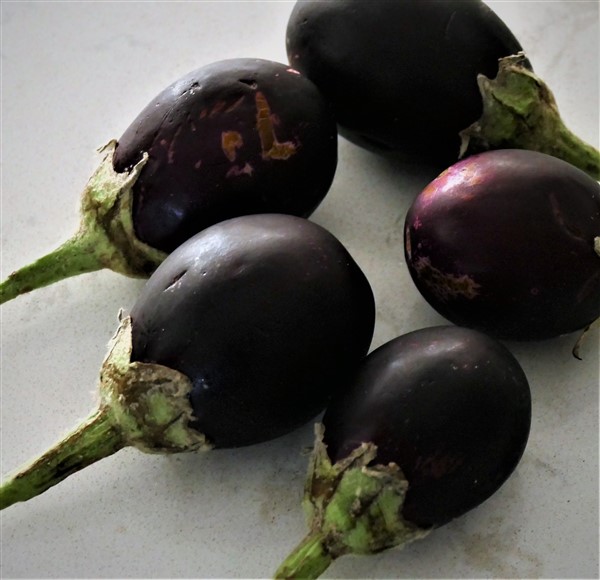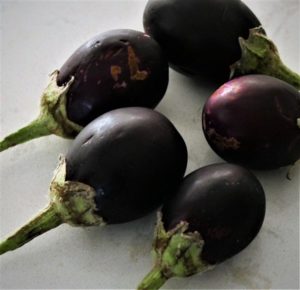 colored variety. I mostly find these only at Indian groceries and I try to pick ones with stalks that are green and thick (as opposed to grey and wilted). That tells you that the vegetable is still tender and seeds are very soft. Once the seeds start hardening it's no fun cooking the eggplant. I learnt this trick of picking the right kind on my recent trip to an Indian grocery with my mom. It makes a big difference to the dish you're cooking.
Spicy, Tangy, Stuffed Eggplant is one of my all time favorite recipes. I have my mom make this for me at least once, every time I visit her. This time I recorded the recipe as she was making it so I did not miss out on any of the details. I also had her cook this in an Instant Pot (IP) as against a regular pan with a lid on a stove top. This was slightly out of her comfort zone and an experiment for me, but it turned our really good, especially considering that the eggplant needs to be cooked just right (can't be too crunchy or too mushy).  While this recipe is not one of the simplest ones to cook, it has a manageable ingredient list and is absolutely delicious. It's worth the effort in my opinion.
Don't forget to check out other delicious and nutritious eggplant recipes:
Why is this healthy?
Eggplants contain flavonoids, such as anthocyanins. Anthocyanins are water-soluble pigments that have many health benefits that help give the eggplant its well-known, dark purple color. The skin of the eggplant is rich in antioxidants, fiber, potassium, and magnesium.
Did you make this recipe? We'd LOVE to see your creations so click a photo and tag us on Instagram with the hashtag #healthyindian3 and please give a star (★) rating below. Follow us on Facebook, Twitter, Pinterest and Instagram for healthy, easy and delicious recipes.
Spicy, Tangy, Stuffed Eggplant
Spicy, Tangy, Stuffed Eggplant is a delicious South Indian recipe that is perfect with steamed brown rice and organic ghee.
Ingredients
16

Eggplant

(Small or medium size)

2

Cups

Onion

(Chopped)

5

Peppers

Dry Red Chili

2

Teaspoons

Mustard Seeds

2

Teaspoons

Fenugreek Seeds

2

Tablespoons

Urad Dal

( Black gram)

1

Teaspoon

Tamarind

(Paste or de-seeded)

1

Teaspoon

Sea Salt

(Or to taste)

2

Tablespoons

Coconut Oil
Instructions
Set IP on 'Sauté mode, wait for the 'hot' sign to show up (if you're using a pan, it's the same process) and roast chili peppers, mustard and fenugreek seeds, urad dal in just a few drops of oil, till the urad dal turns slightly brown.

Transfer the roasted contents to a blender, add onion, salt, tamarind and blend to a coarse paste.

Wash, dry and cut the stalks off the eggplants. Make an incision on either end of each eggplant (as you see in the picture) and start stuffing the blended spice paste.

Dry out the IP pan (or the regular pan), add rest of the oil and set it back on 'Sauté' mode. Once its hot, start adding the stuffed eggplants, one at a time. Sauté for about 7 to 8 minutes, add the remaining stuffing (you will have about half a cup left over after you finish stuffing the eggplants).

Mix well, set the IP lid on and set it on 'steam' mode for 8 minutes (in a regular pan keep taking the lid off and stirring the contents). Once the cook cycle is done, take the IP lid off, mix well and transfer to a serving dish.
Notes
Goes great with steamed rice and organic ghee.
*Use organic ingredients wherever possible
Nutrition
Calories:
697
kcal
|
Carbohydrates:
147
g
|
Protein:
25
g
|
Fat:
12
g
|
Sodium:
525
mg
|
Potassium:
5338
mg
|
Fiber:
69
g
|
Sugar:
85
g
|
Vitamin A:
250
IU
|
Vitamin C:
123.8
mg
|
Calcium:
230
mg
|
Iron:
6.8
mg