Baked Spicy Chicken Curry is my take on the the traditional chicken curry and one of my personal all time favorites. After I successfully baked/broiled the salmon I decided to try the same experiment with chicken. And of course it turned out fantastic!
Adding Potatoes
You'll notice with most of my meat recipes that I add potatoes. I really love potatoes but I realize that the carbohydrates in potatoes are not a good choice for anyone who is diabetic or pre-diabetic or needs to keep their blood sugar balanced. That's the reason I typically add a very small quantity and make sure I leave the skin on to ensure there are some useful nutrients. Potatoes not only taste great by themselves but complement the meat with their texture and flavor. No wonder that's probably why this famous idiom 'meat and potatoes' came into being. According to vocabulary.com, "If you think of meat and potatoes as making up the fundamental part of a person's meal — the portion that provides the most nutrients and calories — you'll see where the figurative meaning of meat and potatoes comes from."
The simplicity of this recipe will surprise you. The first step is to marinate the chicken with all the ingredients- this does not take more than 10 minutes. You leave it in the fridge for a couple of hours. The next step is turning the oven on to 400 F, baking for 15 minutes with the foil on, another 15 minutes with no foil on top and then 10 minutes of broiling. That's it! No standing in the kitchen and laboring over the stove, sautéing  onions, tomatoes etc. Set the timer on your oven and keep doing other stuff.
Adding Green Peas
The combination of baking and broiling has a great impact on the dish. While it doesn't exactly taste like chicken curry cooked the traditional way, it has its own unique flavor and is absolutely delicious. Adding green peas about 5 minutes before pulling the dish out of the oven is a great way to add more nutrients- serve with multigrain roti and it tastes terrific.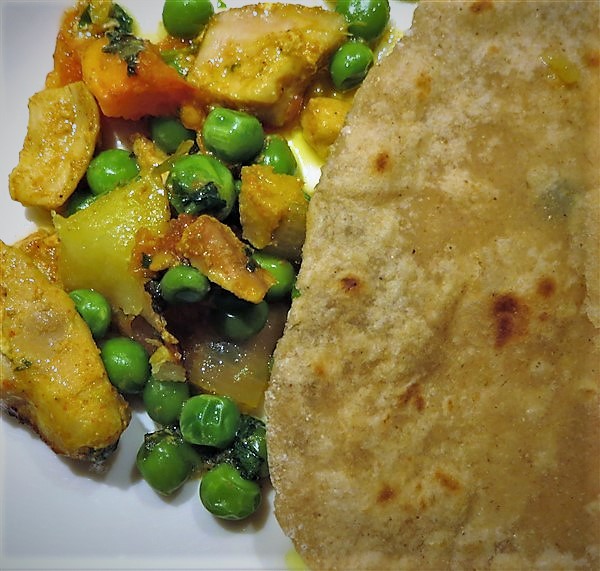 Chicken as we all know is a high protein dish. The organic chicken thighs in this recipe are skinless and trimmed of excess fat. Baking this dish with a minimum amount of oil makes it far more healthy than the traditional method of cooking with lots of oil in a pan.
Did you make this recipe? We'd LOVE to see your creations so click a photo and tag us on Instagram with the hashtag #healthyindian3 and please give a star (★) rating below. Follow us on Facebook, Twitter, Pinterest and Instagram for healthy, easy and delicious recipes.
Baked Spicy Chicken Curry
Curry probably can't get any healthier than this, with very little compromise on taste. In fact it has its own great taste. You can make it as spicy as you like.
Total Time
2
hours
50
minutes
Ingredients
1/2

Pound

Chicken

Pasture-raised Boneless Skinless Thighs

1/4

Cup

Potato

Small Pieces, unpeeled

1/8

Cup

Onion

Fine Cut

1/8

Cup

Tomato

Fine Cut

1/8

Cup

Cilantro

Fine Cut

1

Tablespoons

Yogurt

Plain, Whole Milk

1

Teaspoon

Ginger & Garlic Paste

1

Pinch

Saffron

1

Pinch

Turmeric Powder

1/2

Teaspoon

Poppy Seeds

1/2

Teaspoon

Garam Masala

1/2

Teaspoon

Red Chili Powder

1/4

Teaspoon

Sea Salt

1

Teaspoon

Olive Oil
Instructions
Prep your ingredients. Wash, drain chicken. Chop cilantro, potatoes, tomatoes and onions

Transfer all ingredients to a bowl for marinating. Cover the dish and refrigerate for at least 2 hours (longer the better- you can go up to 6 hours)

Spread a little olive oil on a foil placed on an oven safe baking tray. Transfer marinated curry to foil, add some more olive oil on top and then wrap with foil so the food is fully covered

Preheat oven to 400 degrees Farenheit. Bake the marinated curry in the baking tray for 15 minutes. Remove the foil covering and bake for an additional 15 minutes. Turn the oven to broil and leave it to broil for 5 minutes. Transfer to serving dish and season with fresh cilantro. Serve with multigrain roti or methi paratha

You can also serve this dish with Brown Jeera Rice
Nutrition
Calories:
298
kcal
|
Carbohydrates:
6
g
|
Protein:
22
g
|
Fat:
20
g
|
Cholesterol:
86
mg
|
Sodium:
397
mg
|
Potassium:
388
mg
|
Fiber:
1
g
|
Sugar:
1
g
|
Vitamin A:
400
IU
|
Vitamin C:
11.6
mg
|
Calcium:
50
mg
|
Iron:
1.4
mg