Fenugreek is one of those herbs that has amazing health benefits (like controlling blood sugar, keeping cholesterol in check etc.) and  has a delicious (if somewhat bitter) flavor. Both fresh and dry fenugreek leaves, as well as the seeds, are used extensively in Indian cooking. It should come as no surprise that we have quite a few recipes on our site that use fenugreek in some form. To name a few – Tomato Fenugreek Dal, Raw Mango Fenugreek Salsa, Raw Mango Dal, Tomato Dal, Beets (root & greens) Palya, and Bhendi (Okra) Masala. 
Eggplant  comes loaded with vitamins and minerals, but its health benefits extend beyond just adding vital nutrients to a meal. Eggplant contains other compounds that promote good health as well, even to the point of helping to prevent cancer and lowering cholesterol. Once you realize how beneficial eggplant is to your health, you may want to give more consideration to it becoming a regular part of your diet. We have a number of eggplant recipes on our site that could appeal to you – Baked Eggplant, Broad Bean Eggplant Sauté, Roasted Eggplant and Tomato Chutney, Baingan Bartha-Roasted Eggplant Curry and Baba Ghanoush.
Fresh Fenugreek Eggplant Sauté
The unique flavors of fresh fenugreek leaves and eggplant complement each other very well in this delicious recipe, in addition to providing amazing nutritional value. This is a very simple recipe that uses minimal ingredients with a cook time of under 30 minutes. While I use just mustard seeds for seasoning, a typical South Indian preparation could also use urad dal, dry chili pepper and fenugreek seeds (for seasoning), giving it a stronger, enhanced flavor.
This dish is typically cooked in a pan over a stove top (traditional Indian style) but I used an Instant Pot (IP) as I realized more folks prefer cooking this way. The only downside I see with an IP vis-à-vis a regular pan is that it tends to get quite hot in 'sauté' mode and to control the heat I need to toggle between  'slow cook' and 'sauté' modes. Other than that it is fairly straightforward.
Why is this Healthy?
Fenugreek leaves help improve digestion and keep cholesterol levels in check. Eggplants contain flavonoids, such as anthocyanins. Anthocyanins are water-soluble pigments that have many health benefits that help give the eggplant its well-known, dark purple color. The skin of the eggplant is rich in antioxidants, fiber, potassium, and magnesium.
Did you make this recipe? We'd LOVE to see your creations so click a photo and tag us on Instagram with the hashtag #healthyindian3 and please give a star (★) rating below. Follow us on Facebook, Twitter, Pinterest and Instagram for healthy, easy and delicious recipes.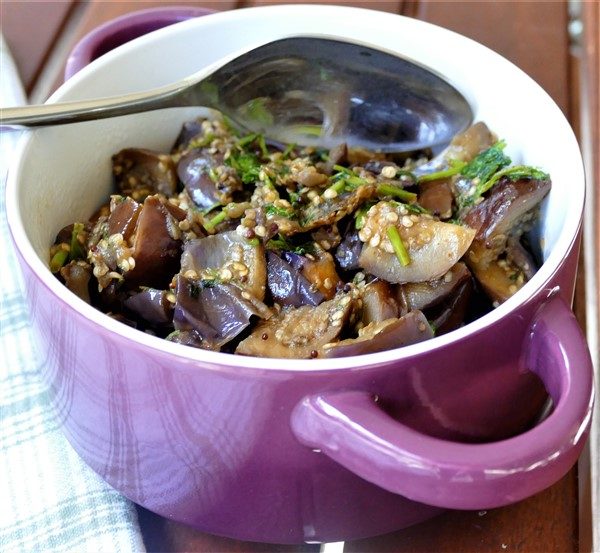 | | |
| --- | --- |
| | |
Set Instant Pot (IP) on 'Sauté' mode, add oil and wait for 'hot' sign to show up. If you're not using IP, just heat oil in a pan on a stove top. Add mustard seeds. Allow them to crackle.

Add eggplant, turmeric, salt, mix well and put a lid on. Repeat the process for about 10 to 12 minutes. If you think the IP is too hot, try it out on 'slow cook' mode to lower the temperature of the pan. If you're cooking in a regular pan on a stove top, set flame on medium first and then lower it.

Add chili powder, chopped fenugreek leaves, mix well and put a lid on. Repeat the process for about 6 to 8 minutes.

Ensure there is no moisture left before transferring to a serving dish
Great by itself as a snack, or can be added to your salad for that extra zing. It can also be a great stuffing for your roll or a flavorful vegetarian pizza topping.
*Use organic ingredients wherever possible
Nutrition Facts
Fresh Fenugreek Eggplant Sauté
Amount Per Serving
Calories 348
Calories from Fat 99
% Daily Value*
Total Fat 11g 17%
Cholesterol 0mg 0%
Sodium 231mg 10%
Potassium 868mg 25%
Total Carbohydrates 57g 19%
Protein 8g 16%
* Percent Daily Values are based on a 2000 calorie diet.