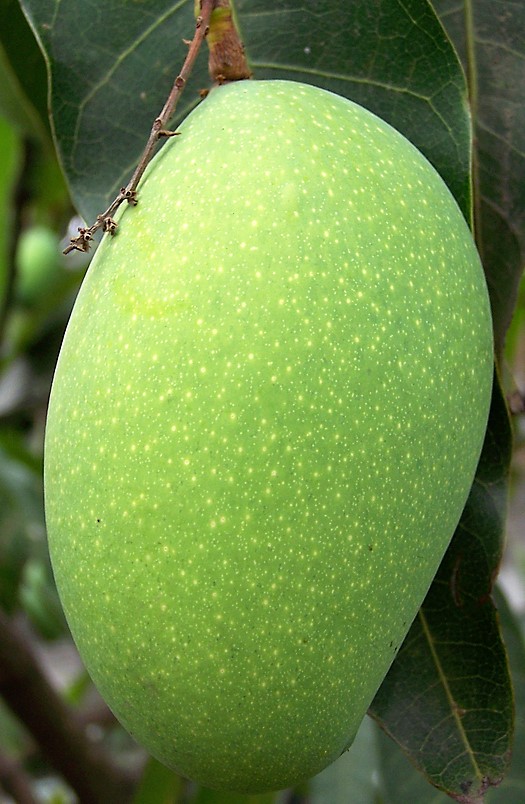 Raw Mango and Fenugreek Salsa is a wonderful play between sweet, astringent, salt, and spicy. This dish, traditionally prepared during the beginning of the mango season (April-May) in India.
I am not one for clichés since they get really old. But there is a lot of truth in calling the Mango, the 'King' of summer fruits. We had several mango trees in our backyard; a couple of them leaned against the roof of our house. When school was out, we would clamber on the rooftop, jump on to the fruit-laden boughs and bite into lusciously raw and tangy mangoes with the greatest abandon. Green parrots would fly in droves and nibble on the mangoes and abandon them, until they found the ones that they thought were perfect.
When it was time to pick the mangoes, a professional 'picker' would arrive with a long pole at the end of which was tied a sharp scythe and a cotton bag. The picker would deftly cut the stalk of the mango, hanging several feet away from him, and the mango would lightly fall into the cotton bag. This was to ensure the skin wouldn't get bruised.
These mangoes were then sorted, and several of them found their way into pickles of all kinds. The most mouth-watering of them called 'Avakaya' is an elaborate process that involves precisely cutting a raw mango into small pieces, drying it out in the sun (so it can last much longer), and adding ground mustard seeds, dry red chili powder, garlic and oil. This picture on the right is the pickle my mom made for me. Generous use of oil (which I discard), is to keep the pickle from going bad. Since it does not have any preservatives, the salt and the oil safeguard the pickle from mold and fungus.
Raw Mango Fenugreek Salsa is super easy to make and goes well with a number of dishes. Most Hispanic and Asian (especially Indian) grocery stores carry raw mangoes during the summer months. To pick a good fruit, make sure the fruit feels firm to the touch and has a dark green peel.
For another mouth-watering recipe using raw mangoes, check out our Mango Dal.
Why is this Healthy?
Mangoes contain an abundance of vitamins, minerals and antioxidants that assure your optimum health. For decades, mangoes have been used to soothe stomachs. Similar to papayas, mangoes contain certain enzymes with stomach comforting properties.
Did you make this recipe? We'd LOVE to see your creations so click a photo and tag us on Instagram with the hashtag #healthyindian3 and please give a star (★) rating below. Follow us on Facebook, Twitter, Pinterest and Instagram for healthy, easy and delicious recipes.
Raw Mango Fenugreek Salsa
Raw Mango and Fenugreek Salsa is a simple, sweet and tangy chutney that is very easy to make and goes well with a number of dishes. Use it as a spread on your taco or add some in your salad as a dressing.
Total Time
1
day
15
minutes
Ingredients
1

Cup

Raw Mango

Cut into small pieces

1

Teaspoon

Mustard Seeds

1

Teaspoon

Fenugreek Seeds

2

Chilis

Dry Red Chili

1/2

Teaspoon

Turmeric Powder

1/2

Teaspoon

Sea Salt

Or to taste

1

Tablespoon

Jaggery

Grated

1

Teaspoon

Olive Oil
Instructions
Cut raw mango to fine pieces and set aside in a bowl. Peeling is optional.

Add salt and turmeric powder to the raw mango pieces, mix well and set aside. This allows the mango to acquire a slightly watery texture that is characteristic of this dish.

Set aside turmeric powder and grated jaggery.

In another bowl, gather red chili, mustard seeds and fenugreek seeds (seasoning ingredients).

Heat oil in a pan. Sauté red chili, mustard and fenugreek seeds and let it cool down. Once cool, blend to a coarse powder.

Now you have two key groups ready- the raw mango mixed with salt and turmeric, and the blended seasoning ingredients.

Mix these together in a bowl with powdered jaggery and refrigerate for a day before serving. Once the ingredients blend in well with each other, the salsa turns more watery.
Notes
Use it as a spread on your taco or add some in your salad as a dressing.
*Use organic ingredients wherever possible.
Nutrition
Calories:
10
kcal
|
Carbohydrates:
2
g
|
Sodium:
26
mg
|
Potassium:
26
mg
|
Sugar:
1
g
|
Vitamin A:
50
IU
|
Vitamin C:
9.1
mg
|
Calcium:
20
mg