[ultimate-recipe-jump]  [ultimate-recipe-print]
Opo Squash
Opo squash (or bottle gourd/calabash) is a delicately flavored vegetable of the cucurbita family. It is super low in calories. It is one of the chief culinary vegetables in many tropical and temperate regions around the world. Opo squash is a fast growing, annual climber (vine) that requires adequate sunlight for flowering and fruiting. It can be grown under wide range of soils and require trellis to support spread. There is a slight sourness to this vegetable and as with most squashes, it holds a lot of water. It cooks fast and can turn quite mushy when cooked under pressure or for a long period of time.
Fresh Fenugreek
Next to cilantro, fresh fenugreek leaves are my most favorite greens to enhance the flavor of a recipe, in addition to having great nutritional value. While cilantro is mostly used as seasoning, fresh fenugreek is a more integral part of the recipe. Fenugreek leaves (called 'methi' in Hindi) are one of the most widely used green leafy vegetables. These aromatic, bitter leaves can instantly enhance the flavor of any food and are used in many cuisines, particularly Indian. The word "Fenugreek" is said to have been derived from the Latin language and literally means "Greek hay".  Fenugreek leaves are used widely for their medicinal benefits to treat diabetes, constipation and even kidney ailments.
Quick & Delicious Opo Squash Fenugreek Curry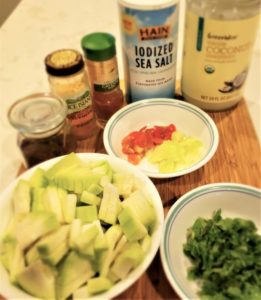 The reason I added 'quick and delicious' as a prefix to this dish is because it is what it conveys: quick, simple, tasty, with minimal ingredients. In addition to opo squash and fenugreek, ingredients include tomato, onion, turmeric powder, chili powder (or cayenne pepper), mustard seeds, salt and oil. Garnishing with cilantro is an option. I end up garnishing a lot of my recipes with cilantro as it brings a refreshing flavor and color to the dish and make it look very appetizing!
Cutting and prepping takes about 10 minutes and total cook is about 15 minutes. Though this dish is cooked entirely in Instant Pot for this blog, it is just as easy to cook in a pan on a stovetop. The steps involved are almost the same. Watch a video of the Instant Pot version here:
Why Is This Healthy?
Health benefits of fenugreek include relief from anemia, loss of taste, fever, dandruff, stomach disorders, biliousness, respiratory disorders, mouth ulcers, sore throat, diabetes, inflammations, wounds and insomnia. Opo squash is a super low- calorie vegetable, providing just 14 calories per 100 g. It is one of the vegetables recommended by dietitians in weight-control programs.
Check out these fresh fenugreek recipes on our blog:
And here are some opo squash recipes that might interest you:
Did you make this recipe? We'd LOVE to see your creations so click a photo and tag us on Instagram with the hashtag #healthyindian3 and please give a star (★) rating below. Follow us on Facebook, Twitter, Pinterest and Instagram for healthy, easy and delicious recipes.
Quick & Delicious Opo Squash Fenugreek Curry
Quick & Delicious Opo Squash Fenugreek Curry is fast, simple, tasty, with minimal ingredients. It is great with fresh, hot rotis, but also goes well with steamed brown rice and organic ghee.

Ingredients
1/2

Pound

Opo Squash

Peeled and cut to small pieces

1

Cup

Fenugreek leaves

Separate leaves from stalk and chop the leaves coarsely

1/4

Cup

Onion

Fine cut

1/4

Cup

Tomato

Fine cut

1

Teaspoon

Mustard Seeds

1/4

Teaspoon

Turmeric Powder

1/2

Teaspoon

Red Chili Powder

1/2

Teaspoon

Sea Salt

Or to taste

1

Tablespoon

Coconut Oil

Cold pressed, organic

1/8

Cup

Cilantro

Fresh, fine cut
Instructions
Set IP to 'sauté' mode. Heat oil. Add mustard seeds and let them crackle. Add tomato and onion. Add turmeric powder. Mix well.

Add Opo squash, stir occasionally and add salt. Add chili powder, mix well

Add fresh fenugreek leaves

Set lid and leave on 'sauté' mode or set to steam mode for one minute.

Mix well, transfer to bowl and garnish with cilantro. Serve hot with fresh rotis.
Notes
Great with fresh rotis, but also goes well with steamed brown rice and organic ghee.
*Use organic ingredients wherever possible
Nutrition
Calories:
82
kcal
|
Carbohydrates:
3
g
|
Protein:
1
g
|
Fat:
8
g
|
Saturated Fat:
6
g
|
Sodium:
395
mg
|
Potassium:
73
mg
|
Fiber:
1
g
|
Sugar:
1
g
|
Vitamin A:
371
IU
|
Vitamin C:
4
mg
|
Iron:
1
mg