Baingan Bartha-Roasted Eggplant Curry, made by roasting and mashing eggplant, is a popular North Indian recipe. It is served mostly with roti or paratha. Roasting the eggplant gives it a distinct, smoky flavor that blends extremely well with the other ingredients and spices. I have another recipe on this site, Roasted Eggplant Chutney, which is a South Indian recipe made with roasted eggplant.
Roasting Eggplant
Roasting an eggplant is a somewhat messy process, at least till you get used to it and build some efficiency. As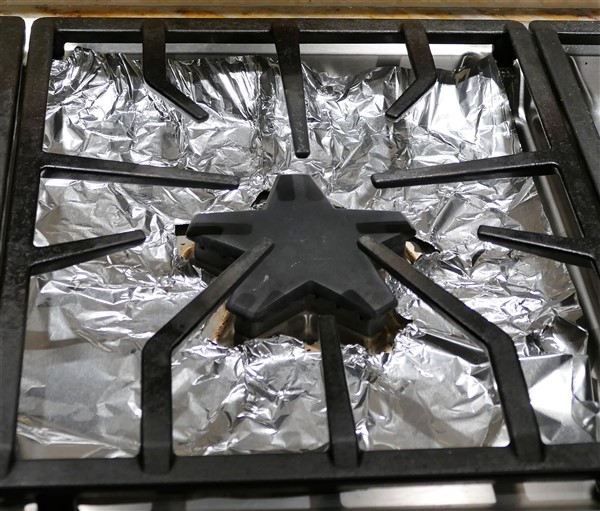 you roast it on a gas flame, the skin gets burnt and cracked. This is when the vegetable starts dripping – it is a  sticky liquid that can be hard to pull off of your stove, once it dries up. One of my aunts has this practice of spreading an aluminum foil around the burner to make sure that the liquid would not drip on the stove. You could also put it on top of the grill instead of under, as you see in the picture. The foil idea is better than having no protection at all but it's not 100% foolproof. If you do not have a gas stove, the best thing to do is grill the eggplant.
When roasting on gas or grilling, make sure you keep turning the eggplant (with a pair of tongs preferably- you don't want to burn your hands) so it is evenly cooked all over. If you miss a spot you'll notice that the skin on that spot cannot be easily peeled. One it is roasted set it on a large plate and leave it for 10 to 15 minutes so it cools down. Also make sure you have the onion and tomato cut and ready, and also have all the spices readily accessible so you can start sautéing while the roasted eggplant is cooling. Once the eggplant cools down, peel it as cleanly as you can, and then transfer to the pan where the rest of the ingredients are being sautéed. I added bell pepper one time as I had too many bell peppers in my garden and I decided to try it out with this recipe and it turned out absolutely awesome- the flavors really complemented each other.
Check out some of our other delicious and nutritious eggplant recipes here- Baked Eggplant, Broad Bean Eggplant Sauté, Roasted Eggplant and Tomato Chutney.
Why is this Healthy?
Eggplant has a unique range of health benefits, including an ability to help build strong bones and prevent osteoporosis, reduce symptoms of anemia,improve cardiovascular health among. It is a rich source of vitamin C, K, B6 etc. Eggplant is roasted in this recipe- roasting is said to be easy on the vitamins,and one study found that roasting was actually a good way to preserve the B vitamins. Tomatoes and cilantro are another good source of nutrients in this recipe.
Did you make this recipe? We'd LOVE to see your creations so click a photo and tag us on Instagram with the hashtag #healthyindian3 and please give a star (★) rating below. Follow us on Facebook, Twitter, Pinterest and Instagram for healthy, easy and delicious recipes.
Baingan Bartha-Roasted Eggplant Curry
Eggplant it one of my favorite vegetables. Indian cuisine has an endless variety of eggplant recipes. This is a popular North Indian recipe that's mostly had with roti or paratha. It's fairly simple to cook, delicious, spicy, low in calories and high in fiber.
Ingredients
3/4

Pound

Eggplant

1/4

Cup

Tomato

Fine Cut

1/4

Cup

Onion

Fine Cut

1

Teaspoon

Ginger & Garlic Paste

1

Pinch

Turmeric Powder

1/2

Teaspoon

Red Chili Powder

1

Teaspoon

Garam Masala

1 1/2

Teaspoons

Coconut Oil

Extra Virgin

1/4

Teaspoon

Sea Salt
Instructions
Set aside all ingredients. Follow instructions here for ginger garlic paste- https://www.healthy-indian.com/glossary/ginger-garlic-paste/

Wash, dry and set eggplant on flame for roasting- use tongs to turn it around. Once its roasted well on all sides, you'll see that is turns dark and wrinkly; set it aside for cooling for about 5 minutes and then peel the and remove the stalk.

On another burner, sauté onions and ginger garlic paste till onions turn golden brown. Add turmeric, chili powder and mix well; add tomatoes and salt and continue sautéing till tomatoes turn mushy. Add Garam masala and stir well.

Add the roasted eggplant to contents in the pan and mix well for 2 to 3 minutes. Add cilantro, stir contents and transfer to serving dish.

Serve with hot methi paratha (a layered roti with fenugreek leaves), or roti
Nutrition
Calories:
84
kcal
|
Carbohydrates:
13
g
|
Protein:
2
g
|
Fat:
4
g
|
Sodium:
296
mg
|
Potassium:
469
mg
|
Fiber:
6
g
|
Sugar:
7
g
|
Vitamin A:
50
IU
|
Vitamin C:
11.6
mg
|
Calcium:
30
mg
|
Iron:
0.5
mg