Quinoa Vegetable Pulao is my second quinoa recipe and it turned out really good the very first time I made it. I guess I lucked out.
If you want the quinoa to be firm after cooking, it's best to add an equal quantity of water. I typically cook a cup of quinoa in a cup of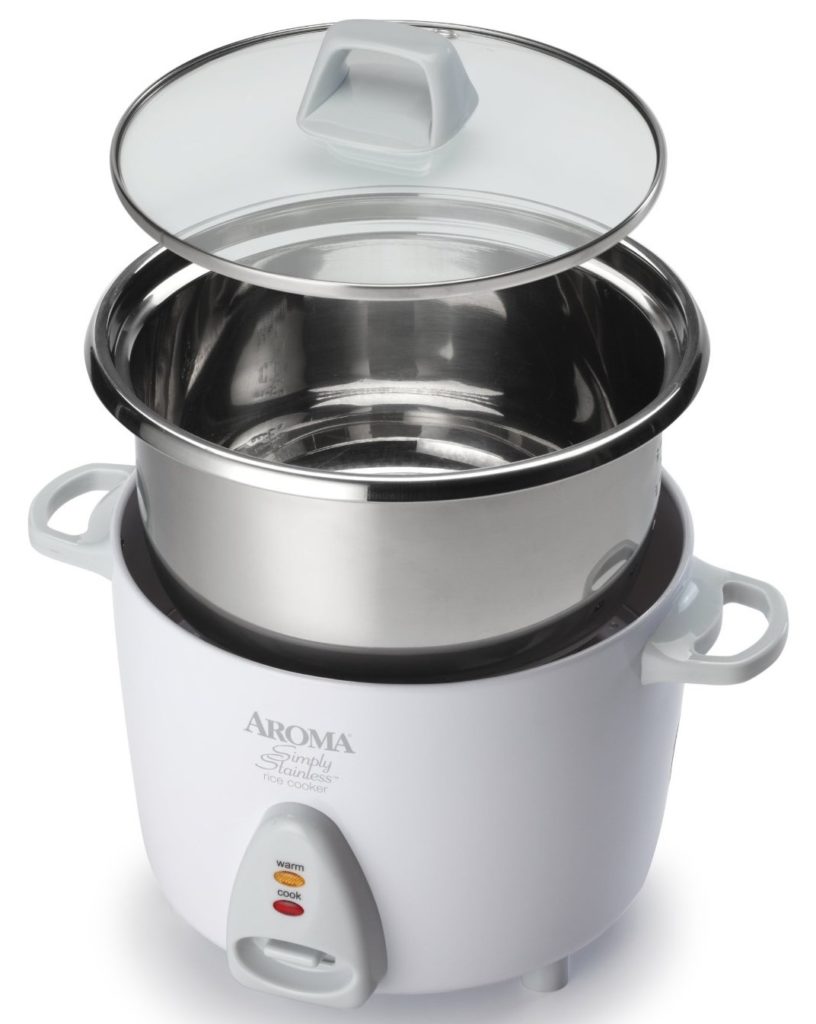 water, ideally in a rice cooker. I have owned a Panasonic Rice Cooker for several years now and it is the easiest thing in the world to use. Since it's an aluminum fabrication I never really cook directly in it. I always insert a smaller steel container into the main pan of the rice cooker, typically adding one and a half cups of water for white rice or quinoa. In the steel container that has the quinoa I add a cup of water for a cup of quinoa. If you're not too keen on an aluminum rice cooker you could also opt for the Aroma Simply Stainless Rice Cooker which is very well rated and equally easy to use.
Pulao (or Pilaf) can be made by cooking all ingredients together or cooking them separately and mixing them well in a large bowl. In this case I cooked them together, but cooking separately should be fine too. The process I followed is the same as with Brown Rice Vegetable Pulao. I sautéed all vegetables in a pan for a few minutes and added the blended mix of ginger and green chili peppers (if you can't handle too much spiciness, you can cut down the quantity of chili peppers). After sautéing for a few more minutes I added quinoa, salt, stirred a little bit and transferred all ingredients to a stainless steel bowl. Rest of the cooking happens in the rice cooker. Quite simple actually. And delicious.
Check out our Instant Pot version of this recipe:
Why is this Healthy?
Quinoa is one of the most protein-rich foods we can eat and contains almost twice as much fiber as most other grains- it is also gluten free and packs a host of other vitamins. This recipe has the goodness of vegetables, takes very little oil and is mostly steamed- its overall a wholesome and delicious recipe that is low in calories and high in protein and fiber.
Did you make this recipe? We'd LOVE to see your creations so click a photo and tag us on Instagram with the hashtag #healthyindian3 and please give a star (★) rating below. Follow us on Facebook, Twitter, Pinterest and Instagram for healthy, easy and delicious recipes.
Quinoa Vegetable Pulao
Quinoa is a healthy substitute for rice. It took me a while to get used to its rather odd texture but once I figured out the right way to cook it, I've been able to dish out some very interesting, delicious recipes. Quinoa Vegetable Pulao is one of those very easy to cook dishes.
Ingredients
3/4

Cup

Quinoa

1/8

Cup

Green Beans

Small Pieces

1/8

Cup

Carrots

Small Pieces

1/8

Cup

Potato

Small Pieces

1/8

Cup

Onion

Small Pieces

1/8

Cup

Green Peas

1/8

Cup

Mint

Leaves

1

Green Chili Pepper

Large (blended)

1

Tablespoon

Ginger

Blend 1/2 inch cube size fresh ginger

1/2

Teaspoon

Sea Salt

Low Sodium

1

Tablespoon

Olive Oil

Extra Virgin
Instructions
Gather all ingredients in separate bowls

Cut vegetables and set aside

Heat oil in a pan on medium flame and saute vegetables for 5 minutes

Blend ginger and chili and add to vegetables in pan; stir well for 2 to 3 minutes

Add salt, mint leaves and stir well

Add quinoa and stir for a minute

Transfer to a rice cooker bowl, add 4 ounces of water, mix well and turn cooker on- cook for 15 minutes; Quinoa is ready to be served.
Nutrition
Calories:
327
kcal
|
Carbohydrates:
48
g
|
Protein:
11
g
|
Fat:
5
g
|
Sodium:
594
mg
|
Potassium:
551
mg
|
Fiber:
6
g
|
Sugar:
2
g
|
Vitamin A:
450
IU
|
Vitamin C:
36.3
mg
|
Calcium:
50
mg
|
Iron:
4
mg