Brown Rice Khichdi is a simple and delicious recipe from my mom- the only change is that I use brown rice in place of white rice.
Khichdi is a meal that is prepared from rice and mung dal- it is an important source of fiber. Khichdi is very easy to digest, which makes it a wonderful food for any cleansing regimen. It allows the digestive system to rest, allocating extra energy to the body's natural detoxification processes.
This Recipe
This is my comfort food. I can remember this dish right from when I was a kid and I've always loved it. Growing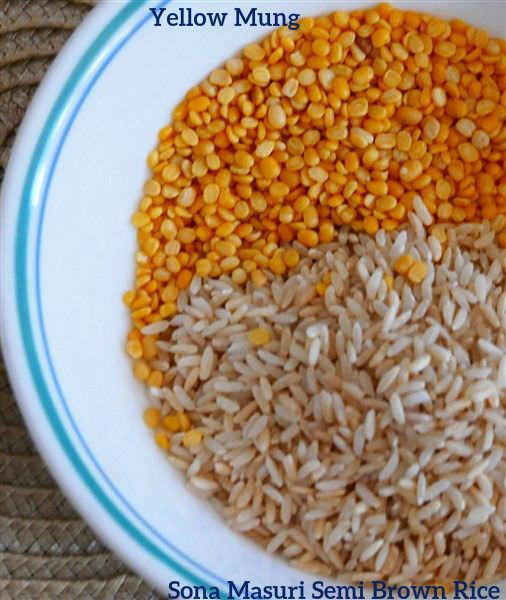 up, we used to have khichdi at least one day a week. This is also one of the dishes I would always have when I was sick or recovering from a sickness. Since it is so easy to cook, this is one of the first recipes I learnt. You can't really go wrong with this, even if you don't consider yourself a cook. Now the only reason i don't cook this too often is that it is all grains. Absolutely no greens. But that doesn't make it unhealthy- it does provide a lot of fiber and protien, thanks to the brown rice and lentils. When I don't have time to soak regular brown rice, I use a variety of rice called Sona Masuri Semi Brown Rice from 24 Mantra. It takes a little longer to cook than white rice but has most of the benefits of brown rice.
My job involves a fair amout of travel, though I work from home. As you know traveling means odd hours, getting stuck at airports, eating whatever you can get hold of, not necessarily when you're hungry but when you get a chance to eat. Even a short trip has me longing for home, especially for delicious, healthy home cooked food. So over the years it's become a habit for me- whenever I return from a trip, however late I am, I cook this dish and have it before going to bed. It somehow seems to cleanse my body of all the crappy food I may have consumed during my travels!
Check out our other khichdi recipe Vegetable Multigrain Khichdi and a somewhat similar dish Savory Brown Rice Pongal.
Why is this Healthy?
The hull and bran in brown rice provide "natural wholeness" to the grain and are rich in proteins, thiamine, calcium, magnesium, fiber, and potassium. Mung dal provides additional fiber and protein, making this a healthy snack or entrée.
Did you make this recipe? We'd LOVE to see your creations so click a photo and tag us on Instagram with the hashtag #healthyindian3 and please give a star rating below ★. Follow us on Facebook, Twitter, Pinterest and Instagram for healthy and easy recipes from all over the world.
Brown Rice Khichdi
This is one of my mom's simplest recipes, though she makes it with regular white rice. Since its so easy to cook and delicious it has been one of my go to recipes whenever I'm tired or lazy. For over a year now I've substituted this with brown rice- cooked right, this tastes just as good and is much more healthy than the white rice version.
Total Time
5
hours
35
minutes
Ingredients
1/2

Cup

Brown Rice

Basmati or Long Grain

1/4

Cup

Yellow Mung

(Split and De-Husked Mung Beans)

1/8

Cup

Onion

Fine Cut

1/8

Cup

Potato

Fine Cut, Unpeeled

6

Leaves

Curry Leaves

Large, Split in Half

1/2

Teaspoon

Mustard Seeds

1/2

Teaspoon

Cumin Seeds

5

Seeds

Black Pepper

1/2

Chili

Dry Red Chili

Small

1

Chili

Green Chili Pepper

Slit in Half

1/4

Teaspoon

Sea Salt

Low Sodium

2

Teaspoons

Ghee

Organic
Instructions
Soak brown rice for about 5 hours to soften the hull. Cut potatoes and onions. Wash brown rice and yellow mung, drain, add salt

Heat 1 teaspoon ghee in a pan on low flame and saute curry leaves, mustard seeds, cumin seeds, black pepper, dry red chili and green chili. ( Curry leaves, dry red chili, urad dal, green chili pepper, mustard seeds and cumin seeds)

Add onion and potato and saute for 5 minutes. Add the rice/dal mixture and mix gently. Add 8 ounces of water. Cook either in a rice cooker (turn off after the setting goes to 'keep warm' mode) or in a thick bottom vessel on the stove until all the water has been absorbed. Add one teaspoon ghee to cooked khichdi and mix well before serving.
Notes
Great with Tomato Chutney or mango pickle.
*Use organic ingredients wherever possible
Nutrition
Calories:
312
kcal
|
Carbohydrates:
56
g
|
Protein:
10
g
|
Fat:
5
g
|
Cholesterol:
11
mg
|
Sodium:
299
mg
|
Potassium:
449
mg
|
Fiber:
5
g
|
Sugar:
2
g
|
Vitamin A:
200
IU
|
Vitamin C:
5
mg
|
Calcium:
60
mg
|
Iron:
4.1
mg