If someone asked me what my immediate response to the word 'Pongal' was, I would say 'Temple'. That is because, even as a kid, I would look forward to pongal which was offered as prasad, every time I visited a temple. In fact, that was the incentive for me to visit temples. If they did not serve delicious, savory pongal, disappointment would keep me from returning. So what is a prasad? This word actually exists in the Oxford Dictionary! According to them, prasad is  "a devotional offering made to a god, typically consisting of food that is later shared among devotees."  This derives from the original Sanskrit prasāda, meaning  'clearness, kindness, grace'.
Aside from temple, pongal for me, has several other associations. For instance, there is sweet pongal, made from the same base ingredients and makes for a delicious dessert. Pongal is also a harvest festival celebrated in in South India and also referred to by several other names. Check out our sweet pongal (Huggi) recipe and the festival story here.
Now, to the actual pongal we're talking about in this story here: savory pongal is a South Indian breakfast dish that is made from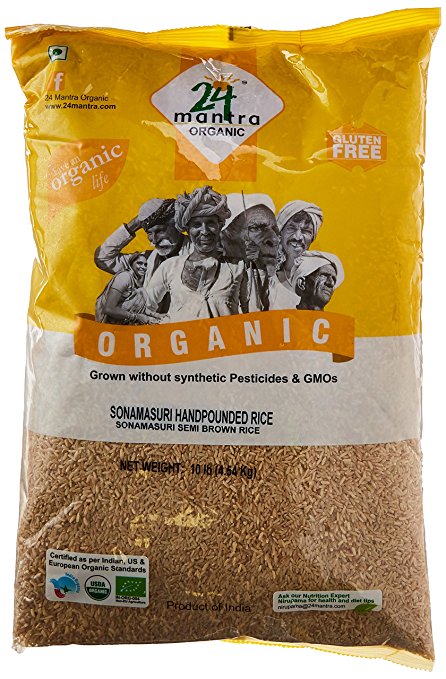 lentils and rice, similar to the North Indian dish called Khichdi (you can check out our khichdi recipe here), though the other ingredients may vary. Khichdi can pack a lot of vegetables but pongal does not include any. While khichdi is a recipe with which you can experiment a lot, pongal is strictly vanilla. The moment you try to change it, you lose the core flavor and that's not fun at all. So the only thing I decided to try and substitute was the rice. Instead of the highly polished white sona masuri rice, I used the 24 Mantra Organic Hand Pound Brown Rice. The challenge with brown rice is that it takes much longer than white rice so you will need to soak it for at least a couple of hours to soften its texture to almost that of white rice. It's well worth the trouble as brown rice is healthier and doesn't sacrifice the taste of pongal much. You may notice that it is not as mushy as white rice pongal, but that's an easy fix – just add more water and cook it longer.
If you're a pongal enthusiast like me, check this out and let me know how it tastes. With the added health benefits of brown rice, I'm sure you'll not be disappointed! Malathy has an excellent pulichaad recipe she got from her cousin Janaki Rao (who has blogged with us). Pongal and Pulichaad are the yin-yang of South Indian cuisine. Hopefully, I can persuade her to post the pulichaad recipe soon. Stay tuned!
Why is this Healthy?
Consisting mostly of brown rice and yellow mung beans, this recipe is rich in fiber and protein, making for a great breakfast, snack or your main entree at a meal.
Did you make this recipe? We'd LOVE to see your creations so click a photo and tag us on Instagram with the hashtag #healthyindian3 and please give a star (★) rating below. Follow us on Facebook, Twitter, Pinterest and Instagram for healthy, easy and delicious recipes.
Savory Brown Rice Pongal
Pongal is a delicious South Indian breakfast dish made primarily from rice and lentils. It is typically served with sambar and coconut chutney but it also goes great with tomato chutney.
Total Time
2
hours
30
minutes
Ingredients
1/2

Cup

Yellow Mung

Split

1

Cup

Brown Rice

Basmasti or any other

1

Tablespoon

Ginger

Chopped fine

1

Tablespoon

Black Pepper

Whole corns

15

Curry Leaves

1

Teaspoon

Cumin Seeds

1

Chili

Green Chili Pepper

Slit in half

8

Cashew nuts

Whole

2

Tablespoons

Ghee

Clarified butter

1/2

Teaspoon

Sea Salt

or to taste
Instructions
Wash brown rice well and soak in water for 2-3 hours

Gather all ingredients in one place for easy access.

Add a half tablespoon of ghee to a pressure cooker pan set on medium flame. If using the Instant Pot (IP), set in saute mode. Add mung lentils, soaked/drained brown rice, salt and stir for a couple of minutes. Add 3 cups of water (add more if you like it very mushy). Put the lid on and pressure cook (high on IP) for about 15 minutes to ensure it gets really soft.

Set another pan on medium flame, add a half tablespoon of ghee, wait until it is heated and add chopped ginger, peppercorns, curry leaves, cashew nuts and cumin seeds. Roast till cashews are slightly brown and turn off the flame.

Add sauteed ingredients to the pressure cooked lentils/rice and mix well and serve hot.
Notes
Pongal is typically served with sambar and coconut chutney but it also goes great with tomato chutney, or a tamarind-onion based stew called pulichaad.
*Use organic ingredients wherever possible
Nutrition
Calories:
356
kcal
|
Carbohydrates:
56
g
|
Protein:
11
g
|
Fat:
11
g
|
Cholesterol:
16
mg
|
Sodium:
229
mg
|
Potassium:
401
mg
|
Fiber:
5
g
|
Sugar:
1
g
|
Vitamin A:
300
IU
|
Vitamin C:
20.6
mg
|
Calcium:
30
mg
|
Iron:
3.1
mg