As we celebrate Holi, the Festival of Colors on March 13, 2017, I want to dedicate today's blog to a drink that's made during this festive season.
The first time I heard of kaanji was in 2016 when my cousin's Sindhi mother-in-law visited her in Dallas. My cousin invited me to try it out; one sip….and I was hooked!! I didn't get a chance to ask Aunty for the recipe and it stayed at the back of my mind, until I met a friend from Rajasthan, a couple months later. I had just returned from a trip to Japan, and was telling her how the Japanese eat fermented vegetables, and drink fermented beverages like miso on a daily basis. She mentioned that she grew up drinking a fermented drink kaanji.
Kaanji and Holi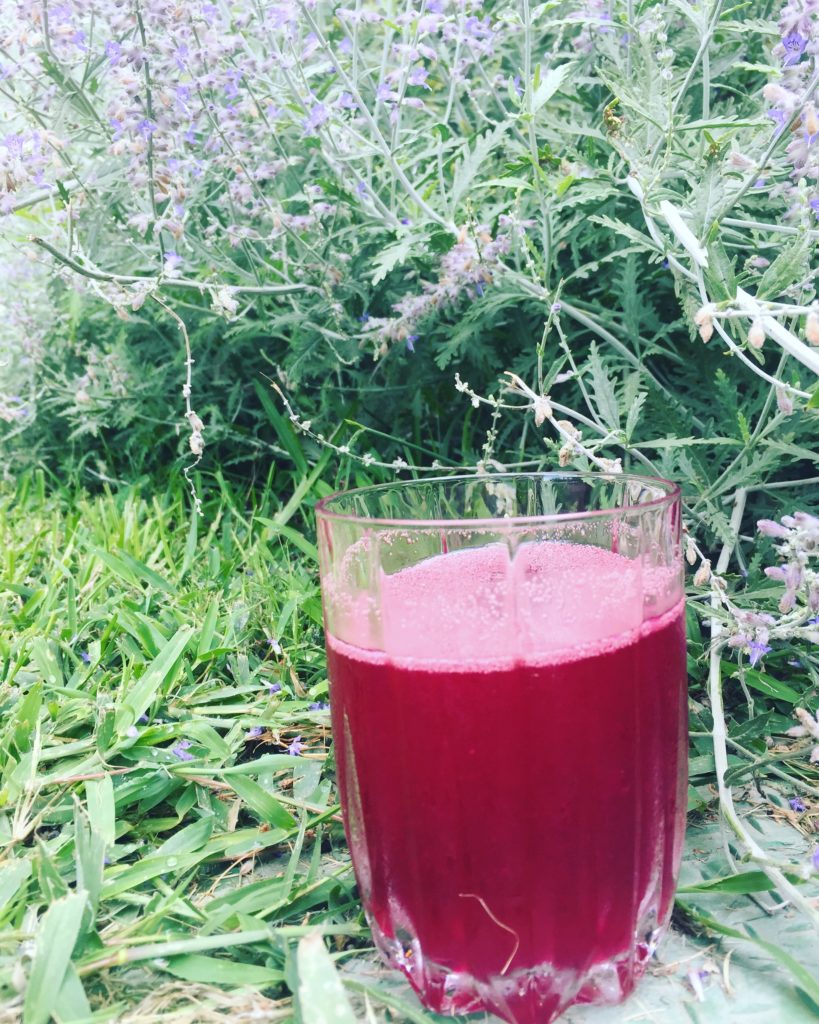 If you grew up in North India, chances are that you drank kaanji in winters leading up to Holi. Every Holi a last batch of kaanji is made to mark the end of the winter season. Traditionally, kaanji is made using basic ingredients from your kitchen – black carrots (available during the winter months), mustard powder, red chilli powder, black salt and water. The mustard is responsible for the fermentation process  and is believed to keep the body warm in the chilly winters of North India. The purpose of drinking it during the festival of Holi, is to keep your body warm and safe from infection after you have played with cold water.
For those from East European countries, you may see similarities between kaanji and Beet Kvass. For this recipe, I have used a combination of orange and purple carrots and purple beets. Other vegetables that may work well are turnips and cherry radishes. Heck, I may even try adding daikon radishes next time and give it a whirl. I buy the organic Rainbow Carrots from my local grocery store, which has a combination of yellow, orange and purple carrots.
Every evening, my husband and I will have either a glass of kombucha, or kaanji. We call them "the evening hooch" – the prelude to the small glass of red wine we occasionally have with dinner. Most of my friends that have tasted it love it, but one of my yoga students made a "scrunchy" face when she tasted it, and shook her head vigorously. Wish I had taken a picture.
The fermented vegetables from the kaanji can be eaten as a relish, either along with the drink, or on the side with meals, or used as a condiment. If you like sauerkraut or kimchi, chances are you will like the taste of these carrots and beets.
Why is this Healthy?
Consuming traditionally fermented foods provide you a number of benefits, including:
Important nutrients. Some fermented foods are outstanding sources of essential nutrients such as vitamin K2, which help prevent arterial plaque buildup and heart disease. Fermented food is also a potent producer of many B vitamins.
Optimizing your immune system. An estimated 80 percent of your immune system is actually located in your gut. Probiotics play a crucial role in the development and operation of the mucosal immune system in your digestive tract, and aid in the production of antibodies to pathogens. This makes a healthy gut a major factor in maintaining optimal health, as a robust immune system is your top defense system against all disease.
Detoxification. Fermented foods are some of the best chelators available. The beneficial bacteria in these foods are highly potent detoxifiers, capable of drawing out a wide range of toxins and heavy metals.
Cost-effectiveness. Adding a small amount of fermented food to each meal will give you the biggest bang for your buck. Why? Because they can contain 100 times more probiotics than a supplement!
Natural variety of microflora. As long as you vary the fermented and cultured foods you eat, you'll get a much wider variety of beneficial bacteria than you could ever get from a supplement. It is ideal to include a variety of fermented foods and beverages in your diet, because each food with inoculate your gut with a mix of different microorganisms.
Did you make this recipe? We'd LOVE to see your creations so click a photo and tag us on Instagram with the hashtag #healthyindian3 and please give a star (★) rating below. Follow us on Facebook, Twitter, Pinterest and Instagram for healthy, easy and delicious recipes.
Kaanji - a fermented drink
Total Time
3
days
5
minutes
Ingredients
1.5

Cups

Beets

Washed, sliced into 1"x1/2" pieces

1/2

Cup

Carrots

Washed, sliced into 1"x1/2" pieces

3

Tablespoons

Mustard Seeds

Use the regular mustard seeds, not the tiny Andhra variety

3

Teaspoons

Himalayan Pink Salt

You can use Black Salt too

10

Cups

Filtered water
Instructions
In a small grinder (I use a coffee grinder), powder the mustard seeds. Rinse and peel carrots and beets. Chop into long pieces.

Fill a glass or ceramic jug with filtered water. Add the powdered mustard seeds, salt, beet and carrot slices. Add chilli powder if you want a little spice. Stir well.

Seal the top of the jug with either a lid, or a paper towel secured with a rubber band, and set it outdoors during sunshine hours.

Bring it indoors every evening at sundown, and stir well. Don't refrigerate during the fermentation process. The next day, stir the mixture again, and leave it outdoors when the sun is up. As the vegetables start to ferment, you will see the liquid take on a darker hue

Kaanji should be ready in 2-4 days, depending on the amount of sunshine it receives. If you have a rainy day, turn on the light in your oven and set the kaanji to ferment inside the oven. However, it is best to let the fermentation process happen in natural sunlight.

Taste the drink after a couple of days; it should taste pleasantly sour. If you don't taste the desired sourness, keep it outdoors for one more day and taste again. When the kaanji starts tasting tangy and sour, it means the drink has fermented well. Do not keep it outdoors for more than 5 days since the vegetables will go bad.

Refrigerate the kaanji when the fermentation is done. Separate the veggies out and use in salads or eat them by themselves or serve as a side dish. The vegetables and kaanji will keep in the fridge for 5-7 days.
Notes
*Use organic ingredients wherever possible
Nutrition
Calories:
23
kcal
|
Carbohydrates:
4
g
|
Protein:
1
g
|
Fat:
1
g
|
Sodium:
80
mg
|
Potassium:
119
mg
|
Fiber:
1
g
|
Sugar:
2
g
|
Vitamin A:
550
IU
|
Vitamin C:
2.5
mg
|
Calcium:
10
mg
|
Iron:
0.4
mg