Ridge gourd is is one of my favorite vegetables and Ridge gourd Curry is one of my comfort foods! Ridge gourd has sharp ridges on the outside but is soft and tender on the inside, with a mild flavor and sweetness of its own that complements any spices you add. There are tons of ridge gourd recipes in the Indian cuisine and most of them are delicious (I say most of them because ingredients used can sometimes overpower the flavor of the vegetable, leaving an unpleasant taste).
I learnt this recipe from my mom. It took me a few tries to master this recipe, especially since I was cooking the vegetable a little too long, making it mushy. This gourd is so tender that it softens almost within 5 minutes on medium flame. You need to be mindful of this. I also had to make sure that I perfected the ingredient measurement here, since it is a fine balance of spices with the natural flavor and texture of the vegetable. I still think my mom's version is better (though she doesn't really measure ingredients when she cooks!) but I think I'm being too hard on myself. 🙂
Bitter Ridge Gourd?!
On rare occasions (especially on hot summer days) you may get a gourd that's bitter, but don't get put off by it. Bitterness in ridge gourd is due to the presence of a compound called cucurbitacin. This contributes to ridge gourd flavor in small amounts, but in large amounts causes bitterness. Hot, dry weather increases the levels of this compound.
How to pick the perfect Ridge Gourd in grocery stores? Make sure the vegetable is dark green in color and is firm to touch. There needs to be a little 'give' but not too much. Gently peel the ridges off but not too much!
Ridge gourd curry is called 'Beerakaya Kura' in Telugu, one of the languages spoken in South India. It's a wonderful curry that is easy to make and has a great flavor from the not-so-overpowering spices used.
Why is this Healthy?
Ridge gourd is rich in dietary fiber and enriched with all the vital elements that include Vit-C, Zinc, Iron, Riboflavin, Magnesium, Thiamin and traces of another minerals. This is a lightly sauteed and mildly spiced dish that retains most of the nutrient value of the vegetable. A great recipe for the calorie concsious.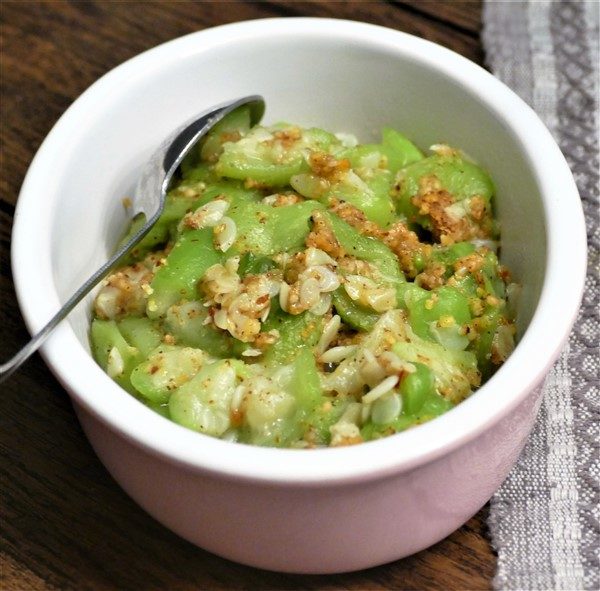 | | |
| --- | --- |
| | |
Peel ridge gourd and cut to half inch cubes.

Set aside chana dal, cumin seeds, red chili, mustard and cumin seeds in a bowl

Sauté chana dal, red chili, mustard and cumin seeds in a pinch of oil for about 5 minutes , transfer to a bowl

Transfer contents to a blender, add salt and blend into a not too fine powder. Sauté the ridge gourd in oil for 5 to 7 minutes on medium flame till the water evaporates. Add blended spice powder to the pan and stir to spread evenly.

Cook for 5 minutes and transfer to a serving bowl
Goes well with steamed rice (white or brown) and organic ghee.
*Use organic ingredients wherever possible
Nutrition Facts
Ridge Gourd Curry
Amount Per Serving
Calories 109
Calories from Fat 36
% Daily Value*
Total Fat 4g 6%
Cholesterol 0mg 0%
Sodium 305mg 13%
Potassium 652mg 19%
Total Carbohydrates 16g 5%
Protein 5g 10%
* Percent Daily Values are based on a 2000 calorie diet.