So What Is Opo Squash?
Opo squash or Calabash, is a popular vegetable in the Indian cuisine, across all regions of the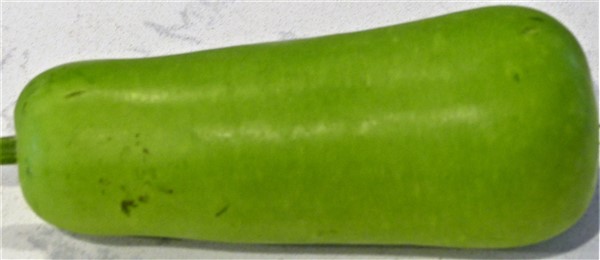 sub-continent. It is great for cooking because it is very mildly flavored, it can take on any flavor you add to it. It also cooks really fast and is very easy to digest. Most importantly, if you are calorie and/or carb conscious, this is a vegetable that should be a key part of your diet. While it is not easy to find opo squash in your regular grocery store, you'll certainly find it at almost any Indian or Asian grocery store. I always pick one that is small (so I can cook it in one go). When you shop for this vegetable, make sure it has that mild green color, it is firm, and has no soft spots.
This Recipe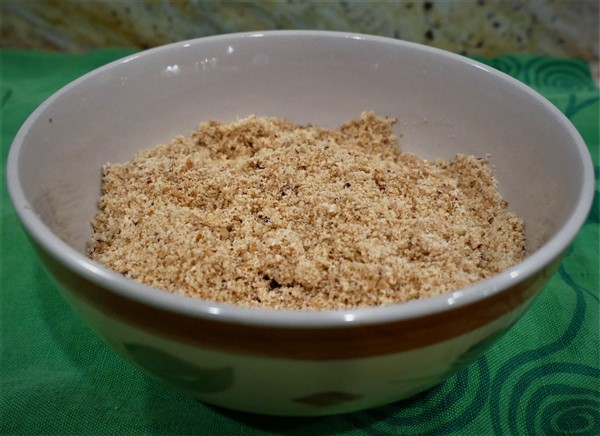 One of the main ingredients used in the recipe featured here, is Sesame Chutney Powder. You could make fresh powder just for this recipe – it's very simple. You'll need a tablespoon of sesame seeds, a teaspoon of urad dal, one half of a large red chili pepper and salt to taste. Just roast, cool and blend them. Alternatively, store a small jar of this awesome chutney powder in your refrigerator like I do, and use it with other sautéed vegetables. Or simply mix it with steamed brown rice and organic ghee- it's delicious! This powder puts a savory spin on the opo squash, together with other spices like cumin and mustard seeds.
The other seasoning ingredients add an extra flavor to the dish. Since Sesame Chutney Powder has salt and chili pepper in it, be cognizant about adding extra salt or spice to this curry. I like my food spicy hot, so I always end up adding extra chili powder.

Why is this healthy?
Opo Squash (or Calabash/ Bottle Gourd) is a good source of Vitamin C, Zinc, Potassium, among others. This recipe is very low in calories and carbs and great if you're on a weight loss plan.
Check Out Our Other Opo Squash Recipe
While we're on the subject of Opo squash, you might want to check out our delicious Opo Squash Yellow Mung Curry. It's a "must try" dish! And yes, we'll be adding more recipes with this very nutritious vegetable.
Did you make this recipe? We'd LOVE to see your creations so click a photo and tag us on Instagram with the hashtag #healthyindian3 and please give a star (★) rating below. Follow us on Facebook, Twitter, Pinterest and Instagram for healthy, easy and delicious recipes.
Opo Squash Sesame Sauté
Opo Squash is used in a wide variety of South Indian dishes. This recipe is simple and delicious, mildly flavored and super low in calories. Have it as a snack by itself, add to your salad for that extra flavor, or add it to your roll or taco.
Ingredients
Opo Squash Curry
1/2

Pound

Opo Squash

Peeled, and cut into small pieces

1

Tablespoon

Sesame Chutney Powder

See ingredients and recipe below

6

Leaves

Curry Leaves

1/2

Teaspoon

Urad Dal

Split matpe beans

1/2

Teaspoon

Mustard Seeds

1/2

Teaspoon

Cumin Seeds

1/2

Chili

Dry Red Chili

Small

1

Chili

Green Chili Pepper

Small

1/4

Teaspoon

Sea Salt

or to taste

1

Teaspoon

Coconut Oil
Sesame Chutney Powder
1

Tablespoon

Sesame Seeds

1

Teaspoon

Urad Dal

Split matpe beans

1/4

Teaspoon

Red Chili Powder

1/4

Teaspoon

Sea Salt

Or to taste
Instructions
To make the Sesame Chutney Powder, roast sesame seeds, urad dal, and dry red chilli. Cool and blend to a fine powder with salt.

Heat oil in pan. Add seasoning ingredients (curry leaves, urad dal, cumin and mustard seeds, green and red chili pepper) and sauté till the mustard seeds splutter.

Add opo squash, salt, chili powder (to taste) and mix well- cook for about 5 minutes with a lid on.

Remove the lid, add Sesame Chutney Powder, mix well and cook for 5 more minutes.

Transfer to a serving bowl.
Notes
Have it as a snack by itself, add to your salad for that extra flavor, or add it to your roll or taco.
*Use organic ingredients wherever possible
Nutrition
Calories:
99
kcal
|
Carbohydrates:
20
g
|
Protein:
1
g
|
Fat:
3
g
|
Sodium:
246
mg
|
Potassium:
448
mg
|
Fiber:
2
g
|
Sugar:
7
g
|
Vitamin A:
150
IU
|
Vitamin C:
37.1
mg
|
Calcium:
50
mg
|
Iron:
1.3
mg