So, what is Snake Gourd?
Looking eerily akin to dangling green serpents, snake gourds are not an item you will see available in the supermarket.
Snake gourd (also called Serpent Gourd) is a vine plant that climbs up a trellis and then unfurls its flowers and fruits to hang down to the ground. Some of the largest specimens can grow up to five feet in length! This plant is native to the Southeast Asian region that includes countries like Myanmar, India, Indonesia, Sri Lanka, as well as some parts of Australia and Africa. It may not be a type of vegetable that is well-known around the world, but certain cultures have been utilizing this unique food variety for hundreds of years.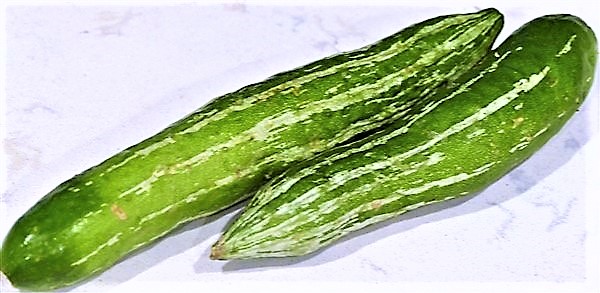 Extremely popular in Indian dishes, it's no surprise that snake gourd has found its way into Ayurvedic medicine, often used as a cooling ingredient. Snake gourd has some impressive health benefits, like its ability to reduce fever, detoxify the body, improve digestion, increase hydration, strengthen the immune system, treat diabetes, improve strength and quality of the hair, and aid in weight loss. Seeds of the snake gourd were sent to Europe from China in 1720. They have long been known to the American and European community, but were never cultivated since the plant needs warm nights to fruit. Today, there is renewed interest in its cultivation due to the rapidly increasing Indian communities in these areas of the globe.
Several of my friends in the southern part of the United States grow this vegetable. If you have room for a strong trellis, these are relatively easy to grow and are prolific producers. Their striped, speckled and dangling looks are sure to elicit frequent comments from your garden visitors. There are several varieties of seeds that you can browse through here.
And now to this recipe
This is a very simple vegan/vegetarian recipe that involves minimal ingredients – coconut oil, salt, cayenne pepper and seasoning ingredients that are fairly standard with South Indian recipes (fresh curry leaves, mustard and cumin seeds, urad dal, green and dry red chili peppers). I typically store some fresh coconut pieces in my freezer that I can defrost and blend for recipes like these. Apart from its impressive health benefits, fresh coconut adds a great flavor and texture. From start to finish, this recipe takes about 25 minutes, tops. To make this recipe more flavorful, you can add a tablespoon of Chutney Powder. I keep a jar of this in my fridge and add it to dry dishes like these, for that extra dash of flavor.
Availability
In the US, most Indian groceries sell snake gourd. You can't miss it – it is long, narrow and has green and white stripes running length wise. Pick ones that are firm. Also note that some of them have seeds that may be very hard in texture, so it is generally a good practice to remove the seeds when you cut the vegetable for this recipe. Also ensure you rinse it well with fresh water to get rid of any contaminants.
Pairing
Honestly, with an easy-going and versatile dish as this one, the sky is the limit on what you can pair it with. Traditionally, this side dish was eaten with white rice and ghee, or with chapathi/roti, but we are on the Healthy Indian website, right? So, let's take this to the next level: we have several recipes on the Healthy Indian website that will be great accompaniments to this wonderful dish. You could eat this with our Methi Paratha instead of plain roti or Brown Rice Khichdi or even our Brown Jeera Rice instead of the mundane white rice. Or better yet, this saute is great served as a side of salad. Why not?
Why is this Healthy?
Snake gourd has some impressive health benefits, like its ability to reduce fever, detoxify the body, improve digestion, increase hydration, strengthen the immune system, treat diabetes, improve strength and quality of the hair, and aid in weight loss.
Did you make this recipe? We'd LOVE to see your creations so click a photo and tag us on Instagram with the hashtag #healthyindian3 and please give a star (★) rating below. Follow us on Facebook, Twitter, Pinterest and Instagram for healthy, easy and delicious recipes.
Snake Gourd Coconut Sauté
Snake Gourd Coconut Sauté is a wholesome, delicious, mildly spiced recipe that pairs well with steamed rice and ghee or with roti. It's also great by itself as a snack.
Ingredients
3/4

Pound

Snake Gourd

1/2

Teaspoon

Mustard Seeds

1/2

Teaspoon

Cumin Seeds

1/2

Teaspoon

Urad Dal

6

Leaves

Curry Leaves

Split in half

1/2

Pepper

Green Chili Pepper

Slit lengthwise

1/4

Cup

Fresh coconut

Grated

1/2

Pepper

Dry Red Chili

Or to taste

1/2

Teaspoon

Red Chili Powder

Cayenne pepper

1/2

Teaspoon

Sea Salt

Or to taste

1

Tablespoon

Coconut Oil
Instructions
Cut the tips off the snake gourd. Slit in half and remove all the seeds. Cube the gourd into 1-inch pieces.

Add oil to a pan set on medium flame and wait for the oil to heat up. Sauté seasoning ingredients (curry leaves, cumin and mustard seeds, urad dal, red and green chili pepper) till the mustard seeds crackle. Add grated coconut, stir for a few seconds.

Add the cut snake gourd, salt, mix well and cover the pan with a lid. Give it a few minutes and stir. Repeat the process a few times for about 15 minutes. The vegetable should be cooked, but not mush.

Add chili powder (and chutney powder, if you have it handy).

Mix well and transfer to a serving bowl.
Nutrition
Calories:
162
kcal
|
Carbohydrates:
13
g
|
Protein:
3
g
|
Fat:
12
g
|
Sodium:
269
mg
|
Potassium:
669
mg
|
Fiber:
7
g
|
Sugar:
2
g
|
Vitamin A:
350
IU
|
Vitamin C:
53.6
mg
|
Calcium:
60
mg
|
Iron:
2.7
mg