This not-so-popular root vegetable takes a back-seat with most people. Some of my friends tell me they don't like this vegetable because they were (force)fed it as a boiled mess when growing up. Yuck! I'd be put off with such a childhood trauma for sure.
Luckily for me, my childhood memories of beets are nothing but pleasant. And even more luck for me, after I got married, I learnt with delight, that my husband's family regularly uses beets, and in fact, they make a delicious beetroot rasam (a soup with lentils – mostly eaten with rice in the Southern part of India). To this day, this is a popular dish that we serve at parties in our home. I need to post this recipe sometime soon…meanwhile try this delectable rasam recipe from our archives.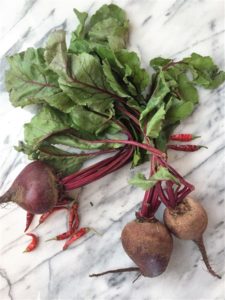 Beets are a fascinating vegetable. For one, there's the intense color. Rich tones of purple-red-maroon. No other vegetable comes this close to beets in their vibrancy of color. Then, there is the amazing symmetry of Mother Nature when you cut the root in half. The intricate Valentine hearts in concentric circles are mesmerizing, to say the least. On the flip side, for those that are unprepared, there's the aftermath of cutting up beets. Red mess on the cutting board, stove-top, on the kitchen knife, and if you are not careful, red spots on the kitchen counter, dish towel, floor and whatever else has come on its war-path. Read to the bottom of this blog for my tip on how to avoid getting color all over your fingers. And need I mention, red pee the next morning? In some people, eating beets turns urine pink or red—which can be alarming because it looks like blood in the urine. These odor and color changes are harmless, reports this article. The coloring is strong that one can use chopped beets, beet juice or beet root powder to dye natural fabric to a dusty pink. Pretty amazing vegetable, this is, would you agree?
A long time ago, when I was buying beets from our local Farmer's Market, I asked the vendor to remove the leaves and discard them for me. A horrified customer who was also buying beets told me – 'honey, you know those beet greens are delicious, don't you?' No, I didn't know the greens were edible, and boy, am I ever thankful to that customer for educating me.
If you live in areas that enjoy a bit of chilly winters, beets are a great option to grow in your backyard. Beets are a cool-season crop and grow well in the cool temperatures of spring and fall. They do poorly in hot weather. Beets are well suited to large or small home gardens since they require little room. And there is a huge variety of beets that you can order online. It is relatively easy to grow, so if you are an aspiring gardener, do try your hand at growing these roots.
Palya, as dry curries are called in Kannada (the language spoken in the south Indian state of Karnataka), is a very easy and delicious way of incorporating beets and the beet greens into one's diet. Usually the tempering is done with mustard seeds, chana dal and urad dal. I've varied this a little by replacing the mustard seeds with nigella seeds and adding a tad bit of fenugreek seeds. Go easy on the fenugreek seeds – they tend to be bitter and use just a few grains to balance out the sweetness of the beets.
A small tip on how to make it easier on yourself to finely chop beets: cut the beets into larger pieces and cook them. After they cool down a bit, cut them into smaller pieces. This is a huge time-saver, AND it prevents your fingers from coloring.
There are a lot of good reasons to eat beets. And if you haven't tried them since you were forced to eat the canned version as a child, it's time to taste the real thing. If you or anyone in your family are naysayers to beets, do try this recipe. You are sure to love the mixture of spice, sweetness with the tinge of bitterness from the greens, irresistible.
If you like to experiment with the non-run-of-the-mill veggies, check out Snake Gourd Coconut Sauté or Sautéed Tindora or Raw Dosakaya Salad.
Why is this Healthy?
Beets, like most vegetables, are packed with many familiar and healthy nutrients. They are a good source of folate, magnesium, vitamin C, and fiber. But what really sets beets apart are the lesser-known—but highly beneficial—nutrients they contain. Compounds in beets—such as nitrates, betalains, and betaine—have been studied for their positive effects on oxidative stress, inflammation, cardiovascular health, and cognition.
Did you make this recipe? We'd LOVE to see your creations so click a photo and tag us on Instagram with the hashtag #healthyindian3 and please give a star (★) rating below. Follow us on Facebook, Twitter, Pinterest and Instagram for healthy, easy and delicious recipes.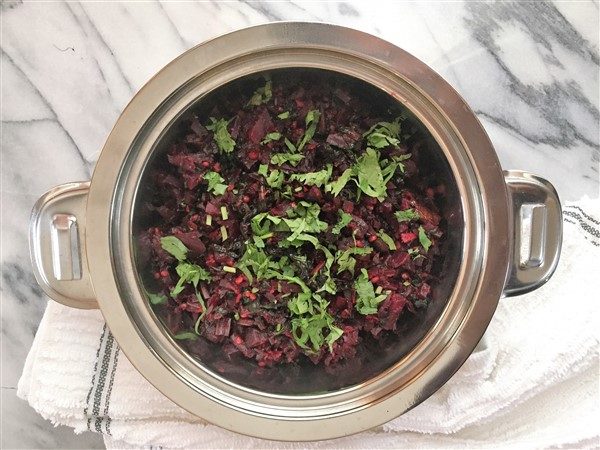 | | |
| --- | --- |
| | |
Separate the greens from the beets and wash well. If your beets are organic, or home-grown, no need to peel them. Otherwise, gently peel the skin off the beets. Chop the greens finely.

Cut the beets into 4-6 large pieces and cook for 6-8 minutes. You can either use the microwave, your Instant Pot (use the Steam mode for 1 minute), or pressure cook for 1 whistle. The beets should be firmly cooked, and not mushy.

Let the beets cool a bit. Chop them into smaller pieces.

In a thick bottom skillet, heat oil. Don't let it smoke. Splutter cumin seeds, nigella seeds, fenugreek seeds, chana dal, red chilis and curry leaves.

Add beet greens and sauté for 1-2 minutes.

Add cooked beets, turmeric, salt, freshly grated coconut and mix well for 1-2 minutes.

Sprinkle chopped fresh coriander leaves and serve hot.
Nutrition Facts
Beets (root & greens) Palya
Amount Per Serving
Calories 105
Calories from Fat 54
% Daily Value*
Total Fat 6g 9%
Cholesterol 0mg 0%
Sodium 291mg 12%
Potassium 408mg 12%
Total Carbohydrates 13g 4%
Protein 2g 4%
* Percent Daily Values are based on a 2000 calorie diet.