South Indian Potato Curry is a spiced potato recipe that goes as a side or a stuffing with Masala Dosa, a savory crêpe. It is also served occasionally as part of a meal, with rice, dal, chutney etc.
Masala Dosa is a popular dish- according to Wikepedia, "Masala Dosa is stuffed dosa. There are two parts: the dosa and the stuffing. The dosa is made in the usual way by soaking rice and lentils overnight in water and then grinding it to a batter. The fermented batter is used to make dosa. The stuffing is made from boiled potatoes with a seasoning of mustard seeds and garnishing of grated coconut, coriander, and lemon juice."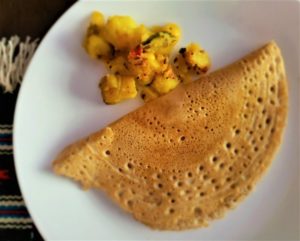 I typically have South Indian Potato Curry as a side with Multigrain Dosa (which is my version of the traditional dosa). I don't usually make the coconut chutney or sambar to go along with the dosa, unless I have guests at home. Dosa is actually a very open concept, with no specific rules on how you can have it.  It is the same with the potato curry. There are several variations of the ingredients and the way it is made.
The key ingredients in my recipe in addition to potatoes, are the seasoning ingredients (curry leaves, red chili
pepper, urad dal, cumin and mustard seeds), turmeric, fine cut green chili pepper, ginger, tomatoes and onions. Curry leaves, turmeric and ginger bring in the dominating flavor, in addition to the seasoning ingredients. Onions add a delicious sweetness to the dish and tomatoes bring in the tanginess. I like to cook the potatoes just enough to leave them soft but intact (not mashed). It's just an individual preference. The potato curry that is stuffed in the traditional Masala Dosa is usually semi mashed and has a dash of lime instead of tomato. Some recipes also use cilantro.
Why is this Healthy?
Potatoes are actually a low calorie diet, with a medium-sized baked potato containing only about 110 calories. They are a good source of vitamins C and B6, manganese, phosphorus, niacin and pantothenic acid. In this recipe, potatoes are first boiled and later very quickly sauteed with onions, tomatoes and green chili peppers, in just a teaspoon of coconut oil therefore retaining most nutrients.
Did you make this recipe? We'd LOVE to see your creations so click a photo and tag us on Instagram with the hashtag #healthyindian3 and please give a star (★) rating below. Follow us on Facebook, Twitter, Pinterest and Instagram for healthy, easy and delicious recipes.
South Indian Potato Curry
This is a delicious curry, simple to cook. It's served mostly with dosa and other types of crepes. It's also common to see this dish served with a meal along with other vegetables and dals, especially at weddings. The ingredients and preparation may vary slightly.
Ingredients
1/2

Pound

Potato

Peeled and Cut Into Medium Pieces

1/2

Cup

Onion

Fine cut

1/4

Cup

Tomato

Diced

1

Teaspoon

Ginger

Grated

12

Leaves

Curry Leaves

Split in half

1

Chili

Green Chili Pepper

Fine cut

1/2

Chili

Dry Red Chili

1/2

Teaspoon

Mustard Seeds

1

Teaspoon

Urad Dal

1/4

Teaspoon

Turmeric Powder

1/4

Teaspoon

Sea Salt

Or to taste

1

Teaspoon

Coconut Oil
Instructions
Make sure you have all vegetables cut and accessible. Boil or cook potatoes in rice cooker or pressure cooker until tender (ingredients shown in the picture here do not represent actual quantities)

In the meantime sauté seasoning ingredients (curry leaves, red chili pepper, urad dal, cumin and mustard seeds) in a pan and add turmeric powder. Add ginger, onion, tomatoes, green chili peppers and sauté for 5 to 7 minutes. Add salt and mix well.

Add steamed potatoes, some water and salt and cook in open pan till the water almost completely evaporates

Transfer to serving bowl
Notes
Goes well with Multigrain Dosa, Egg Dosa and Steamed Brown Rice with Organic Ghee.
*Use organic ingredients wherever possible
Nutrition
Calories:
131
kcal
|
Carbohydrates:
24
g
|
Protein:
4
g
|
Fat:
3
g
|
Sodium:
301
mg
|
Potassium:
627
mg
|
Fiber:
3
g
|
Sugar:
3
g
|
Vitamin A:
100
IU
|
Vitamin C:
106.4
mg
|
Calcium:
20
mg
|
Iron:
1.4
mg