Opo squash is very extensively used in Indian recipes. Opo Squash Yellow Mung Curry, is called Anapakaya Pappu Kura in Telugu. This literally translates into Opo Squash Dal Curry – dal since lentils are used and curry since vegetable is used. This is one of my all-time favorites. Any time I go to an Indian grocery store I make sure I get fresh opo squash so I can make this dish. Though I know a few other good recipes with this vegetable I'd rather make this particular recipe than anything else.
The thing I like about this recipe the most is its simplicity and its mild flavor. It also helps that it is low calorie and has a decent amount of protein thanks to yellow mung. The trickiest part here is to make sure that the vegetable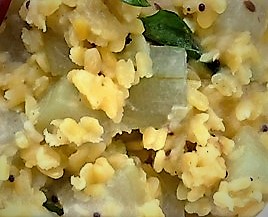 and lentils are cooked exactly right (not over or under cooked- see picture). While the lentils need to be soft, they should not get really mushy and turn into a complete paste. Opo squash can get easily overcooked so its better steam it for about 10 minutes so it gets slightly soft. I cook the lentils separately and I make sure I set it to just 2 whistles in my pressure cooker. You might need to try a few times before you hit the right combination. You need to also remember here that both lentils and the vegetable will be cooked again along with the other ingredients, so it is ok if they are slightly under cooked initially.
So once you have the vegetable steamed and the lentils pressure cooked, all you need to do is sauté the seasoning ingredients (curry leaves, urad dal, cumin and mustard seeds, green and red chili pepper), add hing and then add the vegetable, lentils, salt and mix well. Ensure that the water almost completely evaporates before you turn off the flame.
Why is this Healthy?
Opo Squash (or Calabash/ Bottle Gourd) is low in calories and a good source of Vitamin C, Zinc, Potassium, among others. This recipe benefits not only from the vegetable but from a decent proportion of yellow mung, which is a good source of protein.
Did you make this recipe? We'd LOVE to see your creations so click a photo and tag us on Instagram with the hashtag #healthyindian3 and please give a star (★) rating below. Follow us on Facebook, Twitter, Pinterest and Instagram for healthy, easy and delicious recipes.
Opo Squash Yellow Mung Curry
This is a delicious lentil/curry dish incorporating the goodness of both vegetables and lentils (low in calories and high in protein). It is mildly spiced and traditionally served with steamed rice and ghee.
Ingredients
1/2

Pound

Opo Squash

6

Leaves

Curry Leaves

1/4

Teaspoon

Mustard Seeds

1/4

Teaspoon

Cumin Seeds

1/2

Teaspoon

Urad Dal

1/2

Dry Red Chili

1

Whole

Green Chili Pepper

Small, slit lengthwise

1/4

Cup

Yellow Mung

1/2

Teaspoon

Extra Virgin Coconut Oil

1/4

Teaspoon

Sea Salt

1

Pinch

Asafoetida (Hing)
Instructions
Get a fresh Opo Squash and set it aside

Peel skin and cut opo squash to half inch cubes (or smaller) and set it in a dish; also set aside seasoning ingredients in a seperate dish

Cook mung dal and opo squash separately in a pressure cooker for 10 minutes; sauté seasoning ingredients in oil on a pan along with asafetida; add the cooked mung dal and opo squash to the pan along with salt and cook for 5 minutes

Transfer contents to a serving dish
Notes
Goes well with rotis or steamed rice and organic ghee. Or just by itself as a snack.
*Use organic ingredients wherever possible
Nutrition
Calories:
147
kcal
|
Carbohydrates:
28
g
|
Protein:
7
g
|
Fat:
2
g
|
Sodium:
298
mg
|
Potassium:
722
mg
|
Fiber:
6
g
|
Sugar:
2
g
|
Vitamin A:
100
IU
|
Vitamin C:
18.2
mg
|
Calcium:
70
mg
|
Iron:
2.7
mg