Hard to imagine nowadays, but I grew up in a day, time and place when the only seasonal vegetables we ate were what was grown within a 20 mile radius of our home-town. This gourd, called Dosakaya in the state of Andhra Pradesh (now split into two states – Telangana and Andhra) was one of the very few vegetables that grew in the harsh summer heat of the Deccan Plateau. And when I mean 'harsh', I am sugar coating my words. Often, temperatures would rise to 110 degrees Fahrenheit (43 degrees Celsius). We had just 2 seasons: Mild Summer (aka winter) and Severe Summer. Severe Summer persisted almost all year round.
Cucumbers belong to the same plant family as squash, pumpkin, and watermelon (the Cucurbitaceae family). Like watermelon, cucumbers are made up of mostly (95 percent) water, which means eating them on a hot summer day can help you stay hydrated. However, there's reason to eat cucumbers all year long. With vitamin K, B vitamins, copper, potassium, vitamin C, and manganese, cucumbers can help you to avoid nutrient deficiencies that are widespread among those eating a typical American diet. Plus, cucumbers contain unique polyphenols and other compounds that may help reduce your risk of chronic diseases and much, much more.
The variety of cucumber used in this dal is the same one that is used in Raw Dosakaya or Cucumber Salad, a deliciously spicy salad. This is called Indian Curry Cucumber, Lemon Cucumber or Yellow Cucumber – it comes in multiple shades of greens or yellows – plain or mottled. All of these varieties are available at any Indian grocery store. Make sure you pick one that is firm so it holds up well in cooked dal. Our other cucumber recipe Chilled Cucumber Dill Soup, uses a slightly different variety of cucumber that looks somewhat like zucchini. This soup is absolutely delicious and a must-have summer dish.
For this recipe, it is ideal to peel the skin, remove all seeds and cut the cucumber into small pieces. Cooking this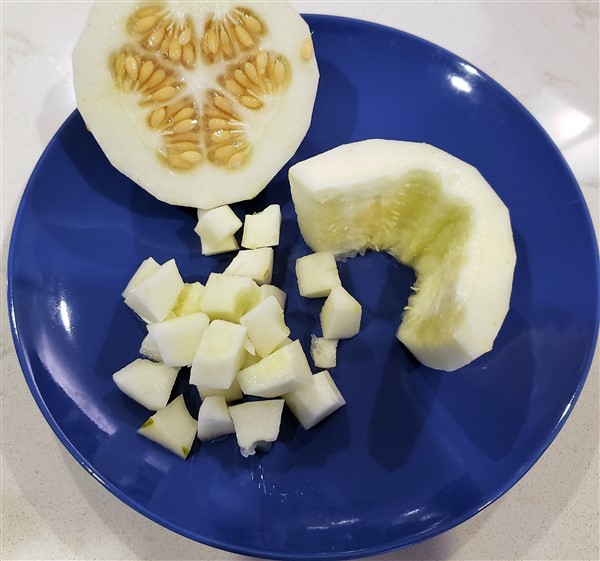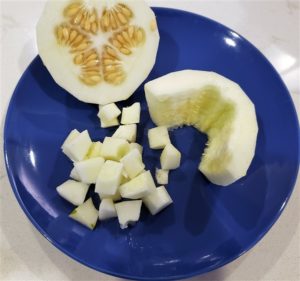 recipe is a 2-step process. First, the lentils (split pigeon peas) are pressure cooked  so you have a soft,  almost mushy base for the dal. To keep cucumbers crunchy, you add them straight with the seasoning, which is the second step of the process. If you are using a regular pressure cooker, you are basically cooking the lentils in the cooker and then finishing the recipe in a pan on a stove top.
I've been asked why the entire recipe cannot be completed in an IP in one go. That means you would do the seasoning first, add raw lentils, and then pressure cook the entire thing. This simply does not taste the same as when you add cooked lentils to the seasoning. The traditional method is to always add pressure cooked lentils.
Why is this healthy?
With vitamin K, B vitamins, copper, potassium, vitamin C, and manganese, cucumbers can help you to avoid a number of nutrient deficiencies. Lentils provide protein and fiber, making this a very wholesome dish.
Did you make this recipe? We'd LOVE to see your creations so click a photo and tag us on Instagram with the hashtag #healthyindian3 and please give a star (★) rating below. Follow us on Facebook, Twitter, Pinterest and Instagram for healthy, easy and delicious recipes.
Cucumber Dal
Cucumber Dal is a deliciously tangy South Indian lentil soup that can be had by itself as a snack, or with steamed brown rice and organic ghee and part of a main meal.
Ingredients
1/2

Cup

Toor Dal

(Split Pigeon Peas)

1/4

Pound

Cucumber

(Yellow)

1/2

Cup

Cilantro

(Fine Cut)

6

Leaves

Curry Leaves

(Split In Half)

1/2

Teaspoon

Mustard Seeds

1/2

Teaspoon

Cumin Seeds

1/2

Chili

Dry Red Chili

1/2

Chili

Green Chili Pepper

1

Pinch

Asafoetida (Hing)

1/4

Teaspoon

Methi Powder

(Fenugreek Powder)

1/4

Teaspoon

Tamarind

( Or To Taste)

1/4

Teaspoon

Turmeric Powder

1/4

Teaspoon

Red Chili Powder

1/4

Teaspoon

Sea Salt

1

Tablespoon

Coconut Oil
Instructions
Set lentils in IP and cook under pressure for 24 minutes. An alternative to this is to soak the lentils in water for about 30 minutes and then pressure cook for just 15 minutes. Add salt, turmeric, tamarind paste and chili powder to the cooked lentils and mix well

Dry out the IP pan, set it on 'saute' mode and add oil. Once it is hot, add seasoning ingredients (curry leaves, urad dal, cumin and mustard seeds, dry chili pepper, green chili pepper, fenugreek powder, hing)

Once the ingredients start to crackle, add cucumber and saute for about 7-8 minutes to soften. Now add pressure cooked dal, cilantro and mix well. Let the contents simmer for a couple of minutes and transfer to a bowl. Serve hot.
Notes
Great as a soup or with steamed brown rice and organic ghee.
*Use organic ingredients wherever possible
Nutrition
Calories:
69
kcal
|
Carbohydrates:
7
g
|
Protein:
2
g
|
Fat:
4
g
|
Sodium:
121
mg
|
Potassium:
192
mg
|
Fiber:
2
g
|
Sugar:
1
g
|
Vitamin A:
100
IU
|
Vitamin C:
14.9
mg
|
Calcium:
30
mg
|
Iron:
1.3
mg