Tomato Dal, popularly known as Tomato Pappu in the Andhra region of South India, is regularly featured as part of a typical meal. It has always been one of our family favorites and my mom used to cook this at least once a week. I end up cooking this dal almost a couple of times a month, if not more.
I love this dish because it's so easy to cook and tastes great. Typically lentils are cooked separately in a pressure cooker (I add a pinch of baking soda to get them extra tender). One of the fixtures in my kitchen is the Prestige Pressure Cooker. I use it mostly for cooking dal and rice. A more recent
acquisition of mine is the Instant Pot. Though I got it mostly for cooking brown rice and for slow cooking, it has worked really well for dal. The best part is that you just set a timer on it and it cooks and automatically turns off, unlike the pressure cooker where you need to keep track of the number of whistles and turn off manually.
Tomatoes are softened separately in a rice cooker (or a separate dish in the pressure cooker)- they should not be boiled together with the lentils as they tend to slow down the softening process. With most South Indian dals, toor dal is the go to lentil, although on occasion yellow mung is also used. We start with sauteing garlic in order to get the distinct flavor and then sauté the seasoning (curry leaves, cumin and mustard seeds, urad dal, dry red chili and green chili pepper). Fenugreek powder which is added after seasoning, brings in its own distinct flavor to the dal. That is all there is to it- add tomatoes, dal salt and cook for a few minutes and the dish is ready to serve.
Tomato dal is typically served with steamed rice, ghee and vegetable. It's usually part of a meal that is served with other dishes like curry, chutney etc.
We include a lot of Dal recipes on Healthy Indian. Check out a few of our favorites: Dal Makhni, Tomato Fenugreek Dal, Tempered Yellow Lentil Soup, Mixed Greens Dal, Raw Mango Dal.
Toor dal is a the key ingredient of almost all Indian dals. This is a typical Andhra dish that is easy to cook, delicious and low on calories. It's a staple that's usually served with steamed rice and vegetable.
Why is this Healthy?
Toor dal is an excellent source of nutrients and plant protein, and also contains dietary fiber. Toor dal contains folic acid, an important vitamin for all women, especially those planning to become pregnant. Tomatoes are a major dietary source of antioxidant lycopene, which has been linked to many health benefits, including reduced risk of heart disease and cancer. They are also a great source of vitamin C, potassium, folate and vitamin K. This recipe gives you the best of both ingredients and cooked in a way that all key nutrients are retained.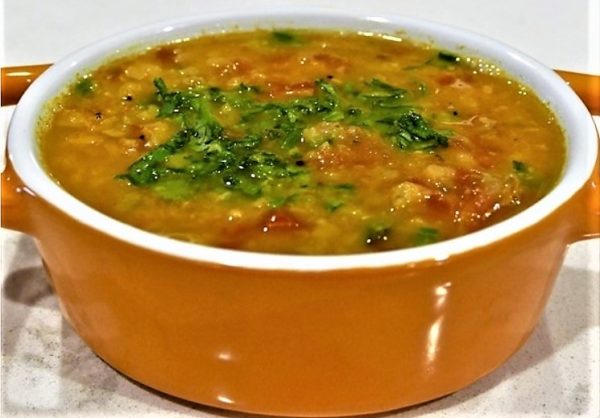 | | |
| --- | --- |
| | |
Cook toor dal and tomato together in a pressure cooker and mash it with a spoon or the back of a ladle into a paste.

Get all ingredients together- pressure cooked tomato and toor dal, seasoning ingredients (garlic, curry leaves, urad dhal, curry leaves, green and red chili peppers, mustard and cumin seeds, turmeric powder) methi powder, fine cut cilantro and salt.

Heat oil in a pan (or in Instant Pot, setting on 'Saute' mode) . Add garlic and saute until golden brown. Add rest of the seasoning seasoning ingredients and fenugreek powder. Stir for a minute on medium flame.

Add the pressure cooked toor dal and tomato, salt, and continue cooking for about 5 minutes or until contents come to a simmer. Add cilantro and stir well ( or garnish with cilantro after transfering to a serving dish and mix well before serving)
Goes well with hot Steamed Brown Rice and Organic Ghee.
*Use organic ingredients wherever possible
Nutrition Facts
Tomato Dal
Amount Per Serving
Calories 88
Calories from Fat 27
% Daily Value*
Total Fat 3g 5%
Cholesterol 0mg 0%
Sodium 299mg 12%
Potassium 341mg 10%
Total Carbohydrates 12g 4%
Protein 4g 8%
* Percent Daily Values are based on a 2000 calorie diet.