Ever since I was a kid, potato has been my favorite. I remember my mom's sautéed potatoes (with just a bit of salt) that tasted so yummy with steamed rice and home-made ghee. I could eat that for every meal, no complaints:) And my second most favorite meal was steamed rice with pressure cooked tur dal (split pigeon pea lentils) with a pinch of salt and ghee. Lentils were my main source of protein- since I was raised in a strictly vegetarian household, I never had meat till I was 16 and started hanging out with friends who would eat nothing but chicken. My mom would also make me eat different vegetables as was growing up. I was very picky, though.
These days, when I see kids eating chicken or pizza ( frozen, heated in the microwave), chips, fries and a whole bunch of other processed foods, I think my diet as a kid was far more healthy, in spite of the extra starch and carbs. Everything was cooked from scratch and I thank my mom for that. And we were lucky also in the sense that we were never exposed to processed foods and sugary, fizzy colas as much, back then.
Is Potato A Vegetable?
Over the last several years I have been very conscious of my diet -I make sure I eat a lot of vegetables and limit my carbs, meat etc to the least amount possible (no, I cannot get rid of those completely). I used to think potato was a vegetable, but now I know better. It is rich in carbs and I'm very mindful of that. By definition, potatoes are starchy, enlarged modified stems called tubers, which grow on short branches called stolons from the lower parts of potato plants.
This Recipe
So to satisfy my potato craving, I occasionally make this delicious recipe. I make sure I leave the skin on ( potato skin contains a good amount of fiber, which moves slowly through the body undigested, promoting fullness and decreasing hunger) and use coconut oil for sautéing and that is a good way to consume potatoes (as compared to deep frying). Bell pepper is added later in this recipe, to ensure it retains the crunch and nutrition (bell pepper takes far less time to cook than potato, and doesn't taste good if it gets mushy). Bell pepper adds a lot of flavor and some extra nutrition. Adding chili and coriander powder gives a delicious kick to this recipe!
Check out the recipe video here: 
Don't forget to check out our other delicious and nutritious recipes with bell peppers or potatoes : Stuffed Bell Peppers, South Indian Potato Curry, Raw Red Bell Pepper Soup, Sauteed Cabbage And Bell Pepper.
Why is this Healthy?
Potato skin contains a good amount of fiber, which moves slowly through the body undigested, promoting fullness and decreasing hunger. Bell pepper is a great source of Vitamin C.
Did you make this recipe? We'd LOVE to see your creations so click a photo and tag us on Instagram with the hashtag #healthyindian3 and please give a star (★) rating below. Follow us on Facebook, Twitter, Pinterest and Instagram for healthy, easy and delicious recipes.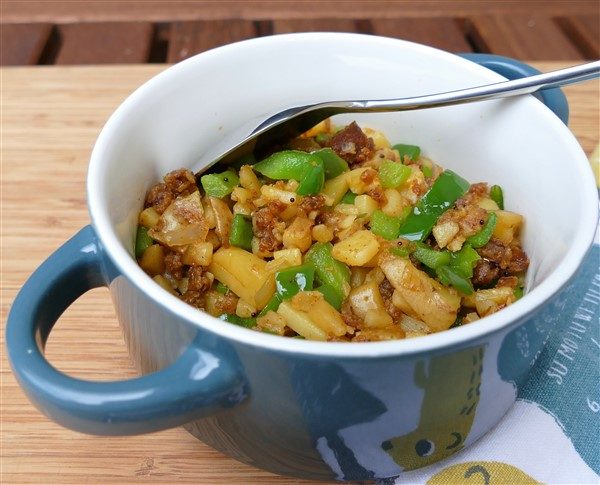 | | |
| --- | --- |
| | |
Set Instant Pot on 'Saute' mode, add oil and wait till the 'hot' sign shows up (or just heat oil in a pan on a stove top). Once it's hot, add mustard seeds and give them a few seconds to crackle

Add potato and onion, add salt, mix well. Keep doing this for about 8 to 10 minutes and leave a lid on when not stirring

Add bell pepper, chili powder and mix well. After a couple of minutes add coriander powder and mix well. Keep doing this for about 5 to 7 minutes and leave a lid on when not stirring

Check to make sure the potato is cooked and transfer to a serving container
Have this by itself as a snack, as a pizza topping, or a taco stuffing. Also great with steamed brown rice and ghee or multigrain roti.
*Use organic ingredients wherever possible
Nutrition Facts
Spicy Bell Pepper Potato Medley
Amount Per Serving
Calories 178
Calories from Fat 63
% Daily Value*
Total Fat 7g 11%
Cholesterol 0mg 0%
Sodium 465mg 19%
Potassium 658mg 19%
Total Carbohydrates 27g 9%
Protein 3g 6%
* Percent Daily Values are based on a 2000 calorie diet.