Cold, chilly weather…hot soup that warms you from inside out. Food that is good for your body and your soul. That's the kind of soup that is today's feature.
Like any good bowl of soup should, this one greets you with a rich-tasting flavor bursting with warm spices that linger on your tongue — just the way you'd expect. But it takes a decidedly lighter spin, given that there is no added cream, and unlike most winter-time favorite soup versions, this one goes full steam ahead with lots of hearty ingredients like onions, green chili, garlic and celery. Wipe off the bowl with a slice of fresh bread and you've got a wholesome, comforting dinner that's easy enough to pull off on a weeknight.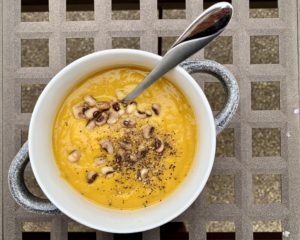 If you've never eaten butternut squash, then, you will fall in love with this wonderfully orange gourd after you've tasted this soup. It has a sweet, nutty taste similar to that of a pumpkin, but different. In a good sort of way. And the looks…it has tan-yellow skin and a deep orange fleshy pulp with a neat little compartment of seeds in the bottom. You can behold Mother Nature's artistry at work when you slice the squash.
BAKED OR COOKED?
There are several ways of preparing the butternut squash for this recipe. You can take the more laborious route of peeling the squash (not an easy task!) and cubing it (not easy either!) and then cooking it with the rest of the ingredients. The other method, which adds about an hour of passive time to the recipe, is TOTALLY worth it.
This soup tastes best when the squash is baked/roasted instead of being cooked. Trust me on this – I've tried both the ways and the roasted version wins hands down. There's something about that baking process that adds that extra special flavor to this soup. This also means that you don't have to peel and chop the squash. Boy! Peeling and chopping a butternut squash is indeed a royal pain. By using the flavorful baking process, once the butternut squash is out of the oven, you can easily scoop out the 'meat'.
HOW TO BLEND?
About the blending process: I use a Vitamix. You can certainly use an immersion blender, but I can't guarantee that it will get the soup to be as creamy as the blender version, but if you don't mind a chunky soup, go for it. Again, this is a matter of personal convenience and choice. If you do go ahead with an immersion blender, after the onions and celery is cooked, add the cooked butternut squash, salt and vegetable broth to the pot, bring the mixture to a simmer and cook, stirring occasionally for 5-10 minutes so the flavors have a chance to blend. Using your immersion blender, blend the soup completely, taste, then add more broth or salt, as the case may be, and blend again.
Love soups? Then try out several of our favorites, that we make over and over in our kitchens.
Want to make a whole meal? Then pair this (or any of our other equally delicious soups) with a yummy salad. Here goes the list:
Why is this Healthy?
One cup of cubed butter squash has 16 grams of carbs, while the same serving of chopped broccoli has 6 grams. … But as a complex carb rich in vitamins A and C, a variety of B vitamins, potassium and magnesium, you get a lot of good nutrition in those 16 grams of butternut-squash carbs. With protein packed black-eyed peas, this soup delivers everything needed for a complete meal.
Did you make this recipe? We'd LOVE to see your creations so click a photo and tag us on Instagram with the hashtag #healthyindian3 and please give a star (★) rating below. Follow us on Facebook, Twitter, Pinterest and Instagram for healthy, easy and delicious recipes.
Roasted Butternut Squash & Black-Eyed Peas Soup
A hearty soup that will warm and nourish your body and soul on a cold winter day. With protein packed black-eyed peas, hearty vegetables and intoxicating spices, this soup delivers everything needed for a complete meal.
Total Time
1
hour
40
minutes
Ingredients
1

Teaspoon

Butter

Vegans - use olive oil

1

Teaspoon

Olive Oil

1/2

Cup

Onions

1

Teaspoon

Garlic

Freshly minced

3/4

Cup

Celery Stalks

1 inch cubes

2

Green Chili Pepper

Or to taste

3

Cups

Butternut Squash

Or 1 large butternut squash

4

Cups

Vegetable Broth

1

Teaspoon

Himalayan Pink Salt

Or to taste

1

Cup

Black-eyed Peas

Soaked and Cooked; or use BPA-free canned version

1/2

Teaspoon

Black Pepper

Freshly ground
Instructions
Soak black-eyed peas for 1-3 hours and cook until they are soft but not mushy. Alternatively, rinse BPA-free cans of black-eyed peas and set aside.

Cut butternut squash lengthwise. Scoop out the seeds. No need to remove the tough skin.

Lightly coat the butternut squash with olive oil all over.

Bake butternut squash in oven at 400 F for 40-50 minutes or until fully done. The time depends on your oven. Let the baked butternut squash cool. Scoop out the insides (I use a grapefruit spoon to get every bit out) of the butternut squash and discard the skin.

Chop garlic, onions, green chili and celery.

Heat butter (or olive oil) in a pan. Add garlic, onions, green chili and celery and sauté until onions are translucent. About 4-5 minutes. Turn off the heat and wait until this cools down. Put this mix into a high-speed blender. Add the roasted butternut and salt to your blender. Add vegetable broth and blend on high speed until the mixture is creamily smooth. Vary the quantity of broth based on how thick you like your soup.

Add cooked black-eyed peas to the soup. Garnish with freshly ground black pepper and serve hot. Let leftover soup cool completely before transferring it to a proper storage container and refrigerating it for up to 4 days (leftovers taste even better the next day!). Or, freeze this soup for later (don't add the black-eyed peas if you are freezing the soup).
Notes
Wipe off the bowl with a slice of fresh bread and you've got a wholesome, comforting dinner that's easy enough to pull off on a weeknight.
*Use organic ingredients wherever possible
Nutrition
Calories:
118
kcal
|
Carbohydrates:
23
g
|
Protein:
4
g
|
Fat:
3
g
|
Cholesterol:
3
mg
|
Sodium:
642
mg
|
Potassium:
628
mg
|
Fiber:
5
g
|
Sugar:
7
g
|
Vitamin A:
3350
IU
|
Vitamin C:
65.2
mg
|
Calcium:
90
mg
|
Iron:
1.6
mg