I really don't know what to make of the 2019 summer in North Texas. One day the sun is relentlessly burning down on us poor souls. The next day, we are inundated with torrential rain. The weather apps (even the paid ones) seem to be totally clueless on what the skies are going to bestow us with in the next several hours.
However, the one constant during the summer months is our local Farmer's Market. Come rain or shine, they are open every Saturday morning. Tempting the senses with freshly picked vegetables, fruits, greens, herbs, flowers, it is an immense pleasure to walk around the market, greeting the farmers, talking to them about how well or terrible the weather has been to different varieties of plants.
I staggered home with a large watermelon on my trip to the McKinney Farmer's Market last weekend. The farmer gave me a sample, and boy, was I hooked! Red and lush and juicy – I realized that we'd have to eat this fruit for several days even after sharing half of it with friends. It was opportune that while I was racking my head about how to use the humongous fruit, my cousin Priya came up with this recipe. She made this with Sprite, but I have substituted soda with watermelon; feel free to take further liberties to tweak and add your own extras for your delicious summer sip. If you want to lighten it up, swap out the ginger or use less of it. Want that tangy feel? Then add an additional dash of lemon juice. Want a lil bit of spice? Add cayenne pepper.
Healing drinks are an easy way to incorporate beneficial spices, roots, herbs and botanicals into your daily ritual. To be sipped and savored, this metabolism-boosting, hormone-balancing drink will satisfy your every mood and need.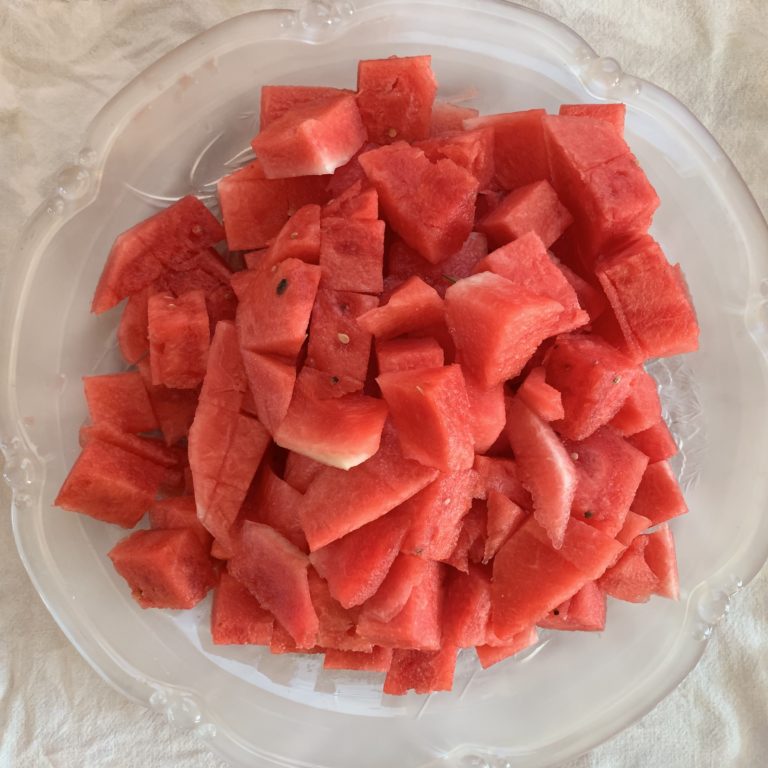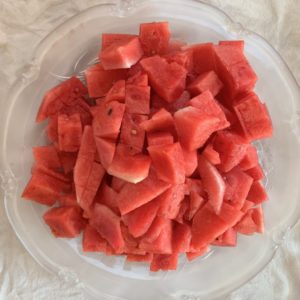 Why is this Healthy?
Watermelon is a surprisingly healthy fruit. It has a high water content and also delivers many other important nutrients, including lycopene and vitamin C. These nutrients mean that watermelon isn't only a tasty low-calorie treat — it's also very good for your health. There's nothing better than mint to cool you down. Mint is a calming and soothing herb that has been used for thousands of years to aid with upset stomach or indigestion. Ginger has some pretty amazing health benefits including aiding in digestion, fighting nausea, soothing upset stomachs, and can be anti-inflammatory.
Did you make this recipe? We'd LOVE to see your creations so click a photo and tag us on Instagram with the hashtag #healthyindian3 and please give a star (★) rating below. Follow us on Facebook, Twitter, Pinterest and Instagram for healthy, easy and delicious recipes.
Refreshing Watermelon-Mint-Ginger Smoothie
Ingredients
3

Cups

Watermelon

Cut into 2" cubes

1/2

Teaspoon

Ginger

Juice from fresh ginger root. Vary to taste

1/2

Teaspoon

Lemon Juice

Or Lime juice

1/4

Teaspoon

Himalayan Pink Salt

Or to taste

2

Tablespoons

Mint

Fresh Leaves. Vary to taste

1/8

Teaspoon

Cayenne Pepper

Or to taste
Instructions
Cut and slice watermelon into 2-inch cubes and add to blender. Add mint leaves, salt, lemon/lime juice, cayenne pepper and ginger juice.

Blend on high speed. Taste and adjust flavor as needed, adding more water melon for sweetness, salt for extra electrolytes, or mint for a more intense herb flavor.

Divide between serving glasses and enjoy. Optional: Garnish with fresh mint. Best when fresh, though leftovers will keep covered in the refrigerator for up to 2 days. Freeze leftovers in ice cube trays or popsicle molds for an afternoon pick-me-up.
Notes
*Use organic ingredients wherever possible
Nutrition
Calories:
37
kcal
|
Carbohydrates:
9
g
|
Protein:
1
g
|
Sodium:
147
mg
|
Potassium:
144
mg
|
Fiber:
1
g
|
Sugar:
7
g
|
Vitamin A:
200
IU
|
Vitamin C:
9.1
mg
|
Calcium:
10
mg
|
Iron:
0.5
mg