Growing up, the only kinds of salads I ate were the lightly steamed kosumbari (grated veggies like carrots with soaked/sprouted lentils), or many types of raita with raw cucumbers, onions, tomatoes – all topped off with a fiery tadka (tempering) of mustard seeds, curry leaves, hing (asafetida) and green chilies.
I had never heard of kale until a decade back, when it became a mad craze and THE hep food to consume. I also hated bitter tasting vegetables, so the idea of eating bitter greens like kale, mizuna, dandelion and arugula sounded pretty unsavory. I had never set my eyes on strawberries until I came to the US, and the only image of these berries was through the avid reading of the adventures of the Famous Five and the Secret Seven – and the wonderful strawberry jam they consumed while solving edge-of-your-seat mysteries. Enid Blyton's books, that my friends and I devoured with the greatest literary hunger, are full of simple, timeless things that never go out of fashion: friendship, thrilling adventures, using your imagination, getting lots of fresh air, and the comforting reassurance that only home-cooking can bring. 
All in all, there was no room for salads in my cuisine, especially with greens, fruits and herbs that I didn't grow up with.
However, we all change with Time, and so do our palettes and palates. I am not sure if it is because one moves to a different region or country and adapts other cuisines, or because, many of us (I wouldn't say all of us) become more adventurous eaters and expand our taste experiences. As we grow older, taste becomes more a matter of our minds and memories than our physical reaction to sweetness or bitterness. This is when, we're likely to overcome our aversion to beets or cauliflower. "Our attitudes toward, and responses to, certain foods can be altered enormously by the contexts in which we encounter them, the number of other people we see eating them, the way they do or don't dovetail with the diets we mean to maintain." says the article. I urge you to read it.
Slowly, as I started to absorb and get absorbed by the melting pot of this land, I began experimenting with bitter greens in my kitchen garden. Then, the inevitable happened: when it is growing in your backyard, thriving with all the love and hard work you are putting into raising them, how can you not eat them??! There is established research that shows kids are more apt to eating a variety of foods if they are exposed to seeing them growing in kitchen gardens.
Kale does extremely well in Dallas winters (if you can keep the Cabbage White Butterfly Caterpillars out). Baby kale are the delicate leaves of the young immature kale plant. Their flavor is milder than that of traditional kale and has a slightly peppery flavor, like arugula. Though still hardier than most lettuce varieties, the small leaves of Baby kale are much more delicate than mature kale. Most any kale variety can be harvested at this young stage, resulting in a more tender crop suitable for fresh eating or cooking. Still relatively new so the commercial market, baby kale is starting to show up in salad mixes in grocery stores.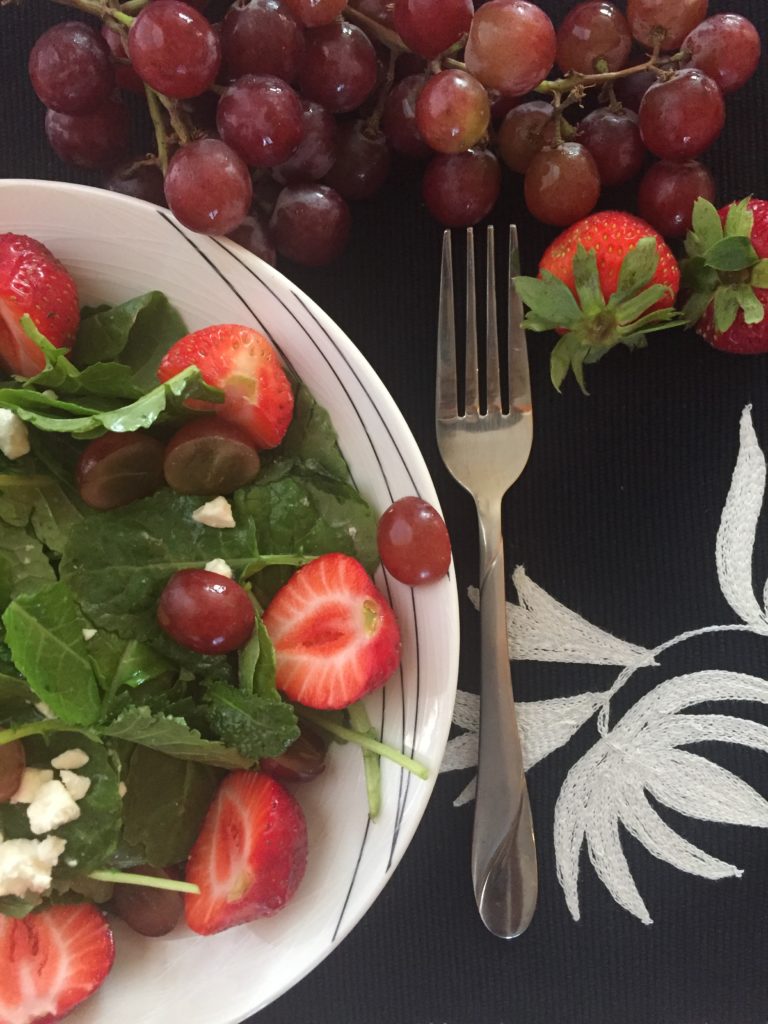 I've realized two things that are needed to make a great salad in general, and one additional thing that's relevant to kale salad. One, is the combination of greens, veggies and proteins in your salad – more color, fresher, crunchier – the better. Two, the dressing. You could have the greatest of greens and veggies, but without a good salad dressing, the venture is sure to be a failure. Three, there is a trick to making really good kale salad. It's all about the dressing and how it is applied. Unlike other salads, kale salad needs a good massaging, especially with the mature leaves of the dinosaur and Lacinto variety (not so much with baby kale, but it won't hurt). Massaging the dressing into kale is what takes it from tasting like dry tasteless weeds to tender flavorful salad. When we are adding softer ingredients like fruits or crumbled cheese, the massaging should be done before adding those ingredients, so they don't get smashed. These are a MUST for one to fall in love with salads. And this salad does just that. It is wonderfully colorful and crunchy and brings out the five fundamental tastes – sweet, sour, salty, bitter and umami – through for you. It's an unexpected combination of flavors, perhaps, but they're truly irresistible together.
I hope you love this salad as much as I do. This salad will truly make you a "salad convert". Try it. It is sure to make a statement on the table at your next summer get-together. Recipe yields 4 large or 8 side salads.
If you are already a salad lover, do browse through our terrific salad selection: Tangy-ly Spicy Sweet Jicama Salad, Summery Quinoa Salad, Sprouts Carrot Salad, Raw Dosakaya Salad.
Why is this Healthy?
Eating salad almost every day may be one of the most healthy eating habits you can adopt — and one of the simplest, experts say. A recent study from the National Cancer Institute suggests that people whose diets are rich in fruits and vegetables may have a lower risk of developing cancers — even those who smoke and drink heavily!!
Did you make this recipe? We'd LOVE to see your creations so click a photo and tag us on Instagram with the hashtag #healthyindian3 and please give a star (★) rating below. Follow us on Facebook, Twitter, Pinterest and Instagram for healthy, easy and delicious recipes.
Colorfully-Crunchy Strawberry Grape Kale Salad
A wonderfully colorful and crunchy salad that brings out the five fundamental tastes - sweet, sour, salty, bitter and umami - through for you. It's an unexpected combination of flavors, perhaps, but they're truly irresistible together. This salad will truly make you a "salad convert". Try it.
Ingredients
Colorful Strawberry Grape Kale Salad
1/2

Pound

Baby Kale

1

Cup

Strawberries

Hulled

1/2

Cup

Red Grapes

Cut in half

1

Tablespoon

Feta Cheese

Crumbled. Skip if vegan

1/2

Tablespoon

Sunflower Seeds

Optional

1/2

Tablespoon

Pumpkin Seeds

Optional
Herb Dressing
1

Tablespoon

Olive Oil

1

Tablespoon

Apple Cider Vinegar

Use the organic variety with the "Mother"

1/2

Tablespoon

Honey

Use local, raw

1/2

Teaspoon

Herbes de Provence

Optionally use other dried herbs like oregano, thyme, parsley, rosemary or marjoram

1/4

Teaspoon

Black Pepper

Freshly cracked powder

1/4

Teaspoon

Himalayan Pink Salt

Or To Taste
Instructions
Herb Dressing
Whisk olive oil, apple cider vinegar (ACV) and honey rapidly in a bowl. Add herbs of your choice, freshly ground black pepper, salt and whisk some more until everything is blended well. Taste, and add more salt or honey if needed. This dressing can be stored in your pantry for several days.
Strawberry Grape Kale Salad
In a large bowl, assemble the salad: add baby kale. Pour in the dressing (use more or less, based on your preference). Gently massage the entire salad using your hands, until the dressing the evenly spread throughout. Add cut strawberries, cut grapes and crumbled feta cheese and mix everything gently. Top with sunflower and pumpkin seeds (optional) and serve!
Notes
This is a hearty summertime garden salad that you can serve as a lunch, or light dinner, or as a side salad for a crowd. It is so flavorful and crunchy, that you won't have a problem with leftovers. You could also make extra, divide all of the ingredients in half and store salad and dressing separately and enjoy leftovers for a few days.
To bulk this salad up even more for lunch, add avocado, quinoa, lentils, garbanzo or sprouted mung beans.
*Use organic ingredients where possible
Nutrition
Calories:
102
kcal
|
Carbohydrates:
14
g
|
Protein:
3
g
|
Fat:
5
g
|
Cholesterol:
3
mg
|
Sodium:
203
mg
|
Potassium:
383
mg
|
Fiber:
3
g
|
Sugar:
8
g
|
Vitamin A:
1600
IU
|
Vitamin C:
83.3
mg
|
Calcium:
120
mg
|
Iron:
1.3
mg