If you have had any exposure  at all to Indian cuisine there's a very good chance you've heard of Chana Masala. It tops the list of vegetarian entrées on the menu at most Indian restuarants. Chana Masala is a delicious curry made from chickpeas and goes very well with rotis or rice. This recipe is also known as Choley in Punjab. Choley Bhature (which is Chana Masala served with fried flat bread) is a very popular dish not just in Punjab, but all over India. It is delicious but sort of greasy. 🙁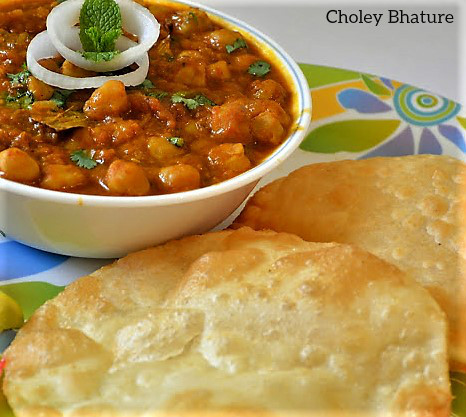 Chickpeas (or Chana) are very hard seeds and need to be soaked for at least 8 to 10 hours if you want to get the best of their nutritional value. Additionally, soaking them long enough makes them tender, succulent and delicious. If the seeds are not soaked well you can get the occasional hard chickpea that could spoil the taste for you. Once you have soaked them adequately, they need to be pressure cooked at least for 15 minutes with double the quantity of water and a pinch of baking soda. A good test to confirm that they are really well cooked is that most of the skin separates itself fro the chickpeas. You can also get canned chickpeas and save yourself the trouble of soaking and cooking them for a long time, but remember that fresh chickpeas are richer and fuller and meatier tasting than their canned cousins. I'd like to also point out here that I've added carrots to our recipe to add some extra nourishment- this is not done in the traditional version.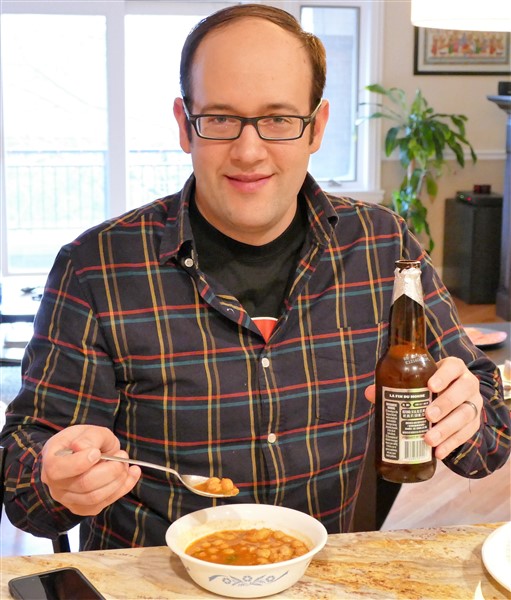 I'd like to dedicate this recipe to my good friend Asa who is originally from Wisconsin and now lives in New York– he is the biggest Chana Masala fan I know personally. He just loves this dish!  Just so he could make this dish at home, he started learning Indian cooking and actually invested in a pressure cooker. His wife tells me that the first time he made this dish at home, he spent almost the entire day in the kitchen:) You can see him here enjoying his favorite bowl of Chana Masala with his favorite beer.
Why is this Healthy?
Fiber in chickpeas keeps you feeling full longer, helping you eat less, which may benefit your waistline. Chickpeas contain soluble fiber, which helps lower low-density lipoprotein, or bad cholesterol. Soluble fiber also helps keep blood sugars steady, which benefits people with diabetes. Chickpeas are also high in protein. Chana Masala is a delicious way to get nutrient benefits of these awesome legumes into your body.
Did you make this recipe? We'd LOVE to see your creations so click a photo and tag us on Instagram with the hashtag #healthyindian3 and please give a star (★) rating below. Follow us on Facebook, Twitter, Pinterest and Instagram for healthy, easy and delicious recipes.
Chana Masala
Chana Masala is a quintessential North Indian recipe. This is a popular dish, served in most Indian restaurants globally- the restaurant version can be greasy , but at home, you can make it absolutely healthy and delicious.
Total Time
8
hours
40
minutes
Ingredients
1/3

Cup

Chana (Chickpeas)

(Garbanzo Beans) Soaked

1/4

Cup

Potato

Large Pieces

1/4

Cup

Onion

Fine Cut

1/4

Cup

Tomato

Fine Cut

1/4

Cup

Carrots

Cut to small pieces

1/8

Cup

Cilantro

Fine Cut

1

Teaspoon

Ginger & Garlic Paste

1

Pinch

Turmeric Powder

1/2

Teaspoon

Red Chili Powder

1

Teaspoon

Garam Masala

1

Pinch

Baking Soda

Non-Aluminum

1/4

Teaspoon

Sea Salt

Or To Taste

1

Tablespoon

Coconut Oil

Extra Virgin
Instructions
Wash chickpeas. Add to a bowl and pour filtered water to 1 inch above the chickpeas. Soak overnight, drain water and set aside (you can use BPA-free cans of cooked chickpeas in a time crunch).Set aside chopped onions, tomatoes and potatoes in a bowl. Also set spices aside (ginger garlic paste, turmeric, red chili powder, garam masala) in a separate bowl so you have everything ready as you start cooking.

Pressure cook chickpeas, carrots and potato for about 15 minutes in a pressure cooker (regular or Instant Pot) and set them aside.

Heat oil in a pressure cooker pan (or Instant Pot). Saute onions and ginger garlic paste on medium flame until onions are golden brown. Add chili powder, turmeric, tomatoes and salt and continue sauteing till you see an almost fine paste.

Add garam masala, cooked chana and potatoes and stir for about 2 minutes. Put the lid on and pressure cook for 20 minutes.

Transfer cooked chana masala to a bowl and sprinkle chopped cilantro. Serve with brown jeera rice or roti.
Nutrition
Calories:
216
kcal
|
Carbohydrates:
28
g
|
Protein:
8
g
|
Fat:
9
g
|
Sodium:
363
mg
|
Potassium:
434
mg
|
Fiber:
6
g
|
Sugar:
5
g
|
Vitamin A:
150
IU
|
Vitamin C:
14
mg
|
Calcium:
40
mg
|
Iron:
2
mg