Last week, was a mad-house at our place. We were 10 people (and a big dog) in the house. We had family visiting from India and from out of town. What a bedlam of activity we had in the house – especially in the kitchen. Two adorable 6-year olds running up and down the stairs, pooch barking at an imaginary foe, folks trying to talk louder and louder to be heard. Topics from family gossip to jobs to holiday (mis)adventures to politics to just plain banter. No one wants to go sight-seeing since we are all meeting after many years. So much excitement and hubbub we miss from not having family around us.
Except for one dinner which we catered from a wonderful restaurant nearby, the rest of the meals were made at home. When an Indian home has guests, food is not restricted to 3 meals a day. Let's see…there's the early morning coffee being made multiple times (brewed fresh as each person wakes up). Some want their coffee black, some with milk and no sugar, some with milk and lots of sugar (definitely not a healthy choice, but I bite my tongue).
This is soon followed by an elaborate breakfast to suit different palates – dosa stuffed with potato curry and served with generous quantities of coconut chutney, and home-made chutney power mixed with warm cold-pressed coconut oil, followed by an almond smoothie (easy-to-make-from-scratch using real almonds!) then more freshly ground organic coffee to wash everything down.
Lunches are relatively simpler with a salad, followed by a soup served with freshly (albeit store-bought) baked and warmed up bread doused in earthy green and pungent olive oil. Everyone is exhausted from the eating and talking, so a short siesta (kids are forced to lie down and 'be quiet') follows only to be followed by more kitchen activity: The Evening Chai. Not just some tea, not just any tea. This is masala tea – milk and water are boiled with freshly grated ginger and spices before tea leaves and sugar are added. The concoction is filtered, and chai is slurped loudly with the accompaniment of the loud crackling sounds of chakli, kodubale, tengolalu (rice based deep fried delicacies). Loud talking and laughing are a constant. We must make up for lost time during siesta, you see?!
Very soon dinner time rolls along and there's more food. Appetizers, wines, single malt precede an elaborate array of food – pulao and raita, stuffed paratha (flatbread) a subzi (curry) or two and dal. Of course, no family dinner of this size is complete without payasa for dessert! More laughter, more entertaining stories, thanks to the alcohol.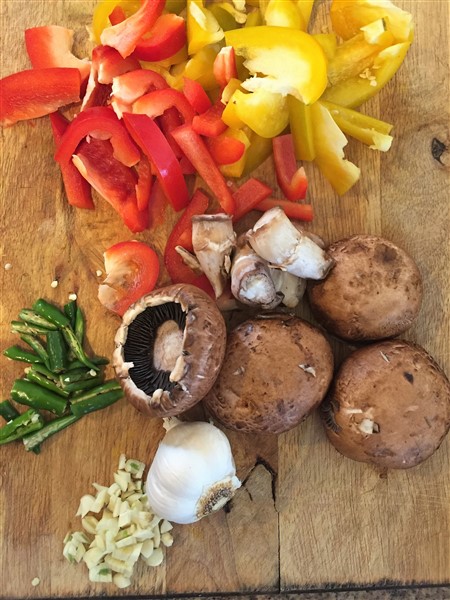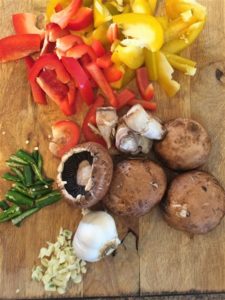 Finally, it is time to say goodbye. Back to an empty house, with tons of linen and towels to wash. The house is eerily silent suddenly, and we miss the hubbub, the commotion and the camaraderie of bonding time. On the flip side, I want to take it a little easy – I don't want to spend time to go grocery shopping, I have very little patience to cook. This is where this easy-peasy dish comes in. Mushrooms, bell peppers left over from the home-made pizza night get right into the act. The leftover dosa batter is also summoned to the table. End Result: a lip-smacking meal that's been easily put together with whatever is in the refrigerator. Now, that open bottle of organic red wine needs to be finished as well, before it goes stale…
As an accompaniment to mushrooms, you can use any vegetable that can cook, yet stay crispy. Bell peppers (all colors, although I used only yellow and orange), zucchini, yellow squash – all of them will play well with mushrooms.
I must say thanks to Jyothi Shankar (check out her Vegetarian Wanderings page for travel-food ideas) for persuading us to start eating mushrooms on a regular basis.
Why Is This Healthy?
Mushrooms are packed with nutritional value. They're low in calories, are great sources of fiber and protein (good for plant-based diets). They also provide many important nutrients, including B vitamins, selenium, potassium, copper, and (particularly when exposed to the sun) vitamin D. Bell peppers are rich in many vitamins and antioxidants, especially vitamin C and various carotenoids. For this reason, eating them may have several health benefits, such as improved eye health, and reduced risk of several chronic diseases.
Did you make this recipe? We'd LOVE to see your creations so click a photo and tag us on Instagram with the hashtag #healthyindian3 and please give a star (★) rating below. Follow us on Facebook, Twitter, Pinterest and Instagram for healthy, easy and delicious recipes.
Easy Colored Peppers & Mushroom Stir Fry
A colorful, yummy and easy-to-make dish comes in handy when you've had a busy day and have no time for grocery shopping or don't want to spend too much time in front of the stove.
Ingredients
1

Tablespoon

Olive Oil

1

Teaspoon

Garlic

Chopped

1/2

Teaspoon

Mustard Seeds

1/2

Teaspoon

Cumin Seeds

1/2

Teaspoon

Nigella Seeds

1

Green Chili Pepper

Or to taste

1/2

Cup

Onions

Chopped

1/2

Cup

Mushrooms

Baby Bella or White Button variety quartered

1/2

Cup

Yellow Bell Peppers

Thinly sliced long

1/2

Cup

Red Bell Peppers

Thinly sliced long

1/4

Teaspoon

Himalayan Pink Salt

Or to taste

1/4

Teaspoon

Cumin Powder

1/4

Teaspoon

Coriander Powder
Instructions
Heat oil in a wok or a thick bottomed pan. On medium heat, splutter mustard seeds, cumin seeds, nigella seeds, and chili pepper. Add garlic and sauté until the garlic turns light brown.

Add onions and fry until they are soft and translucent. Add salt.

Add mushrooms, turn the heat to high and stir fry, stirring every 20-30 seconds, until mushrooms are almost cooked. Add bell peppers and stir fry on high heat for 3-4 minutes until veggies have crisply cooked. Add cumin powder and coriander powder and stir some more until there is no more liquid left in the wok.

Serve with dosa (crepes), use as a stuffing in your tacos or even add it to your cooked pasta!
Notes
Serve with dosa (crepes), use as a stuffing in your tacos or even add it to your cooked pasta!
*Use organic ingredients wherever possible
Nutrition
Calories:
59
kcal
|
Carbohydrates:
6
g
|
Protein:
1
g
|
Fat:
4
g
|
Sodium:
150
mg
|
Potassium:
172
mg
|
Fiber:
1
g
|
Sugar:
2
g
|
Vitamin A:
200
IU
|
Vitamin C:
57.8
mg
|
Calcium:
20
mg
|
Iron:
0.7
mg