"Scrambled eggs" – this brings up an image in my mind, of the free breakfast I invariably and out of compulsion, end up eating at most hotels during my business travels. Almost always eaten in a hurry along with some oatmeal, fruit and yogurt, followed by a coffee to-go, as I'm usually running late for an appointment, or trying to make sure I get to my destination early enough so I can get set up for a good, productive meeting. I'm not even sure if the scrambled eggs I'm eating in these hotels are real or processed. In all likelihood, many hotels that serve 'hot breakfast' for free, cook scrambled eggs from a powdered version and not real eggs. You can notice the difference in taste almost immediately. Try getting the cold, hard boiled eggs instead – they are at least REAL!
Well, in any case, I'm talking about a very different scrambled egg here. There's a night and day difference between this dish and the one you get at a free hotel breakfast! This is the South Indian version of a popular North Indian dish called 'Anda Bhurji'. Anda is the Hindi word for egg and bhurji is the word used for scrambled. Anda Bhurji is one of the most popular dishes served in 'Dhabas'. Dhaba is the name given to roadside restaurants in India. They are on highways, generally serve local cuisine, and also serve as truck stops. They are most commonly found next to gas stations, and most are open 24 hours a day. Since many Indian truck drivers are of Punjabi descent, and Punjabi food and music are popular throughout India, the word dhaba has come to represent any restaurant that serves Punjabi food, preferred by many truck drivers.
There  are different ways to cook this dish, but the ingredients most common are eggs, onion, chili peppers (or powder) and turmeric. Our version has bell pepper and tomato in addition to onions. You can always add more finely cut vegetables/greens like mushrooms, cabbage, carrots or spinach.
This recipe features making this dish in the Instant Pot (IP) but this is very similar to cooking in a regular pan. It is very simple and quick, yet so flavorful and heart warming and makes for a hearty and healthy brunch, when served with toast or hot rotis. Try it out at home – the kids will love it (go easy on the chili for them)!
If you love eggs, try other featured recipes like Egg Curry, Egg Tomato Spicy Rice, Vegetable Masala Omelet With Guacamole and Egg White Vegetable Omelet.
This is no ordinary scrambled egg recipe! There's a lot more than eggs in this delicious, spicy and nutritious South Indian dish. Have it as a snack by itself or use it as a stuffing in your roti or taco. It is yummy!
Why is this Healthy?
Eggs are amongt the most nutritious foods on the planet. A single large egg has 77 calories, 6 grams of protein and 5 grams of healthy fats. Eggs (especially yellow) are high in cholesterol, but they don't adversely affect blood cholesterol. This delicious curry style recipe is cooked mildly in coconut oil to retain most of the nutritional value.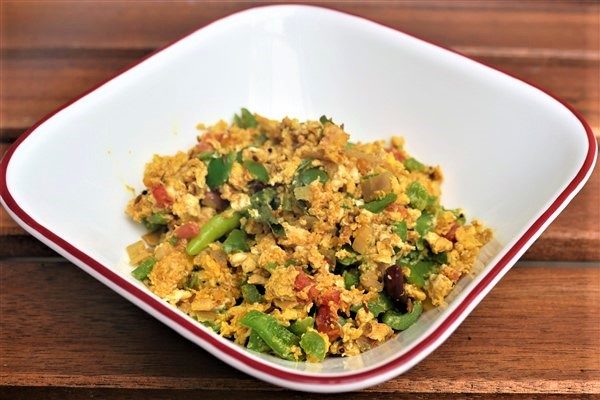 | | |
| --- | --- |
| | |
Gather all ingredients for easy access.

Set IP to 'Saute' mode. Once the 'Hot' sign comes up, add oil and let it warm up. If you're using a regular pan, ensure the oil is hot enough to cook in, but not smoking. Add seasoning ingredients (curry leaves, chana dal, red chili powder, green chili pepper, cumin and mustard seeds) and saute till the mustard seeds splutter.

Add vegetables, turmeric powder, salt, mix well and saute for a 3 to 4 minutes.

Crack open the eggs straight into the pan and mix well. Keep stirring quickly to prevent the eggs from sticking to the bottom of the pan.

After eggs are done, fluff the contents with a fork and transfer to a serving bowl. Serve with hot roti or phulka.
Goes well with multigrain roti, sprouted bread or by itself as a snack.
*Use organic ingredients wherever possible
Nutrition Facts
South Indian Scrambled Egg Curry
Amount Per Serving
Calories 198
Calories from Fat 126
% Daily Value*
Total Fat 14g 22%
Cholesterol 240mg 80%
Sodium 334mg 14%
Potassium 348mg 10%
Total Carbohydrates 10g 3%
Protein 10g 20%
* Percent Daily Values are based on a 2000 calorie diet.