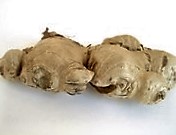 Ginger is a flowering plant that originated from China. It belongs to the Zingiberaceae family, and is closely related to turmeric, cardomon and galangal. The rhizome (underground part of the stem) is the part commonly used as a spice. It is often called ginger root, or simply ginger.
Ginger is among the healthiest (and most delicious) spices on the planet. It is loaded with nutrients and bioactive compounds that have powerful benefits for your body and brain. Ginger has a very long history of use in various forms of traditional/alternative medicine. It has been used to help digestion, reduce nausea and help fight the flu and common cold, to name a few.
1-1.5 grams of ginger can help prevent various types of nausea. This applies to sea sickness, chemotherapy-related nausea, nausea after surgery and morning sickness. Ginger appears to be effective at reducing the day-to-day progression of muscle pain, and may reduce exercise-induced muscle soreness. There are some studies showing ginger to be effective at reducing symptoms of osteoarthritis, which is a very common health problem.
Source: https://authoritynutrition.com/11-proven-benefits-of-ginger/
How to Make Cinnamon, Honey and Fresh Ginger Tea
Ingredients
Fresh ginger
Half a teaspoon of Ceylon Cinnamon
Half a teaspoon of raw, local honey
Method
Start with a ginger rhizome that is firm and relatively blemish free. Give it a good scrub under hot water and then, with a sharp knife, carefully cut off between five and 10 very thin slices. Put these in a mug with half a teaspoon of Ceylon cinnamon and half a teaspoon of honey.
Boil the water in your kettle but let it sit for a minute after it is boiled to let any sediment settle before you pour it. It's also worth cleaning out your kettle with vinegar regularly to minimize those crusty deposits, particularly if you live in a hard water area.
While the kettle is boiling, mix up your ginger slices, cinnamon and honey in your cup. Try and crush up the ginger a little with your spoon to release even more of the beneficial oils.
To make the tea, simply pour hot water into your mug and stir it up well. Allow it to steep for a couple of minutes and then you can remove any floating pieces of ginger with a spoon, strain it if you like or simply blow them to the other side before you drink it as I do.
Source: https://www.healthambition.com/health-benefits-of-ginger/