Indian bread or Roti is known by several names like Paratha, Chapathi or Phulka, depending on how it is made and what ingredients are used (basic common ingredient is wheat flour/ all purpose flour). Methi Paratha, made by adding fresh fenugreek leaves, is a typical North Indian bread that goes great with most curries and dals.
Introducing Roti Maker
A few years ago I decided to make a switch from white rice to rotis in an effort to cut down portion sizes and carbs. I was living in New York by myself and used to travel to India often. On one of the trips I discovered 'Roti Maker' costing about a 35$ equivalent in rupees. There was this guy doing a demo at a store churning out lovely fluffy rotis in minutes. It seemed like the easiest thing in the world. I picked up a piece and lugged it back to New York. Two days in, I made my first attempt . I made the dough and set it on the roti maker exactly as per the instructions, but all I got was lumps of burnt dough that got stuck in the roti maker. I was very disappointed. Try as I did I just couldn't get it– I just gave up on it. Maybe I should have tried harder.
Traditional is best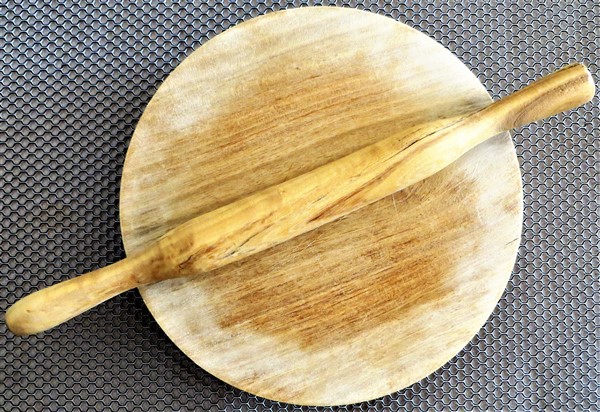 A few weeks later, friends of mine from LA (Alka and her husband Santosh) were visiting New York and spent a a couple of days with me. Alka makes great rotis and phulkas ( which are dry rotis cooked directly on a gas flame). She taught me her technique of how to mix the batter right -the trick is to keep adding small quantities of water to the flour, and mixing well till you get a soft, pliable consistency. You then make it into round balls, each for one roti. The next step is to flatten these on a roti roller (see picture), making them small, round and thin about 6″ in diameter) . The final step is to cook them on a flat pan on both sides, turning them over, sprinkling oil. You may have to try a few times but you'll get it.
If this is too much effort for you, and if you're willing to spend money ( a thousand bucks– yes, you heard me right!) and wait, you can buy a Rotimatic (https://rotimatic.com/) – I haven't personally tried it, believe it will do everything for you.
Why is this Healthy?
Oats are a gluten-free whole grain and a great source of important vitamins, minerals, fiber and antioxidants. Beta-glucan, a soluble fiber in oats helps reduce cholesterol and blood sugar levels. Methi leaves are also nutrient rich and are known to help lower cholesterol among other things.
Did you make this recipe? We'd LOVE to see your creations so click a photo and tag us on Instagram with the hashtag #healthyindian3 and please give a star (★) rating below. Follow us on Facebook, Twitter, Pinterest and Instagram for healthy, easy and delicious recipes.
Methi Paratha
Methi (Fenugreek) Paratha is a typical North Indian bread that goes great with most curries and dals. Adding oat flour here makes them definitely healthier, without compromising much on the flavor.
Servings
2
(2 Parathas per serving)
Ingredients
1/4

Cup

Whole Wheat Flour

1/4

Cup

Oat Flour

1/4

Cup

Methi Leaves

(Fenugreek Leaves)

1

Pinch

Sea Salt

Or To Taste

1

Tablespoon

Olive Oil
Instructions
Set aside a mixture of oat and wheat flour

Separate the fenugreek leaves and discard the stalks. Add fenugreek leaves, salt, and a teaspoon of oil to the flour. Slowly start adding filtered water little by little and knead well till you have the dough consistency soft and pliant but not watery. Divide into 4 portions and roll each portion into a paratha using a rolling pin on a clean, flat surface. To avoid the rolling pin from sticking to the dough, sprinkle some oat/wheat flour mix on the surface and on top of the paratha. Make sure the edges of the paratha are not too thick.

Set pan on stove with medium flame and allow it to heat up. Make sure it does not start smoking. Add a few drops of oil, set the paratha on the pan and let it cook on one side for a minute; add a few drops of oil and turn over and cook this side for another minute. Repeat the process of flipping the paratha with a shorter time interval till you see brown spots. Transfer to serving dish
Nutrition
Calories:
252
kcal
|
Carbohydrates:
35
g
|
Protein:
9
g
|
Fat:
10
g
|
Sodium:
163
mg
|
Potassium:
245
mg
|
Fiber:
7
g
|
Vitamin C:
0.8
mg
|
Calcium:
50
mg
|
Iron:
8.5
mg