No South Indian meal is considered complete without at least one (if not two) chutneys. This is, of course, in addition to vegetable (curry), dal (lentil soup), rice, yogurt etc. Restaurants in most regions of India serve meals in the form of "thali". Thali is a Hindi word that means 'plate' or 'platter'. In recent years, the meaning of the term has expanded however. It has also become the commonly used expression for a style of eating in India. Thali the meal, refers to many different dishes, served in small bowls, or straight on the plate (like a chutney or pickle), arranged on a platter.
Now to our chutney recipe. Yellow Mung Raw Onion Chutney is probably one of the simplest (definitely one of the most delicious!!) chutneys you'll ever come across. In fact, the beauty of this recipe is in the minimal ingredients, with absolutely no cooking involved (yes, no cooking!). And you can get this chutney ready from start to finish in 10 minutes flat (just 2 steps)!
And did I mention how healthy it is? Organic yellow mung dal is made from whole mung beans that have been hulled and split, resulting in a delicate lentil-like legume that is quick to cook, easy to digest, and highly nutritious. High in dietary fiber and an excellent source of protein, yellow mung dal is nourishing and strengthening to all tissues of the body. Because it is so gentle on the digestive system, mung dal is a popular food for times of cleansing, weakness, or recovery from illness. Yellow mung dal can be cooked into a delicious, creamy soup, or combined with basmati rice to make the traditional Ayurvedic meal called khichidi. Check out our soul-soothing Vegetable Multigrain Khichidi recipe.
Now it did seem super simple when I called my mom to take down the recipe. She suggested that I soak the mung lentils for about 15 minutes before I blended it with the onion. Now when she said onion she meant small white onion since that is usually the only variety she always uses. Without thinking too much about it I used a shallot the first time (a shallot has a similar sharpness or more, than a red onion). So, the first time I made this I literally had tears in my eyes, thanks to the shallot and the mung stuck in my teeth because it was sort of semi soaked. I was disappointed that it did not turn out right. I had to call helpline (mom) again. She suggested that I use white onion and in addition, blend dry mung lentils (instead of soaking them before). This time I got it right! It turned out perfect! I tried it with my favorite steamed brown rice and organic ghee. I enjoyed every bite of it!
We have a bunch of awesome chutneys on our site- be sure to check them out:
This delicious mung chutney (or salsa) is a breeze to make. Have it with steamed rice and ghee, South Indian style, or spread it on your taco or roll.
Why is this Healthy?
Mung beans are a high source of nutrients including manganese, potassium, magnesium, folate, copper, zinc and various B vitamins.They are also a very filling food, high in protein, resistant starch and dietary fiber.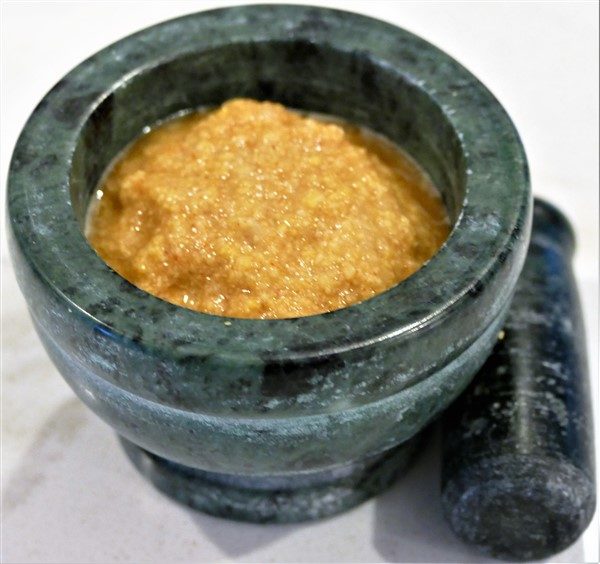 | | |
| --- | --- |
| | |
Add raw mung, salt, chili powder into a blender jar and blend to a coarse powder.

Add tamarind paste and blend for 10 seconds. Add onion (and some water if too thick) and pulse for 10 more seconds. Make sure the onion still has some small chunks left, to give the chutney a crunchy texture. Viola! It truly is that simple.

Scoop it out into a serving dish.
Have it with steamed rice and ghee, South Indian style, or spread it on your taco or roll. Use it as a dip with pita bread (like hummus).
*Use organic ingredients wherever possible
Nutrition Facts
Yellow Mung Raw Onion Chutney
Amount Per Serving
Calories 66
% Daily Value*
Total Fat 0g 0%
Cholesterol 0mg 0%
Sodium 72mg 3%
Potassium 237mg 7%
Total Carbohydrates 12g 4%
Protein 4g 8%
* Percent Daily Values are based on a 2000 calorie diet.