Vegetable Multigrain Khichdi is one of my newer recipes. As I started moving towards fewer carbs, more protein and fiber, I realized I could tweak most of my recipes to meet my new health goals. I'm fortunate that I enjoy cooking, I have the time to cook and the desire to experiment. A new recipe could turn out great the very first time, or take several attempts. Sometimes it could turn out so bad that you have to abandon the idea altogether! I've had a fair share of all these, and the successful ones have made it to Healthy Indian.:)
What is Khichdi?
According to Wikepedia (https://en.wikipedia.org/wiki/Khichdi) , the term Khichdi is derived from Sanskrit khiccā,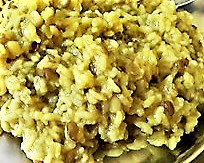 a dish of rice and legumes. Khichdi is a very popular dish across India. In some regions, khichdi is commonly served with a side of kadhi (a yogurt based soup), and often accompanied with papadum. The recipe has several variations with respect to the ingredients used in different regions.
This recipe
So if we break it down to it's key ingredients, Khichdi is essentially just rice and legumes with some spices, cooked in a pot. In my version I add a South Indian seasoning with curry leaves, cumin and mustard seeds etc. I just add ginger and green chili for spices. For grains/rice I have brown rice, whole mung beans, yellow mung, millet, barley and flax seeds- remember, these grains need to be soaked for a few hours to get the best benefit from them. And of course there's several vegetables added here- you can add any vegetables of your choice- sometimes it ends up being whatever vegetables you have in your fridge.
Ayurveda and Khichdi
Last but not least, Khichdi is an ancient Ayurvedic food which has been part of the Indian diet since ages. It is easy to digest and helps the body to detoxify. Check out our other khichdi recipe Brown Rice Khichdi and a somewhat similar dish Savory Brown Rice Pongal.

This is a delicious high protein, high fiber vegetarian dish can be had as a snack or main dish. Traditionally, khichidi is made with white rice and mung beans. This modified recipe incorporates brown rice, and other whole grains and adds a generous serving of vegetables. Vegans can substitute ghee with extra virgin coconut oil.
Why is this Healthy?
Multiple grains and lentils add protein and fiber. Vegetables add more nutrients and fiber, making this recipe far more healthy and wholesome than the traditional version.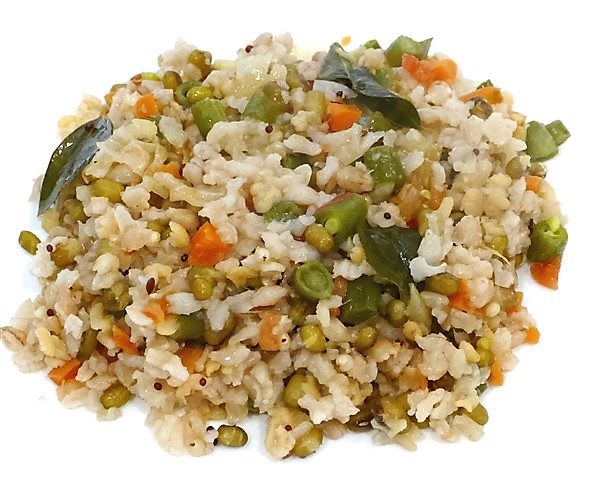 | | |
| --- | --- |
| | |
Soak all grains ( Barley, Brown Rice, Green Mung, Millet and Flax Seeds) in water for about 3-6 hours. For a Gluten-Free version, skip the barley, and increase the amount of other grains/seeds. You can even substitute whole amaranth instead of barley.

Cut vegetables (Green Beans, Carrots, Cabbage, Tomato) and set them aside along with soaked grains

Saute the seasoning items (mustard and cumin seeds,urad dal) in one teaspoon of ghee. Add onions, ginger, chilies, and curry leaves and saute for an additional 3 minutes. Add vegetables and cook for 5 minutes on medium flame. Do not over-cook the vegetables

Add 8 ounces of water. Cook either in a rice cooker (turn off after the setting goes to 'keep warm' mode) or in a thick bottom vessel on the stove until all the water has been absorbed. Add one teaspoon ghee (vegans - skip or substitute with coconut manna) and mix thoroughly before serving
Nutrition Facts
Vegetable Multigrain Khichdi
Amount Per Serving
Calories 252
Calories from Fat 54
% Daily Value*
Total Fat 6g 9%
Cholesterol 11mg 4%
Sodium 306mg 13%
Potassium 445mg 13%
Total Carbohydrates 42g 14%
Protein 9g 18%
* Percent Daily Values are based on a 2000 calorie diet.