Do you have a vegetable or fruit that you detested almost all your life, because a. you didn't eat it as a kid or b. you ate it and were put off because it was badly prepared or c. you just assumed that it wasn't tasty even without trying it? And did a turning point come when you realized that you ACTUALLY like it?
This is one such (short) story.
Most strict vegetarians and vegans, sometimes wrongfully, assume they do not like the texture, taste, or smell of mushrooms. I guess the meaty feel to it, reminds them of…meat? The smell of mushrooms cooking (depending on how it is cooked) can be a bit off-putting, perhaps?
I have (rather, had) a mushroom-hater in my household – my husband. For many years, he resisted eating mushrooms for the very reasons cited above. When we ate out at restaurants, we asked the wait staff to "hold the mushrooms" in salads, pizzas and pastas. Because we shared our entrees all the time, I couldn't eat them either. Although I didn't detest them as much as he did, most of the mushroom preps in restaurants were so terrible, that I felt that I really didn't miss out on eating mushrooms.
As the years went by, sans mushrooms, a few of these vagrants started slipping into our dining-out experiences. Once we forgot to tell the waitress and our food came with a few mushrooms. He ate it and didn't say anything. Then, there were the veggie soups that we would order – who knows what was in them. There could've been mushrooms hidden in the mush, for all we knew.
Then there are the world travels, where you gotta eat local. In Japan, we ate shimeji (beech mushrooms), enoki (tiny white mushrooms with small caps) and shiitake, and several other varieties that I can't recall. Then, we landed up in a little village in southern Greece, and the only vegetarian dish that we could order, was (yummy, as it turned out) a mushroom saute. Ditto situation while in Mexico City. Slowly, the mushrooms crept up into our cuisine like the story of Abdullah and the Camel (story for another time – but if you love stories like I do, read it here).
Then, a friend passed on a big bag of mushrooms while clearing out her fridge before going out of town. Oh boy! I didn't want to eat mushrooms for the next one week. And mushrooms don't freeze well either. And I hate wasting food.
So, off I went to Google, and found a whole bunch of mushroom recipes. I decided, a blended soup was the best, to strategically get the spouse to eat at least a little bit. I checked out a lot of recipes, took a little bit from one and a little bit from another, and came up with this no-nonsense, minimal ingredient soup.
I remember the first time I served this soup, and I laugh thinking back at the uncanny silence, as he took his first spoonful, followed it by pregnant silence and said, "This is the best soup I've ever had, please make it again exactly the way you made it today". There was more silence as we noisily slurped and savored our soup; it was weird since there is usually never any silence when we eat our meals, mostly because I am going non-stop talking about everything! But sometimes food can do that to us: make us eat in silence i.e. Since then, I have a mushroom convert at home. Phew! Thanks to all the bloggers that helped me make this recipe.
The mushroom soups you find in grocery stores have all kinds of crazy ingredients. One of the very popular ready-to-eat Cream of Mushroom soup has the following ingredients listed:
"WATER, MUSHROOMS, VEGETABLE OIL (CORN, COTTONSEED, CANOLA, AND/OR SOYBEAN), MODIFIED FOOD STARCH, WHEAT FLOUR, SALT, MONOSODIUM GLUTAMATE, SOY PROTEIN CONCENTRATE, DEHYDRATED CREAM (CREAM [MILK], SOY LECITHIN), YEAST EXTRACT, FLAVORING, DEHYDRATED GARLIC."
What's with all the salt (66% of daily requirement) and preservatives?
Anyway, back to the soup. This is great for vegans since heavy cream has been completely removed from the equation. The few basic ingredients are the stars….and boy, do they shine! I've added thyme that grows in my yard, and what a difference it has made to this recipe. If you don't have fresh thyme, used dried. But if you can lay your hands on the fresh herbs, use it. I've tried Herbes De Provence and it tastes great too.
Simple, earthy mushrooms paired with fresh thyme come together to create the best mushroom soup I've ever had! Vegan and low fat, this soup will warm you from the inside out and will have you questioning ever having anything from a can again! This best ever mushroom soup also pairs well with your favorite toasted bread (use real butter or ghee) for a hearty, fulfilling meal!
If you don't believe me, make this recipe and you will become a believer!! Maybe even a convert!
This wonderful mushroom soup is almost better the next day, so if you are having company, or want to get things packed for next day's lunch, this would be a great make-ahead meal. Just give the soup a few minutes to come back up to temperature over medium low heat before serving. And if you love soups as much as I do, check out our Thai Curry Vegetable Soup, Broccoli-Asparagus Soup, Roasted Butternut Squash And Black-Eyed Peas Soup.
Why is it Healthy?
Mushrooms are rich in B vitamins such as riboflavin (B2), folate (B9), thiamine (B1), pantothenic acid (B5), and niacin B3). Several other minerals that may be difficult to obtain in a vegan diet, such as selenium, potassium, copper, iron, and phosphorus, are available in mushrooms. Mushrooms exposed to sunlight have Vitamin D – the ONLY plant source with this vital vitamin!
The best mushroom soup recipe ever! Mushroom lovers (and haters) rejoice; this soup is full of hearty, earthy mushrooms that don't have to compete with other flavors to shine through. Vegan, but will not disappoint meat eaters, this mushroom soup will quickly become a favorite in your home, as it did in mine!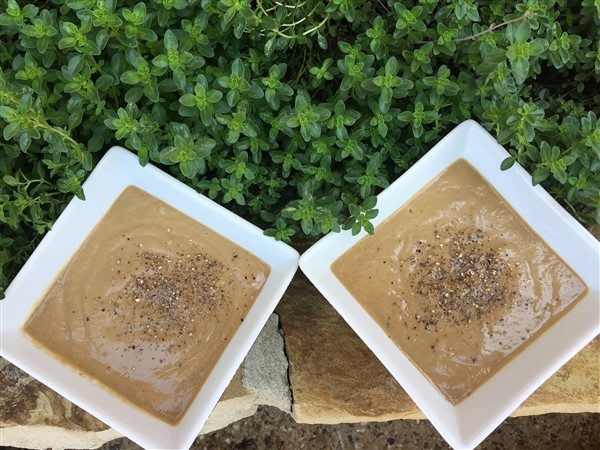 | | |
| --- | --- |
| | |
Wash mushrooms thoroughly but gently and let dry on a kitchen towel. Slice them in halves or quarters, if they are large.

In a large saucepan, over medium heat, add oil and allow to heat. Add garlic and bay leaves and saute for 30 seconds. Add the diced onions and saute until they are translucent.

Add diced mushrooms, and cook for 3-4 minutes, keeping the dish uncovered. You will notice a substantial amount of water coming out of the mushrooms, and they are reduced in volume by half.

Add fresh thyme leaves and continue to cook for 5 minutes. If you are using dried herbs, cook for 2 minutes.

Add the vegetable broth, salt, tapioca starch and liquid aminos. Allow to cook for 10 minutes on medium heat, stirring occasionally.

When the dish cools down, discard the bay leaves (don't forget!), and blend the contents with the cashew nuts.

Add freshly ground black pepper before serving
*Use organic ingredients wherever possible
Nutrition Facts
Vegan Creamy Mushroom Soup
Amount Per Serving
Calories 149
Calories from Fat 90
% Daily Value*
Total Fat 10g 15%
Cholesterol 0mg 0%
Sodium 301mg 13%
Potassium 295mg 8%
Total Carbohydrates 12g 4%
Protein 5g 10%
* Percent Daily Values are based on a 2000 calorie diet.