I tried out Branzino (European Seabass) at an Italian restaurant in Miami a few years ago and it was delicious. It was a whole fish grilled to perfection- they cleaned it out, deboned it and served it with some lime juice, olive oil and a sprinkling of sea salt. I really loved the texture and flavor and the simplicity of the recipe, so I decided to try some variations at home (of course I wanted to add an Indian twist to it!). After a few trials I hit the right combination with Spicy Mint Sea Bass. I've not fully mastered the art of grilling so I decided to bake and broil it (definitely less messy than grilling).
Sea bass is a white fish that has a panneer (cottage cheese)/mozzarella like texture when cooked, and is flavorless so it takes on any added flavors easily. I decided to try this recipe out as a cocktail snack so instead of cooking the whole fillet I cut it up into smaller, bite sized pieces. As I usually do with fish, I washed and drained the fish and mixed it well with lime juice. Lime juice does a great job of neutralizing any fishy smells. I then added the rest of the ingredients (turmeric, red chili powder, garam masala, salt, poppy seeds, onions, ginger garlic paste, mint and olive oil) and mixed them well. I marinated these for about an hour- fish doesn't take too long to marinate. If you're short on time you can just let the marinated contents sit on your kitchen counter for about 10 minutes before baking.
For cooking any fish in the oven, I have four simple steps — set bake temperature for 375F, bake with lid on for 10 minutes, lid off for 15 minutes and then broil for 5. If you want it less cooked you can do 10 minutes instead of 15, with the lid off.
Spicy Mint Sea Bass is a delicious high protein dish that works as an entrée or snack. Baking and broiling gives it a slight crispiness on the outside while leaving it soft on the inside.
Why is this Healthy?
Sea bass contains 20 grams of protein in a 3-ounce serving, which is 40 percent of the daily value. Sea bass is low in total fat and is also an excellent sources of two omega-3 fatty acids. These fatty acids help reduce the risk of cardiovascular disease by lowering blood pressure and reducing levels of cholesterol. This dish is also baked and therefore retains nutrients better than when its fried.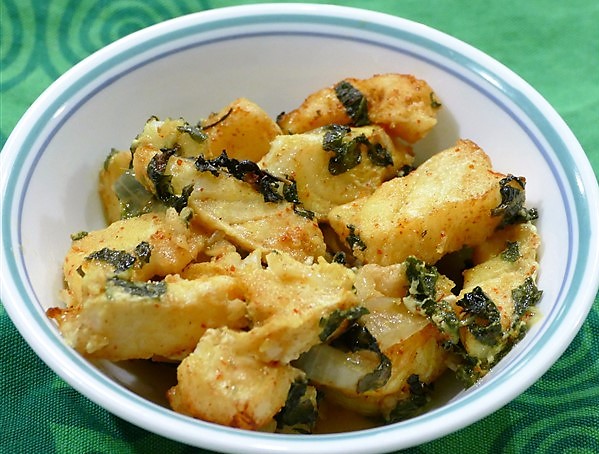 | | |
| --- | --- |
| | |
Set the Seabass cubes in a bowl after washing and draining water; mix lime juice and leave for 5 minutes; add all the remaining ingredients (except onions) to the bowl

Mix ingredients well; cover the bowl with cling wrap and refrigerate for about an hour

Spread marinated contents on an aluminum foil in an oven safe dish, sprinkle onions and cover the marinated Seabass and the oven safe dish with aluminum foil ;

Preheat oven to 375 F and once it reaches the temperature set the marinated Seabass in the oven safe dish ( fully wrapped in foil), in the oven; bake for 10 minutes with wrapped foil; Remove outer foil covering and bake for 15 minutes; turn the oven to broil on low and leave it to broil for 5 minutes. Remove from oven. Serve with Jeera Quinoa and Sautéed Green Beans
Nutrition Facts
Spicy Mint Sea Bass
Amount Per Serving
Calories 145
Calories from Fat 45
% Daily Value*
Total Fat 5g 8%
Cholesterol 46mg 15%
Sodium 388mg 16%
Potassium 344mg 10%
Total Carbohydrates 3g 1%
Protein 21g 42%
* Percent Daily Values are based on a 2000 calorie diet.