Pesarattu Kura is a dry curry prepared with Multigrain Vegetable Pesarattu Batter. This is a great, high fiber and protein snack or entree (with rice and dal).  Once you have the batter ready this is a very simple preparation.
Multigrain Vegetable Pesarattu Batter is basically prepared by soaking and blending whole green mung grains along with oats, flax seeds, barley etc, in addition to ginger, green chili peppers, spinach, carrots, cabbage and salt. The traditional version does not contain any other grains (except whole green mung and a tablespoon of white rice) or vegetables. This batter is also used in making a delicious savory crêpe, Vegetable Pesarattu.
The reason this batter is used in the curry preparation, is because of its consistency and flavor. It gets thick and fluffy when cooked in a pan (like a thick pancake). This makes it easy to then cut it into small cubes that don't
break up or crumble. These cubes are the main ingredients for the curry. This recipe is actually unique in the sense that it is dry and can also be consumed as a snack. I've never had this at any restaurant so I'm assuming this is my mom's own creation and I of course, picked it up from her (she uses the traditional batter though, not the multigrain one). Just so you get an idea here's another recipe you can check out, that is made korma style (see picture)- http://aahaaramonline.com/2013/12/10/pesarattu-koora-kurma-curry-with-green-gram-pancakes/.
Make sure you have all the spices (a blended mix of ginger, garlic, cumin powder, coriander powder) and ingredients handy so you can start sautéing them while your pancake is cooling. Sauté the onions till they turn slightly golden brown and add the spices, mix well and then add salt and curry leaves and stir one more time. Now cut the pancake into small cubes, add it to the pan and stir well to make sure all ingredients blend well.
This dish is prepared with Multigrain Vegetable Pesarattu Batter and makes for a great, high fiber and protein snack or entree (with rice and dal). Once you have the batter ready this is a simple preparation.
Why is this Healthy?
The Multigrain Vegetable Pesarattu Batter used here includes whole green mung along with additional grains like oats, barley etc and also flax seeds that greatly enhance the nutritional value. Adding carrots and greens on top of this provides additional nutrients and fiber.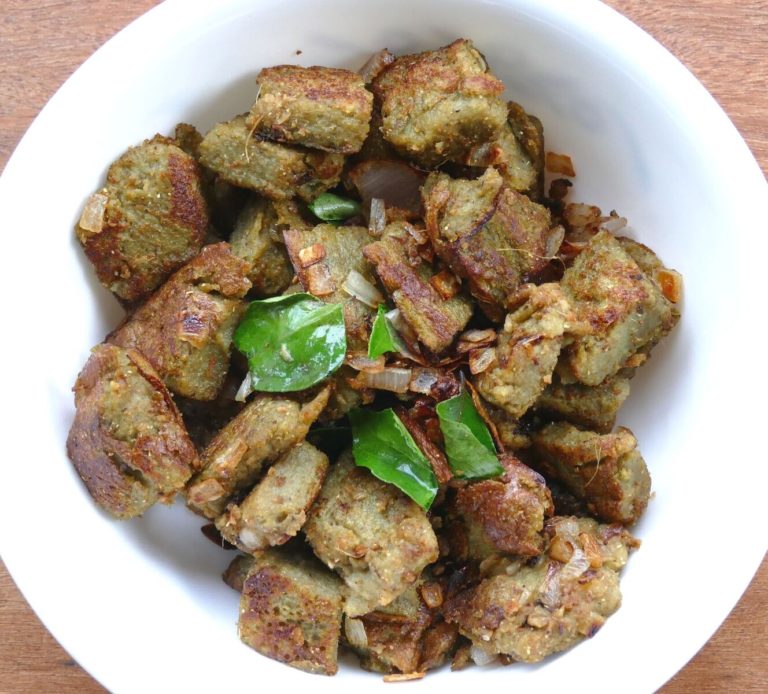 | | |
| --- | --- |
| | |
Pour batter into a pan preheated with coconut oil for about 3 minutes; set on low flame, cover with lid, cook for 2-3 minutes till contents solidify; spread more oil evenly on top and turn over. Cover with lid, cook for 2-3 minutes and set aside for cooling

Cut the cooled pesarattu into 1/2 inch cubes and transfer to pan

In a separate pan, cook onions on low flame, add blended mix of ginger garlic paste, cumin powder and coriander powder. Add salt and curry leaves and saute for about 3 minutes. Stir for about 5 minutes and transfer to serving dish
Goes well with steamed rice and dal or just by itself as a snack
*Use organic ingredients wherever possible
Nutrition Facts
Pesarattu Kura
Amount Per Serving
Calories 309
Calories from Fat 90
% Daily Value*
Total Fat 10g 15%
Cholesterol 0mg 0%
Sodium 621mg 26%
Potassium 788mg 23%
Total Carbohydrates 44g 15%
Protein 14g 28%
* Percent Daily Values are based on a 2000 calorie diet.