Multigrain Vegetable Pesarattu Batter is one of my more ambitious experiments. It is a batter made mostly of whole mung in addition to a small quantity of oats, barley and flax seeds.  Adding additional grains is one thing but getting vegetables in and blending them along with the batter adds a whole new dimension. Vegetables do not have a binding agent in them- when you blend them with the batter and make a crêpe, it tends to break into pieces if you're not careful. It is important therefore to not only add the right amount of vegetables, but also to blend them the right way to make sure that the batter has the right consistency.
Actually the process here is fairly simple once you have set the right quantities aside. The first step of course is
to soak the grains ( whole mung beans, oats, barey, rice) and flax seeds for about 6 to 8 hours. Soaking not only renders the nutrients in grains more digestible and more easily assimilated by our bodies but also softens the grains to ensure you have a well blended batter. I usually blend the chillies, ginger and vegetables first into a very fine paste and then add the soaked grains, as you can see from the picture on the right. If the vegetables are not blended really fine you'll end up with some large pieces floating around in the batter and this is not good if you want to make a nice crêpe.
This batter is used not just for making Vegetable Pesarattu but also another but also a dry curry called Pesarattu Kura (Kura means curry in Telugu). This batter is generally of a thicker consistency than dosa batter but if you are planning to make Pesarattu Kura, you're better leaving it slightly more think in consistency (you can always dilute it if you decide to make Vegetable Pesarattu).
This batter is used for making Pesarattu (a whole green mung crepe) and for Pesarattu Kura, which is a dry curry. Typically the quantity of batter suggested would get about 4 servings ( of 2 large Pesarattus each) . The nutritinal table here includes values for 2 large plain Pesarattus ( 1 serving).
Why is this Healthy?
Traditional Pesarattu batter just includes green moong which is healthy by itself but adding additional grains like oats, barley etc and also flax seeds adds to the nutritional value. Traditional Pesarattu batter does not include any vegetables either- adding carrots and greens you get additional nutrients from these vegetables. This is a recipe high in fiber and protein.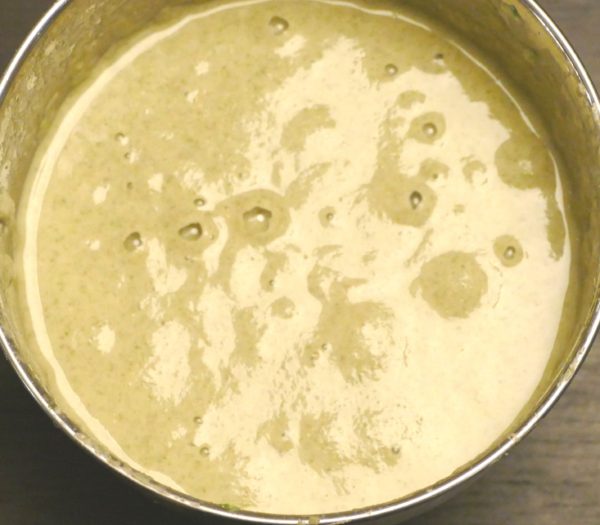 | | |
| --- | --- |
| | |
Set aside all grains (other than green mung)

Soak all ingredients in a container ( water level should be at least 2 inches over the grains) for 6 to 8 hrs

Grind in mixer/grinder (preferably one from India like Preethi) until you have a fine batter of reasonable consistency
Pesarattu batter can be used for Pesarattu that goes well with Coconut Tomato Chutney and/or Sooji Upma. It can also be used for Pesarattu Kura that goes well as a snack by itself ir with hot steamed rice/ghee.
*Use organic ingredients wherever possible
Nutrition Facts
Multigrain Vegetable Pesarattu Batter
Amount Per Serving
Calories 244
Calories from Fat 72
% Daily Value*
Total Fat 8g 12%
Cholesterol 0mg 0%
Sodium 305mg 13%
Potassium 571mg 16%
Total Carbohydrates 34g 11%
Protein 11g 22%
* Percent Daily Values are based on a 2000 calorie diet.