Garam Masala is the quintessential spice powder that is used in a wide variety of Indian recipes. If you cook Indian food you will need to make sure you have a small jar of garam masala handy. Garam translates to 'hot' and masala is 'spice'. While the overall ingredients may vary, the key spices are cinnamon bark (or powder), cloves and coriander seeds (or powder).  Our version here has these three basic ingredients. Additional ingredients that could get added are black/white pepper, cumin, nutmeg, cardamom etc.
Although not a huge amount is known about the history of garam masala, the fact that it is used in many dishes of Mughal origin implies that it could be an import of Indo-Islamic rulers.
Spices used in garam masala recipes vary from region to region. Personal taste also plays a huge part in how it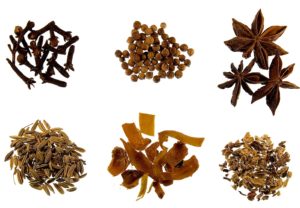 is made. The most common ingredients include white and black peppercorns, bay leaves, cloves, cumin seeds, black cumin, green, brown and black cardamom, star anise, nutmeg, long pepper  and coriander seeds. There are many regional versions of garam masala, but no combination is considered "more authentic" than another.
In some regional recipes, garam masala includes cardamom, cloves, cinnamon, mace, cassia and nutmeg. Sometimes black pepper is added if the blend is going to be used straight away; adding black pepper will affect the flavor of the garam masala if it is stored. The blend is made simply by combining and grinding all the spices together, but not roasting them. Some regions grind the spices with vinegar, water or coconut milk to make a paste. Some blend the spices with herbs, while others add onion, garlic or even nuts.
If you happen to visit an Indian grocery you'll be dazzled by the variety of masalas (spices) displayed in the spice section. Most of these are a variation on the basic garam masala blend- you will see spice mixes for vegetable pilafs, biryanis, a different mix for grilled chicken, one for fried chicken, one for chicken curry, one for chana masala, one for lamb curry etc etc. Do you really need a different spice mix for each of those dishes? It is very debatable.
Years ago, I realized that I was probably taking in too many chemicals (that are not good for my body) by using these spice mixes, so I decided to stick with the basic blend and make it myself- it is super easy! And trust me, this adds enough flavor to make the recipe delicious. I'll however recommend the 24 Mantra Organic Garam Masala  if you really don't want to do this on your own. I have used this in a variety of recipes and it works great.
Here are a few of our recipes that have garam masala:
Did you make this recipe? We'd LOVE to see your creations so click a photo and tag us on Instagram with the hashtag #healthyindian3 and please give a star (★) rating below. Follow us on Facebook, Twitter, Pinterest and Instagram for healthy, easy and delicious recipes.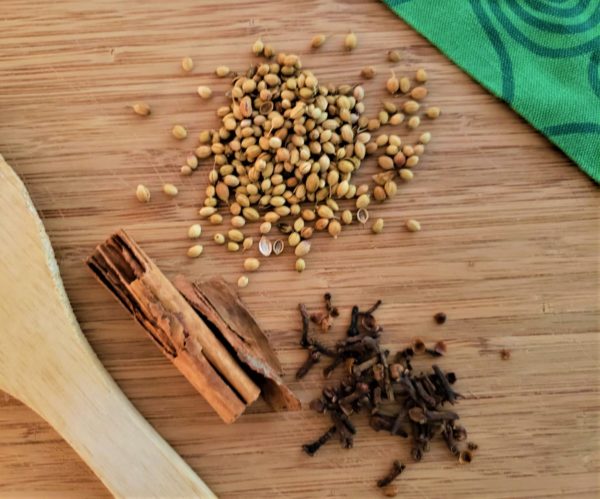 | | |
| --- | --- |
| | |
Roast cinnamon, cloves and coriander seeds in a pan on medium flame to get rid of any moisture

Allow the spices to cool and then transfer to a blender jar (make sure the jar is clean and dry)

Blend to a fine powder. Store in an airtight jar and refrigerate to retain freshness
*Use organic ingredients wherever possible
Nutrition Facts
Make Your Own Garam Masala
Amount Per Serving
Calories 9
% Daily Value*
Total Fat 0g 0%
Cholesterol 0mg 0%
Sodium 2mg 0%
Potassium 31mg 1%
Total Carbohydrates 2g 1%
Protein 1g 2%
* Percent Daily Values are based on a 2000 calorie diet.