Chutney is an integral part of Indian cuisine just like salsa is, in Mexican cuisine. It is considered as a side or an accompaniment to a main dish. Coconut Tomato Chutney is made with fresh coconut meat, tomato, green chili peppers, cilantro and some seasoning. It is deliciously tangy and spicy, with a hint of sweetness. It goes well with most breakfast and snack dishes. It can also be part of a main meal that includes
rice, dal, vegetable etc.
We had two coconut trees back home in India and always had an excess supply of fresh coconut (of course every little corner store also had a supply of fresh coconut). My mom was always looking for new coconut recipes. One of my favorites was Coconut Laddu, a sweet dish made from coconut and jaggery (you can check out this recipe at http://sailajasrecipes.blogspot.com/2008/06/kobbari-undalu-coconut-jaggery-laddu.html). My mom would also add fresh coconut to a number of vegetable dishes (made from cabbage, carrots, green beans etc), giving them a delicious, sweet flavor. In fact a number of South Indian vegetarian recipes have fresh coconut in them.
One challenge in the US is to get a fresh coconut from the store- unfortunately most grocery stores do not have a stock of fresh coconut because there's not much demand. There's a better chance of getting fresh coconut at an Indian grocery store. You may just want to buy a pack of frozen coconut instead but I'm not satisfied with the quality of the current brands. It takes some effort to break the coconut, pull out the meat, peel the hard brown skin off, cut it to small pieces and freeze it, but it is well worth the trouble. It takes about an hour to do this and you're assured of its freshness. Depending on how much you use it, it can last you almost a couple of months.

This chutney, made with fresh coconut meat is delicious, sweet, tangy, spicy and goes well with most breakfast/snack dishes.
Why is this Healthy?
Coconut is highly nutritious and rich in fiber, vitamins, and minerals. It is classified as a "functional food" because it provides many health benefits beyond its nutritional content. Green chili peppers and cilantro in this recipe are blended raw (so is coconut) and provide a host of other nutritional benefits.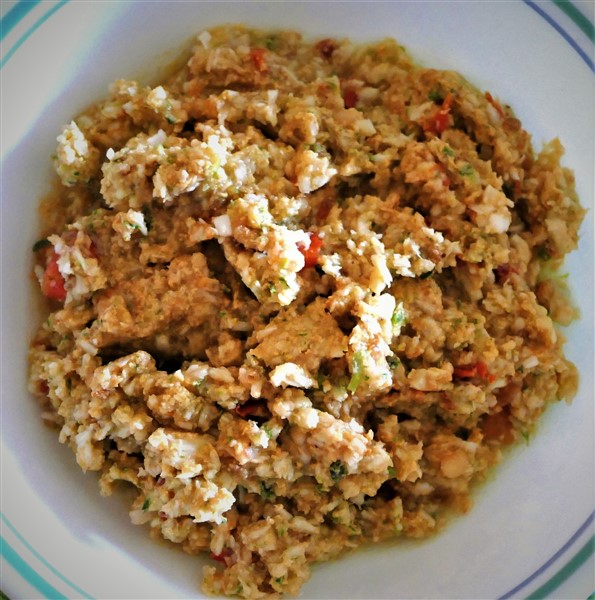 | | |
| --- | --- |
| | |
Add coconut oil to a pan and heat on medium flame for 2 minutes/ sautee red chili, matpe beans and fenugreek seeds for 5 minutes; add tomato to the pan and continue sautéing for 10 minutes till you have a paste

Transfer contents to a small blender jar and also add rest of the ingredients; blend for 2 to 3 minutes, mix with a spoon and blend again- make sure not to blend too fine

Transfer chutney to serving dish
Goes well with Upma, Dosa, Pesarattu or with hot steamed rice and ghee.
*Use organic ingredients wherever possible
Nutrition Facts
Coconut Tomato Chutney
Amount Per Serving
Calories 45
Calories from Fat 27
% Daily Value*
Total Fat 3g 5%
Cholesterol 0mg 0%
Sodium 124mg 5%
Potassium 84mg 2%
Total Carbohydrates 4g 1%
Protein 1g 2%
* Percent Daily Values are based on a 2000 calorie diet.