Coconut is one of those nuts that is very versatile in its benefits. There is debate as to what coconut is considered as. A fruit? A nut? To make things more confusing, coconut can be a fruit, a nut, and a seed.  Well, technically it's a fibrous one-seeded drupe. Whether it is coconut water, fresh or dried coconut meat, coconut oil or coconut jute (which is a long, soft, shiny vegetable fiber that can be spun into coarse, strong threads, from the fibers found between the hard, internal shell and the outer coat of a coconut), all of them come from this wonderful fruit/nut.
Fresh and dry coconuts are used extensively in South Indian recipes, both for taste, texture and for the health benefits. This vegan/vegetarian recipe is just the essence of delicious and nutritious, with minimal ingredients and a total cook time of less than 30 minutes. Seasoning ingredients – curry leaf, dry and green chili pepper, chana dal, mustard and cumin seeds, add a dash of flavor and spice. Green beans and carrots take on these flavors easily as they do not have very strong flavors of their own. All you need now, is some salt to taste and cayenne pepper to add the extra zing (if you don't care for spices too much, you can completely skip cayenne pepper, since the seasoning ingredients already have a kick to them). If you're looking for some extra flavor for this recipe, you could add Chutney Powder, if you have it handy. It's my go-to for most sautéed veggies.
I go through a whole fresh coconut about every couple of months. I buy a fresh coconut from my grocery store, crack it to get my drink of fresh coconut water, and then scoop out the coconut meat. The dark outer skin is usually hard (and bitter) so I peel, wash, cut it to small pieces and freeze it. It's very easy to defrost – just set in a bowl and rinse with warm water. Incidentally, my mom liked this idea so much she started doing the same in India. She always used farm fresh coconuts, which have never been frozen, since she grew up in a time without refrigerators, so kudos to her for embracing new ideas!
If the idea of buying a whole fresh coconut, cracking it and grating it is a cumbersome thought, fear not…modern life's conveniences are there to help. Walk into an ethnic Indian grocery store, go to the freezer section, and buy freshly grated (and frozen) coconut. Remember to thaw only what you need, since it is not a great idea to refreeze thawed coconut.
Check out all our recipes that use fresh grated coconut – Zesty Carrot-Garbanzo Usli,  Snake Gourd Coconut Sauté, Coconut Chutney and Coconut Tomato Chutney. These are absolutely delicious recipes that use fresh organic ingredients to enhance flavor and nutritional value.
Why is this Healthy?
Fresh coconut is said to have healing properties because it is high in antioxidants. Green beans are a good source of fiber, potassium, and folate, and are an excellent source of protein, iron, and zinc. Carrots are a particularly good source of beta-carotene, fiber, vitamin K, potassium and antioxidants.
Did you make this recipe? We'd LOVE to see your creations so click a photo and tag us on Instagram with the hashtag #healthyindian3 and please give a star (★) rating below. Follow us on Facebook, Twitter, Pinterest and Instagram for healthy, easy and delicious recipes.
Carrot, Green Bean, Coconut Sauté is a vegan/vegetarian recipe that is just the essence of delicious and nutritious, with minimal ingredients and a total cook time of under 30 minutes. It's great by itself as a snack, a great taco stuffing, or with steamed rice and organic ghee, eaten South Indian style.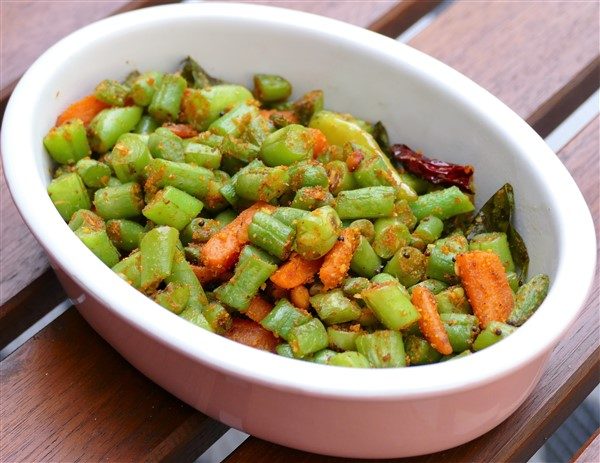 | | |
| --- | --- |
| | |
Blend fresh coconut. Alternatively, if you purchase fresh grated coconut from the frozen section in most Indian grocery stores, thaw the frozen coconut for 15 minutes.

Heat oil in a thick-bottomed pan. Sauté seasoning ingredients (curry leaves, chana dal, red and green chili peppers, mustard and cumin seeds). Add grated fresh coconut.

Add chopped beans, carrots, salt and red chili powder. Mix well and cover the pan. Open the lid and stir the contents every couple of minutes for about 8 to 10 minutes or until the vegetables are firmly done. Transfer to a serving container.
Great by itself as a snack, a great taco stuffing, or with steamed rice and organic ghee, eaten South Indian style.
*Use organic ingredients wherever possible
Nutrition Facts
Carrot, Green Bean, Coconut Sauté
Amount Per Serving
Calories 191
Calories from Fat 117
% Daily Value*
Total Fat 13g 20%
Cholesterol 0mg 0%
Sodium 307mg 13%
Potassium 597mg 17%
Total Carbohydrates 20g 7%
Protein 4g 8%
* Percent Daily Values are based on a 2000 calorie diet.