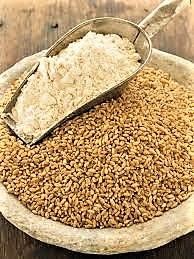 Eating foods made from flour — wheat grains crushed into a fine powder — contributes to your grain intake for the day, helping you reach the six 1/2-cup servings of grains recommended daily by the U.S. Department of Agriculture. However, not all flours are created equal: White flour is made from heavily refined and processed wheat grains, while whole-wheat flour is made from grains that have not undergone heavy processing. Whole-wheat and white flours differ in their nutritional value.
One of the primary nutritional differences between whole-wheat and white flour is the food's fiber content. Dietary fiber has a number of health benefits — it prevents constipation, lowers blood cholesterol and might help you lose weight, according to Colorado State University. The refining process associated with making white flour separates the fiber-rich brain from the rest of the grain, so white flour typically contains less fiber than its whole-grain counterpart.
Bread made with 100 percent whole-wheat flour has a GI of 51, according to Harvard Medical School, while bread made with white wheat flour has a GI of 71. If you seek to regulate your blood sugar after a meal, choose foods made with whole-wheat flour.
Whole-wheat flour contains several vitamins, including folate, riboflavin and vitamins B-1, B-3 and B-5. Some types of white flour contain lower levels of these vitamins, since the processing involved in making white flour destroys the grains' vitamin content — for example, 1/2 cup of whole-wheat flour contains 3 milligrams of niacin, while an equivalent portion of white flour contains only 0.8 milligrams.
http://healthyeating.sfgate.com/healthy-wholewheat-flour-vs-white-3305.html