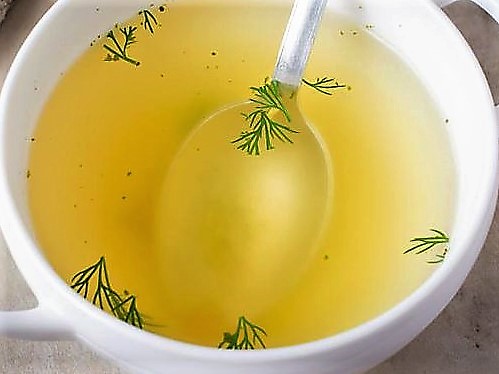 You can easily make homemade soup to warm you up during the colder months or just to help fill you up before your main meal so you don't consume too many calories. Most homemade soup recipes start with broth, such as vegetable broth. Although the store-bought version is the most convenient, it is often really high in sodium, so you might be better off making your own at home.
Vegetable broth doesn't contain many calories. A 1-cup serving only provides 12 calories, all of which come from the 3 grams of carbohydrates it contains. Other types of broth have similar calorie counts, with each cup of chicken broth providing 12 calories and each cup of beef broth providing 17 calories. However, these meat-based broths each contain about 0.5 gram of fat, making vegetable broth the healthier option.
The main drawback to store-bought vegetable broth is that it is quite high in sodium. Each cup contains 940 milligrams, or 39 percent of the daily value for sodium.
http://www.livestrong.com/article/401537-the-nutrition-in-vegetable-broth/