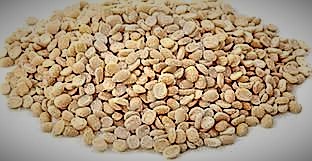 Urad Dal (aka Black gram, Matpe Bean) is a type of Indian bean that has a surprising number of health benefits, including the ability to boost energy, protect cardiovascular health, reduce pain and inflammation, improve immunity, aid skin health, prevent diabetes, build strong bones, strengthen the nervous system, and optimize digestion.
Having been cultivated on the Indian subcontinent for thousands of years, it has become one of the most important pulse varieties in that region of the world. It is valued not only due to its hearty ability to grow in challenging conditions, and its widespread availability, but also for its dense mixture of nutrients. Black gram is sold as a complete un-split bean in some regions, or the cracked open variety (Urad Dal), showing the white flesh within, making these very recognizable items in the market.
The combination of fiber, potassium, and magnesium found in black gram can do wonders for your heart health. The fiber is an effective way to balance cholesterol levels and prevent atherosclerosis, while the potassium can reduce tension in blood vessels and arteries, effectively lowering blood pressure. Finally, magnesium helps to stimulate circulation, along with iron, ensuring that your entire circulatory and cardiovascular systems are working together for the same goals.
https://www.organicfacts.net/health-benefits/other/black-gram.html