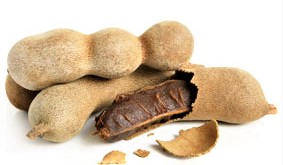 Deliciously tangy and one of the most highly prized natural foods in South Asia, the tamarind – the melodic name of which comes from the Persian "tamar-I-hind," meaning "date of India" – is gaining recognition and appreciation throughout the world. Tamarind trees produce an abundance of long, curved, brown pods filled with small brown seeds, surrounded by a sticky pulp that dehydrates naturally to a sticky paste. The pods look a bit like huge, brown, overly mature green beans.
As most ancient foods do, tamarind has a long history of medicinal uses. Many involve easing stomach discomfort, aiding digestion, and use as a laxative. Tamarind preparations are used for fevers, sore throat, rheumatism, inflammation, and sunstroke. Dried or boiled tamarind leaves and flowers are made into poultices for swollen joints, sprains, boils, hemorrhoids, and conjunctivitis.
Similar to the natural gums and pectins found in other foods, the sticky pulp referred to earlier contains non-starch polysaccharides, which contribute to its dietary fiber content. They bind with bile to help flush waste through the colon, decreasing the chances of it sticking around. Each 100 grams of tamarind contain 36% of the thiamin, 35% of the iron, 23% of magnesium and 16% of the phosphorus recommended for a day's worth of nutrition. Other prominent nutrients include niacin, calcium, vitamin C, copper, and pyridoxine.