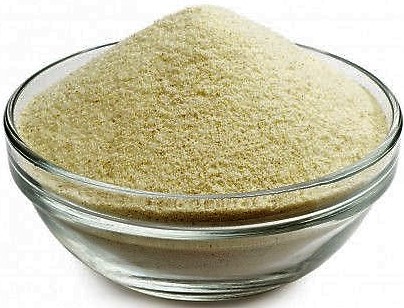 A coarsely ground grain made from wheat, semolina (or sooji) makes regular appearances in pastas, couscous and bread, as well as in breakfast cereals, such as Cream of Wheat. Like other wheat grains, semolina contains gluten, which makes it unsafe for those suffering from celiac disease or a gluten sensitivity. However, if you can include semolina in your diet, you'll reap the health benefits of its nutrient content.
A quarter-cup serving of dry semolina contains 150 calories- 10 percent of the daily energy intake in a 1,500-calorie diet or 8 percent in a 2,000-calorie diet. The majority of these calories,approximately three-quarters, come from semolina's carbohydrate content. These carbs serve as a rich source of fuel for your tissues. A serving of semolina also contains 5.3 grams of protein, which nourishes your skin and muscles. Semolina is naturally low in fat, and each serving contains approximately one-half of a fat gram.
Semolina boosts your intake of several B-complex vitamins, especially folate and thiamin. Collectively, B-complex vitamins support your metabolism and ensure that you can convert food into useable energy. Consume semolina as a source of selenium. Your body uses selenium — in combination with other nutrients, including vitamin E — as an antioxidant.
http://www.livestrong.com/article/524684-the-health-benefits-of-semolina/