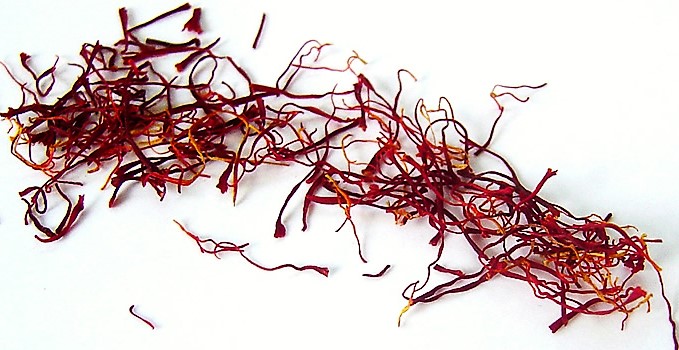 Saffron belongs to the iris family, and has had a plethora of uses throughout millennia. As far back as the writings of Galen and Hippocrates, saffron was mentioned as a medical treatment for coughs, colds, stomach ailments, insomnia, uterine bleeding, scarlet fever, heart trouble, and flatulence.
Naturally, one of saffron's first uses may have been for dyeing textiles, since a single grain can color 10 gallons of water with a distinctive yellow hue. More than a grain is used, however, to color the bright orange robes worn by Buddhist priests in India. Three wispy saffron "threads" can be gleaned from each delicate crocus, which, ironically, is lavender-purple in color.
As a spice, saffron is known for what it does to energize dishes with a pungent, earthy essence. It must be noted that no one will eat an ounce of saffron in one sitting; recipes usually call for half a teaspoon or less, but examining an ounce is a good way to determine the nutritional aspects of this intriguing spice. First, the manganese content is off the charts at nearly 400% of the daily recommended value! Everything else seems a little chintzy after that, but the next-largest nutritional quantities also are quite impressive: vitamin C – 38%; magnesium – 18%; and iron – 17%. Potassium and vitamin B6 both impart 14% of the daily recommended value.
Manganese helps regulate blood sugar, metabolize carbohydrates, and absorb calcium. It also helps form tissues, bones, and sex hormones. Vitamin C is an infection fighter; iron purifies your blood; and the vitamin B6 content helps form red blood cells and assures nerves will function as they should. Potassium helps balance fluids in cells, which, if low, can cause painful muscle cramps.