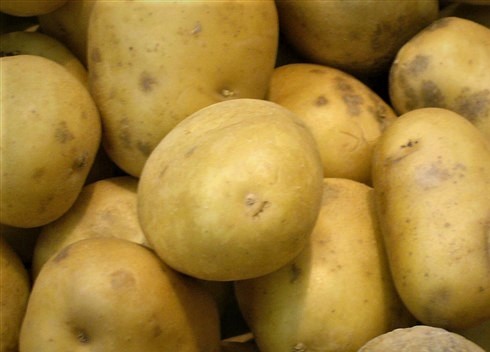 Whether mashed, baked or roasted, people often consider potatoes as comfort food. It is an important food staple and the number one vegetable crop in the world. Potatoes are available year-round as they are harvested somewhere every month of the year. They are the swollen portion of the underground stem which is called a tuber and is designed to provide food for the green leafy portion of the plant.
Potatoes are a very good source of vitamin B6 and a good source of potassium, copper, vitamin C, manganese, phosphorus, niacin, dietary fiber, and pantothenic acid. Potatoes also contain a variety of phytonutrients that have antioxidant activity. Among these important health-promoting compounds are carotenoids, flavonoids, and caffeic acid, as well as unique tuber storage proteins, such as patatin, which exhibit activity against free radicals.
Potatoes are a very popular food source. Unfortunately, most people eat potatoes in the form of greasy French fries or potato chips, and even baked potatoes are typically loaded down with fats such as butter, sour cream, melted cheese and bacon bits. Such treatment can make even baked potatoes a potential contributor to a heart attack. But take away the extra fat and deep frying, and a baked potato is an exceptionally healthful low calorie, high fiber food that offers significant protection against cardiovascular disease and cancer.
Recent studies have indicated that cooking starches like rice and potatoes with a little coconut oil and cooling them in the refrigerator before eating them cuts the calories by as much as 60%!! Read it here.