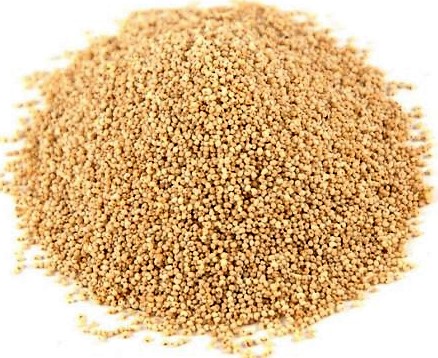 Poppy seeds come from a yellowish brown opium plant native to the Mediterranean. They have been cultivated since the 6th century for the seeds, but also for opium, the narcotic that comes from the unripe seed. These mature seeds do not have narcotic properties. Nowadays these tiny white seeds are mainly produced in the Middle East. The color of poppy seeds is important in some uses. When used as a thickener in some dishes, white poppy seeds are preferred, having less impact on the color of the food. In other dishes, black poppy seeds are preferred, for maximum impact.
In Indian cuisine white poppy seeds are added for thickness, texture and also give added flavor to the recipe. Commonly used in the preparation of korma, ground poppy seed, along with coconut and other spices, are combined as the masala to be added at the end of the cooking step. It is quite hard to grind them when raw, so they are normally dry fried, and then mixed with a little water to get the right paste consistency.
Poppy seed is a nutritionally dense spice with high levels of essential minerals calcium, iron, magnesium, phosphorus and potassium.