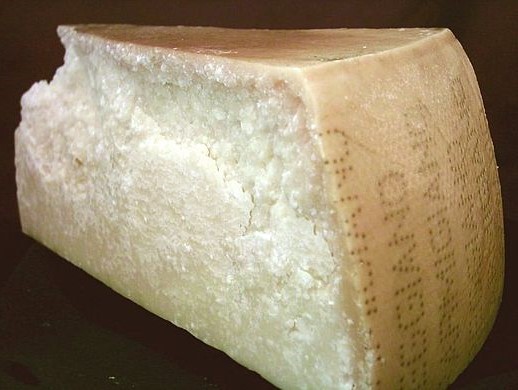 Parmesan cheese is an extra-hard dairy product made from cow's milk. Its sharp, nutty, slightly salty flavor is a natural accompaniment to Italian cuisine. To qualify as authentic Parmigiano Reggiano, it must come from specific regions in northern Italy, contain no holes and ripen for at least one year. Adding Parmesan cheese to your meal plan can enhance the flavor of foods and provide your body with a nutrient boost.
Your body uses protein to repair and maintain itself. A major part of your skin, muscles, organs and glands, protein exists in every cell in your body. A 2-ounce serving of Parmesan cheese contains about 20.3 grams of protein, which is 41 percent of the daily value, set by the U.S. Food and Drug Administration and based on a 2,000-calorie diet.
Parmesan cheese is easily digested and an excellent source of calcium with a 2-ounce portion containing 671 milligrams, which is more than 67 percent of the DV for this mineral. This cheese also contains small amounts of vitamin D.
http://www.livestrong.com/article/335845-the-benefits-of-parmesan-cheese/