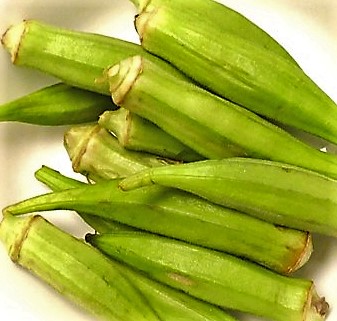 Okra is a flowering plant that is known in many parts of the world as ladies' finger or bhindi (in Hindi), and is most highly prized because of its seed pods. The scientific name of this interesting plant is Abelmoschus Esculentus and it is unsure where the actual beginning of this vegetable was.
Okra is rich in vitamins and minerals, including vitamins A, B, C, E, and K, as well as calcium, iron, magnesium, potassium, and zinc. Furthermore, okra contains high levels of mucilaginous fiber.The health benefits of okra include its ability to lower total cholesterol levels, improve digestive health, improve vision, boost skin health, protect infant health, prevent certain cancers, strengthen bones, improve cardiovascular health, aid the immune system, lower blood pressure, and protect heart health.
Perhaps the best part of adding okra to your diet is the significant increase it can have on your total fiber intake. Mucilaginous fiber like you find in okra can help move food through your digestive tract by adding bulk. This means that bowel movements are more regular and there is a reduction in gastrointestinal issues such as bloating, cramping, constipation, and excess gas. Finally, fiber can help to clear out excess cholesterol in the body.
https://www.organicfacts.net/health-benefits/vegetable/health-benefits-of-okra.html