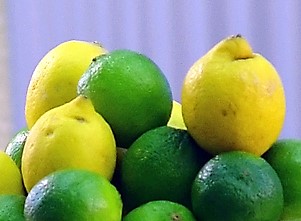 Lemons are oval in shape and feature a yellow, texturized outer peel. Like other citrus fruits, their inner flesh is encased in eight to ten segments.Usually smaller than lemons, limes are oval or round in shape having a diameter of one to two inches with green flesh and skin.
Lemons and limes contain unique flavonoid compounds that have antioxidant and anti-cancer properties. Of special interest in limes have been flavonoids called flavonol glycosides. While these flavonoids have been shown to stop cell division in many cancer cell lines, they are perhaps most interesting for their antibiotic effects.
In addition to their unique phytonutrient properties, lemons and limes are an excellent source of vitamin C, one of the most important antioxidants in nature. Vitamin C is one of the main antioxidants found in food and the primary water-soluble antioxidant in the body.