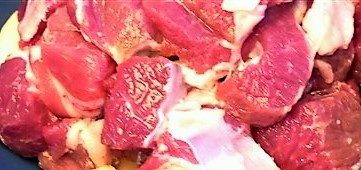 Lamb is the meat of the domestic sheep. It is a type of red meat, a term used for the meat of mammals, which is richer in iron than chicken or fish. The meat of young sheep, is known as lamb, whereas mutton is a term used for the meat of adult sheep. Being rich in high-quality protein and many vitamins and minerals, lamb can be an excellent component of a healthy diet.
Lamb is a rich source of many vitamins and minerals of which Vitamin B12 is probably the most beneficial. Vitamin B12 is important for blood formation and the function of the brain. This vitamin is only found in animal-derived foods, and is absent from vegan diets. Deficiency in vitamin B12 may cause anemia and neurological damage.
Lamb may contain varying amounts of fat. Most of it is saturated fat, but there is also a small amount of conjugated linoleic acid (CLA). Lamb meat like any other red meat is high in cholesterol and excessive consumption of red meat is linked to heart disease.
Eaten in moderation as part of a balanced diet that includes lots of vegetables, lamb can be beneficial.